1/20/2023
Timberline 72, Capital 43
(Lacey, WA) The Timberline Blazers came into the game Friday night atop the South Sound Conference with a perfect 9-0 league mark. The Capital Cougars were right in the middle tied with Peninsula at 4-5 and trying to hold on to 4th place.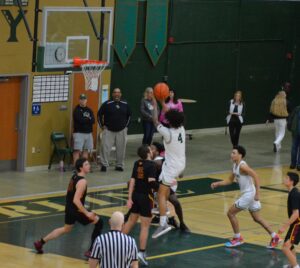 The Blazers are led by D-1 commit to the Runnin' Rebels of UNLV, Brooklyn Hicks and Hicks did not disappoint. Brooks drained 6 1st half 3-balls and finished with 24 points in the first 16 minutes. Capital countered with only 21 so Hicks alone led the Cougs but with a well rounded offense behind Hicks they added another 17 for a 1st half lead of 41-21.
Timberline did not slow down in the 2nd half but held Hicks to 9 as he finished with 33 plus 6 boards and he spread the ball around with 6 assists. Kenyon Simmons was next with 10 plus got the double-double with 10 rebounds with 4 on the offensive side and picked off 4 steals. Cedric Ragland knocked down 9 with 6 boards and 3 dishes and Alex Tichenor hit for 9 as well as the Blazers sank 13 from deep for the game, Hicks with 7.
Capital dug themselves an early hole they could never recover from but still got some good efforts. Cooper Carlson led the Cougars with 13, had 4 rebounds, 3 steals, a block and an assist. Jabrayan Richburg also finished in double figs with 11 and led the Cougs on the boards with 7 rebounds. In the 1st meeting this year Capital lost by 3 and hit for 10 long balls, Friday night only 2 3-pointers for the game.
Hicks was our MVP of the game although Kenyon Simmons was right there as well. Timberline is now 10-0 in SSC play and 12-4 overall and will travel next Wednesday to 2nd place Gig Harbor where they could clinch the league title.
The Cougars drop to 4-6 in league play and 7-8 overall. They will try to get back in the win column on Wednesday when they host Yelm.
Scoring
Timberline: Hicks 33, Simmons 10, Ragland 9, A Tichenor 9, Jean 3, Gipson 3, Cornwell 3, Taufete'e 2
Capital: Carlson 13, Richburg 11, Schrek 5, Landers 4, Bjornsgard 4, Oakland 4, Sledge 2
Our interview with game MVP Brooklyn Hicks
Video Highlights
Photo Gallery
www.elisportsnetwork.com