1/25/23
"Social Media not quite correct"
By Matthew King
There is always more to a story than meets the eye especially when it comes to social media and last night was another reminder as news was shared that the Oakville boys basketball team would only be allowed to play their JV team for the remainder of the year due to lopsided scores throughout the first half of league play. ESN communicated via e-mail with Oakville Athletic Director Christina Mootz and cleared up the misunderstanding quickly.
First and foremost this was a Coastal 1B league decision and not by the WIAA. More importantly this was not a recent decision. This decision was made before the season ever started. The schools knew Oakville was sitting on a big season and they also knew the limitations of their own programs. The decision was made to allow Oakville not to play 3 of the league teams a 2nd time with their varsity squad knowing they would not be competitive. This turned out to be spot on as so far the Acorns have played 2 of those teams and won by a combined score of 196-40. They are set to play the 3rd team on February 3rd. 
We are not clear if those games are official forfeits or if they were considered no-contests but either way they did not count against Oakville and they will be league Champions.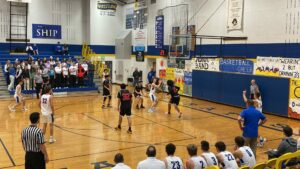 This foresight from the league then allowed Oakville to schedule non-league games against higher level talent in December and January, which they did. All of the replacement games have now been played and that equaled the usual number of total games for the varsity team. They will play a total of 19 regular season games which is just one below the 20-game maximum set for all high school teams and again their regular schedule was just 19 they will not lose a single chance to play, but rather get to play teams that are as good or better that can help their players play higher level competition that they would see in the state tournament. The team can be better prepared by playing non-league games that will be closer than if they played league opponents that they blowout and neither side gets anything out of games like that.
The league did this to try to help Oakville better prepare for a potential run into state. In all leagues there is a pretty large gap between the top team in the league and the bottom teams. When those teams have to play each other, nobody really benefits from that game. The outcome is known by both sides going into it and this also allows those teams that are lower in the standings to play more competitive games for their level of play as well.
Another issue on social media was Oakville running up the score on its opponents and they have outscored all their league opponents 434-135 in five league games this season. However, with 1B sports we have to remember that rosters are extremely small. To field a JV and Varsity team there are not a lot of players on the bench. That makes it difficult for coaches stuck in a position to have to leave some or most starters in since they simply do not have the players to sub out everyone. Additionally, with the running clock the shot clock remains on for some reason forcing teams to shoot when many would rather run more time off.
In the end the league decided that Oakville will play each league opponent once this year as they normally would but for the second meeting with 3 of the league opponents the Acorns would play their JV team. Oakville used those 3 openings along with their other non-league availabilities to schedule against tougher non-league games like Adna, Rainier, River Ridge and Centralia. So the decision was not made due to other teams in the league being afraid to lose. It was made to help Oakville make better use of the regular season with tougher competition and giving a chance to those programs trying to build a break and to be able to play another team closer to their level.
As we were told as a league they want their teams to be best prepared for postseason play and they viewed this as the option for Oakville to not only make the state tournament, but make a push to try to win the state championship in Spokane this March. Below is their final 3 games which takes them right up to their District Tournament.
Oakville's Remaining Schedule- All will be their Varsity team
Thursday 1/26- vs. Lake Quinault
Tuesday 1/31- @ Taholah
Friday 2/3- vs. Wishkah Valley
www.elisportsnetwork.com