1/29/2023
It was a special Saturday night of Metro League Hoops at Seattle Pacific University. Rainier Beach was the home team in the girls-boys twin bill as the girls hosted Franklin and the boys took on Garfield. Our coverage of both games is below with a story re-cap, video highlights and photos.
Girls Game
Franklin 66, Rainier Beach 30
The Quakers came in tied for 4th in the Metro league with Roosevelt both at 10-2 while Lakeside, Lincoln of Seattle and Garfield were all tied at 11-1. Franklin got off to a fast start and never looked back after tied at 9-9 early an 11-0 run to make 20-9 after 1 and the Quakers controlled the game start to finish.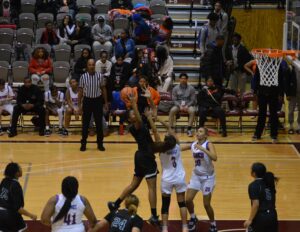 Khamille Chappell led all scorers with 24 points shooting 10 for 29 with a pair of 3 balls. Three others in double figures were Naveah Hamburg with 14, Ciara Tu'u with 11 and Kaylee Poasa had 10. Poasa had a pair 3-pointers and Tu'u had 1 while going 4-5 from the free throw line. Leslie Moliga had just 4 point but the junior forward was tough inside grabbing numerous rebounds. Jamiya Bland rounded out the Quaker scoring with 2.
Sumi Hart was nearly 2/3's of the offense all herself with 19 of the 30 points and she ended up fouling out with about 5 minutes to play. She was also in early foul trouble so she did all this damage in a very limited amount of time. Hart dropped 3 longballs and was 5-9 from the line. Nayloni Mathews played a rough and tumble game never giving up and getting after the loose balls while knocking in 8 points. Linda Chollette finished with 2 and Miracle Mason had 1.
The Quakers looked like they would kick in the running clock several times in the 2nd half but the Vikings simply would not allow it and battled back denying the running clock in this game.
Franklin is now 11-2 and 13-4 overall while the Vikings drop to 2-10 and 3-10. Our game MVP's went to Franklin's Khamille Chappell and Sumi Hart for Rainier Beach.
Video Highlights
Photo Gallery
———————————————-
Boys Game
Garfield 76, Rainier Beach 68
Garfield came into this contest as the #1 RPI team in the state and were undefeated in league at 12-0 and 16-0 for the season. Rainier Beach lost to Auburn in last year's state championship game by a score of 58-48 but only 2 off that championship roster are back. The Vikings came into the game with an 8-3 league mark and 8-4 overall and ranked 18th in the RPI.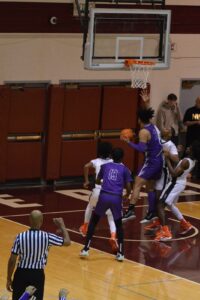 In the first half of the game Garfield simply outshot the Vikings jumping out to a 43-27 lead. The Bulldogs shot 55% from the field while the Vikings were in the low 30's. Jaylin Stewart ground out 14 to lead the Bulldogs in the half while Yemoni Bradley-Howell had 10 of his 12 points for the game in the 1st half. Myles Damon had 8 but did pick up a 3rd foul to cost him some playing time.
For Rainier Beach no one reach double figs and R'Monte Fields led the Vikings with some big play down in the trenches with 8 points. 7 different Rainier Beach players got into the score book in the 1st half but foul trouble and turnovers kept their overall production held to just 27 points.
As the 2nd half began if the Vikings were going to get back in this game they would need to get off to a fast start and they did just that outscoring the Bulldogs 16-7 to cut the lead to 7 trailing 50-43. In the 4th quarter, the Vikings kept coming and pulled within 4 at 52-48 but that would be as close as they could get. Garfield responded like an undefeated team does with an 8-0 run to push their lead back to double digits. Rainier Beach did not throw in towel and kept up their attack but it was too deep a hole and to little time. Beach did outscore the Bulldogs in the 2nd half 41-33 but the Bulldogs improved their record to 13-0 and 17-0 further tightening their grip atop the RPI.
Garfield's Stewart led all scorers with 23, the Bulldogs Legend Smiley had a huge 2nd half scoring 11 of his 15 with a big 3 ball to end his scoring. Bradley-Howell finished with 12, Myles Damon had 11, Sherrell McCullem knocked in 8 and Emmett Marquardt finished with 7. McCullem had a strong effort in the paint and Marquardt came up with a couple of big blocks.
For the Vikings, R'Monte Fields was a beast leading the scoring with 17 and likely scored a double-double with his rebounding. Patrice Mpouli was big off the bench with 14 and was 10 of 15 from the line, Ryan Mpouli right behind with 11 while Miles Gurske was the 4th in twin digits with 10. Darius Wilcher was limited with foul trouble early and finished with 9 and had the only 3 ball in the game for Beach, Mario Clark had 4, Niraye Ballard hit for 2 and Kaden Powers had 1.
Garfield is now 13-0 and 16-0 and remains on top of the RPI rankings while Beach drops to 8-4 and 8-5 and falls 3 spots in the RPI to #21. Our MVP's of the game went to the Bulldogs Legend Smiley for his huge 2nd half and the Vikings R'Monte Fields.
Video Highlights
Photo Gallery
www.elisportsnetwork.com