1/27/2023
East Jefferson 44, Charles Wright Academy 21
(Tacoma, WA)
After just two wins in the last two years for the East Jefferson Rivals girls' basketball program, East Jefferson is a team to watch out of the 1A Nisqually League after earning an away victory at Charles Wright Academy on Friday to keep them in position to make the district tournament. They began the season losing four of their first five games, but with the win last night, East Jefferson has won two in a row and four of their last five.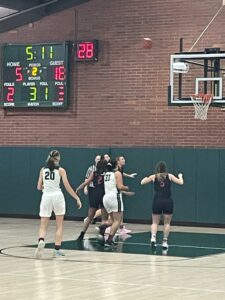 The Rivals started slowly as Charles Wright's Paige Brink had an early seven points to pace the Tarriers, but Alyssa Vandenberg had a big scoring night with 20 points to help EJ pull away from CWA. East Jefferson held a 10-5 first quarter lead and built an 18-5 lead in the second quarter, but the Tarriers rallied to finish on a 5-0 run to cut the halftime lead to 18-10.
In the third quarter the Rivals clamped down on defense and outscored the Tarriers 16-3 in the quarter to take a commanding 34-13 lead entering the 4th quarter.
Brink had seven fourth quarter points to lead CWA with 14 points. Freshman Penina Vialolo added 14 points for the Rivals.
The win for East Jefferson improved their overall record to 7-8 overall and 6-5 league play, good for fourth place in the Nisqually League. The top six teams in the league qualify for the district tournament. Charles Wright Academy fell to 0-17 overall and 0-14 in league play as the Tarriers face Cascade Christian on Monday. EJ hosts Life Christian on Monday.
Video highlights