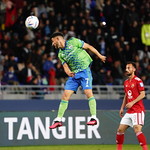 (Tangier, Morrocco)
Despite outshooting Egyptian power Al Ahly 12-9, it only took one shot on goal in the 88th minute for Al Ahly to edge the Seattle Sounders 1-0 at Stade Ibn-Batouta Stadium in Tangier. Ahly advances to face world power Real Madrid in the Club World Cup Semi-Finals.
Seattle started slowly as Al Ahly dominated possession 60-40 in the first ten minutes of the match, but the Sounders got acclimated and by halftime had almost evened possession and outshot their opponent. in the second half the match started to open up as Al Ahly started to get more comfortable on the attack and create chances. Seattle continued to answer back, and the match seemed destined to extra time. That changed immediately in the final stages as Al Ahly capitalized on a Sounders turnover in their own side of the pitch and a shot ricocheted off of the top of the crossbar and back to Mohamed Magdy, and his shot took a deflection off of a Sounders defender and into the back of the net for the game winner.
I thought we were good, we were evenly matched," Sounders Head Coach Brian Schmetzer said. "We didn't have luck on that deflection on the goal but I'm proud of our players, they have worked hard this preseason."
Seattle will now shift focus on preparation for their MLS opener on February 26 at Lumen Field as the Sounders will host the Colorado Rapids.