2/8/2023
(Tukwila, WA) The Girls State Bowling Tournament kicked off the 2022-23 Winter State Tournaments and Events. There were plenty of thrilling finishes including 1 team championship that came down to literally the final frame.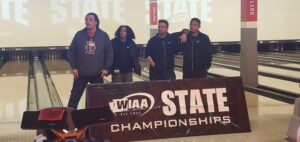 This was also the first year at the Bowlero Bowling Center in Tukwila after many years at the Narrows Plaza in Tacoma. The Narrows Plaza was sold and torn down so the WIAA had to find a new location. Bowlero was the only bowling facility to offer to host the tournament.
Below is our coverage of each tournament with stories, results and photo gallery.
3A Tournament
The 3A tournament was held on Wednesday and Thursday with 12 teams competing and the individual tournament which included all 60 of the girls on the teams and then an additional 30 bowlers who qualified for a total of 90 bowlers. The individual tournament was completed on Wednesday with the teams wrapping up with the Baker Game round on Thursday.
Individual Tournament
The 3A individual tournament had many twists and turns in the end but the race seemed to be for 2nd and not the Championship after Evergreen's Kierra Wilcox blew out a 658 series with scores of 234, 213 and 211 in her 1st three games prior to the lunch break. Tamia Yeager of Spanaway Lake was 2nd with a 562 total and Kelso's Emily Strehle sat 3rd at 549. After lunch no one thought anyone could overcome that 108 pin lead Wilcox had powered herself into but bowling is a funny thing. Even after 2 games where Wilcox had leveled off and both Strehle and Yeager had made up a little ground Strehle with a 218 and 178 was now in 2nd but 74 pins behind and Yeager was back by 85 with one game to play.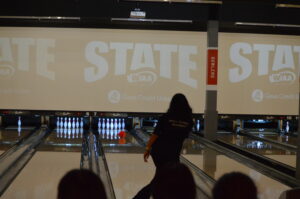 Both Strehle and Yeager were set to battle for 2nd it appeared and both finished with a 194 securing 2nd place for Strehle and Yeager believing she was 3rd. In fact we talked with Strehle after her final game and she had looked at the numbers and knew she had to make up 74 pins which meant Wilcox would have to throw a 120 for a tie and 119 for Strehle to win. Strehle says that's not gonna happen she tossed a 658 over the 1st 3 games and came back with a 177 and 184.
However, as the 6th game wore on for Wilcox misses were adding up with untimely splits mixed in and suddenly Strehle had closed the massive gap going into the final frame Wilcox needed just 9 pins to score the 121 and clinch the win sending Strehle home with the 2nd place trophy for a 2nd straight year.
In her final frame Wilcox hit the head pin dead-on leaving the 7-10 split. She then was able to cover one of the pins for the final score of 121. Wilcox was sure she lost and didn't know that was for the Championship as many spectators and her coaches were focused on Yeager not realizing how much Strehle had closed the gap.
Wilcox captured the 4th individual title in Evergreen High School history and finished with a pin total of 1,140 finishing with a 482 series in her 4th-6th games. Strehle closed well with consistency rolling a 549 in the morning and 590 in the afternoon for an 1,139 finish and Yeager was even more consistent with a 562 series followed by a 566 for a total of 1,128, 12 pins from 1st and 11 from 2nd.
One other note from the 3A individual tournament and that was Thomas Jefferson's Alena McDugle who finished 8th overall but rolled a 247 which was the high game of not only the 3A tournament but also topped the 4A and 2A/1A tournaments. Here are the bowlers who topped 1,000 total pins:
Here are the bowlers who topped 1,000 total pins:
1st Kierra Wilcox, Evergreen (Van) 1140
2nd Emily Strehle, Kelso 1139
3rd Tamia Yeager, Spanaway Lake 1128
4th Alaina Degenstein Spanaway Lake 1086
5th Kourtnie Foss, Kennewick 1077
6th Alexis Clarke, Evergreen (Van) 1047
7th Shaynah-Ann Suzuki, River Ridge 1041
8th Alena McDugle, Thomas Jefferson 1029
9th Lily Fields, Hermiston (Or) 1021
10th Jasmine Emswiler, West Seattle 1009
Team Tournament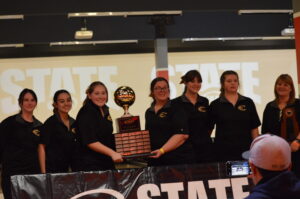 The Evergreen Plainsmen won the team 3A State Title led by individual Champion Kierra Wilcox but plenty of assistance from Alexis Clarke who was 6th in the individuals along with Bella Curry, Zoey Mikkelson, Chloe Shove and Alissa Barber. They finished with a total pin count of 7182. During Day 2 in the Baker Games Evergreen was very consistent with theirt high game of 214 and 9 of the 14 games all above 155. That consistency was too much for 2nd Kennewick to overcome. This was the 5th Team title Evergreen has brought home. Last year they finished 4th.
Kennewick settled for 2nd as the only other team to top 7000 with a final score of 7030. The Lions top team score in the Baker's was 234 which was the highest score by a team in the 3A Baker competition. Kenewick's roster included Kourtnie Foss, Lexis McGarity, Samantha McMaster, Caidence Richardson, Hailey Simpson, Brynn Smith and Calista Tippett. Foss was the highest placer in the individual tournament taking 5th.
The race ended up being for 3rd between Thomas Jefferson and Spanaway Lake. The Raiders looked to have 3rd wrapped up heading into Baker game 13 of 14 total games with a 134 pin lead over the Sentinels. But in games 13 and 14 TJ rolled a 148 and 147 to finish with a total of 6787. Alena McDugle and Samyia Gildon paced the Raiders finishing 8th and 12th in the individual final standings while Emily Kropp and Brookelyn Dawson also bowled well too.
But Spanaway Lake was not done competing and despite the big deficit heading into game 13 the Sentinels put together the 2nd highest 3A Baker game with a 233 closing 85 pins and were down 49 pins going into the final game. Spanaway Lake finished with a 180 picking up another 33 pins and settled for 4th behind the efforts of Tamia Yeager who was 3rd in the individual tournament and Alaina Degenstein who was right behind in 4th place.
Top 8 final team standings:
1) Evergreen 7182
2) Kennewick 7030
3) Thomas Jefferson 6787
4) Spanaway Lake 6771
5) Central Kitsap 6474
6) Silas 6225
7) Capital 6159
8) West Seattle 5989
________________________________________
The 4A and combined 2A/1A Tournaments were held on Friday and Saturday. Both tournaments featured 60 bowlers in the individual tournament and 8 teams in the team competition. Below are the Individual and Team final results.
4A Tournament
Individual Tournament
The Individual tournament was not close, outside the top 4 where just 29 pins separated the 4 and a tie for 3rd. Hayden Bennett of Kamiakin got the early advantage blowing out a 236 in her 1st game, the 4th highest score over all tournaments but still just held an 11 pin lead over Sienna Stoner of Curtis. However, that lead would be all she needed as Bennett won the Individual Championship by 23 pins in the end. Going into the 6th and final game Bennett led Stoner by 19 and outshot her 175-171 in the finale.
Stoner held off both team mate Megan Lelli and Wenatchee's Ava Porter who both made up a lot of ground. Lelli trailed Stoner by 22 and Porter was down by 41 pins. Lelli rolled a 187 and Porter fired a 206 and both Lelli and Porter finished with a total of 1133, 6 pins behind Stoner and tied for 3rd. Porter in fact shot a 615 series for her 2nd 3 games of the day with a 197, 212 and the 206.
Here are the bowlers who topped 1,000 total pins:
1st Hayden Bennett, Kamiakin 1162
2nd Sienna Stoner, Curtis 1139
3rd Megan Lelli, Curtis 1133
3rd Ava Porter, Wenatchee 1133
5th Addy Case, Skyview 1079
6th Karley Coleman, Skyview 1058
7th Hannah Betterton, West Valley 1042
8th Ariana Conrad, South Kitsap 1035
9th Layla Hall, Davis 1011
10th Laila Smith, Olympia 1005
11th Anna Beitz, Hanford 1000
4A Team Tournament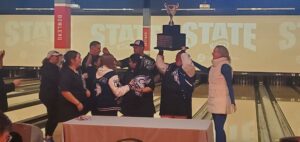 The race for the team Championship came down to the 14th and final Baker Game with just 6 pins separating the Curtis Vikings and the Skyview Storm. The Storm put themselves in a hole over the 1st 6 Baker games with 5 games between 123-154 and a 201 in the 5th game. Curtis was exceptionally consistent with 9 of the 14 games between 164-194. The stumble was a 112 in the 11th game but then saved their best for last scoring a 206 in the 13th game. But the Storm countered with their best game on day 2 with a 220 and actually gained 17 pins.
Skyview came back with a 167 in the final game which was solid and was right on for the team average through all 44 games of 164. But the Vikings found their stride late and pulled away for a 40-pin win knocking down a 221 in their final game to secure their 1st Bowling State Championship with a total of . Curtis averaged 165 per game for the tournament and overshot that mark by 56 pins when it counted most. Kamiakin was the only other team over 7,000 total pins with 7111 and was a clear 3rd leading 4th place Wenatchee by 361 pins.
Curtis was led by Sienna Stoner and Megan Lelli and great contributions from Brenna Winders and Savannah Jones. Skyview's Addy Case and Karley Coleman finshed 4th and 5th in the individual tournament and led the team effort with help from Lauren Gaynor and Kasey Pine. Hayden Bennett was the sparkplug for Kamiakin along with Alyssa Martinez who just missed rolling a 1,000 series in the individual tournament with a series of 996.
Top 4 final Team Standings
1) Curtis, 7264
2) Skyview, 7214
3) Kamiakin, 7111
4) Wenatchee, 6750
_________________________________________
2A/1A Tournament
Individual Tournament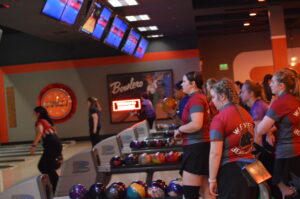 Piper Chalmers of WF West showed there was no chance anyone was going to take her title away as she was the defending Champion and came out firing to thwart any idea of her letting go of her grip on the top spot. Chalmers threw a 614 series to being the competition with a 225, 213 and 176. Columbia River's Sadie Burrows wasn't that far back with a 580 series while Klahowya's Lucy Mitchell sat next at 564 and Bailee Spriggs of Centralia with a 554 powered by her opening game of 235.
After the lunch break, Chalmers kept up the pressure and just missed a second 600 series with a 592 to run away with the Title, her 2nd straight championship. Chalmers rolled a 198, 184 and finished strong with a 210 to roll to a 55 pin win over Klahowya's Lucy Mitchell. Mitchell ran down Burrows for 2nd on the strength of her 5th game an eye popping 242. She surrounded that with a 167 and 178 for a total of 1151, 17 pins in front of Burrows. Burrows had that 1 frame in each of games that kept her from holding onto 2nd and likely making a serious run at the championship. Burrow did not crack the 200 mark but she had 4 games in the 190's plus a 185 and her worst game a 169.
Spriggs just held off Ava Rodman for 4th place by 2 pins. Both bowlers average 187 for their 3 games and Rodman came into the final game 5 pins down but could only gain 3 on Spriggs in the final game 181-178. Also topping 1100 pin count were Hailey Johnson of Klahowya and Zoey Theophilus for Black Hills.
A total of 7 bowlers topped 1100 pins in the 4A and 3A combined while the 2A/1A had 7 by themselves. Chalmers was the lone bowler topping 1200 pins and the only one to average more than 200 at 201.
Here are the bowlers who topped 1,000 total pins:
1st Piper Chalmers, WF West 1206
2nd Lucy Mitchell, Klahowya 1151
3rd Sadie Burrows, Columbia River 1134
4th Bailee Spriggs, Centralia 1127
5th Ava Rodman, RA Long 1125
6th Hailey Johnson, Klahowya 1107
7th Zoey, Theophilus, Black Hills 1101
8th KyleeJo Wisinski, Columbia River 1097
9th MJ Westmorland, Hudson's Bay 1090
10th Jade Walters, RA Long 1067
11th McKenna Oller, Franklin Pierce 1039
12th Patience Fauvelle, Columbia River 1038
13th Savannah Hawkins, WF West 1033
14th Mahalia Perkins, Mark Morris 1023
15th Tyran Ozretich, WF West 1019
16th Hailey Hopkins, Tumwater 1018
17th Lily Mattison, RA Long 1001
2A/1A Team Tournament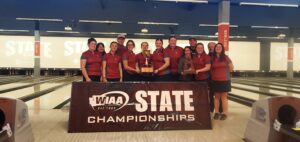 The WF West Bearcats were seeking their 2nd team state Championship and got a great start with Piper Chalmers winning the individual title. The Bearcats took 3rd last year behind Black Hills and Columbia River. The Wolves didn't have a team qualify to try and defend their title but the Rapids of Columbia River were back and focused on taking the big trophy.
During day 2 of the Baker round the Bearcats had built a lead over the Rapids shooting a 237 in the 1st game then plenty of solid games to the 10th Baker game when they shot a solid 180 but still lost a ton of ground. CR fired a 268 with 10 strikes in the game and quickly gained 88 pins. The Bearcats got shaken up a bit and followed up with their 2nd worst game of the 14 Baker's a 138. The Rapids countered with yet another 30 pin pick up to close the gap 118 pins with 3 to go. 
The Bearcats got 19 back in the 12th game while the Rapids took back 18 of those pins in the 13th setting up a fiery finish in the 14th and final game. Columbia River trailed by 16 heading into that game and showed they could make that amount up pretty quickly. The Bearcats looked to have had it clinched but one last surge by the Rapids left the Championship down to the anchor bowler for CR KyleeJo Wisinski. She needed to strike twice and then get a 9 to tie for the Championship a turkey to finish the game gives the title to Columbia River. Wisinski threw a shot that came in just a touch high and she scattered all the pins but a solid 4 and that gave the title to WF West. The Bearcats finished with a 178 and CR a 179 for a 15 pin difference. 
Besides Chalmers the Bearcats got great production from Savavvah Hawkins, Tyran Ozretich and Clara Bunker who all finished in the top 22 of the individual tournament. Savannah Hoyt-Siler also was a huge part in the team win. For Columbia River Sadie Burrows and Wisinski were both in the top 8 while the Rapids got great efforts from Patience Fauvelle and Jamie Green.
Those two were well ahead of 3rd place RA Long who had a comfortable lead over Klahowya. The Lumberjills were led by Ava Rodman who placed 5th in the individual tournament along with strong performances from Jade Walters, Lily Mattison and Hailey Wright. The Eagles were paced by Lucy Mitchell who had the 2nd highest single game in all tournaments combined with a 242. Chipping in for the Eagles were Hailey Johnson who finished 6th in the individual while Jessica Hedahl and Salina Stroup also had solid outings.
Top 4 final Team Standings
1) WF West, 7519
2) Columbia River, 7504
3) RA Long, 7362
4) Klahowya, 7159
Photo Gallery
www.elisportsnetwork.com