2/10/2023
By Danny DeBock
(Editor's Note: We're excited to have another ESN Broadcaster/Reporter get a shot at the next Level. This is Danny's 1st story for ESN and he has proven his ability in a short period of time and is getting his chance to call and report on games at the collegiate level. We're proud to have Danny as part of the ESN family and wish him the best as he works his way through the new media towards his goals.)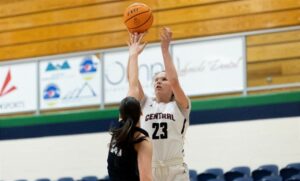 The Central Washington Lady Wildcats are on the cusp of another Great Northwest Athletic Conference (GNAC) playoff berth, however standing in their way is a daunting history, a foe that has had their number. Tomorrow from Nicholson Arena in Ellensburg, Washington, a clash of two GNAC teams, Central Washington and Alaska Anchorage who have been no strangers to high stakes GNAC contests.
Last year, these two teams met in the semifinals of the GNAC tournament, with the Seawolves of Alaska Anchorage having won the last 19 previous meetings against CWU. The Wildcats outscored Alaska Anchorage 24-9 in the first quarter and never looked back enroute to an 80-65 victory. Alaska Anchorage had previously won 30 of the last 31 meetings between the two schools prior to Central Washington's victory in the GNAC Tournament.
The rematch took place on January the 12th in Anchorage. Thanks to Zillah's Samantha Bowman's triple-double, A GNAC first (15 pts, 19 reb, 10 ast), Central Washington notched their first win Anchorage against the Seawolves since 2013 with a 71-47 trouncing. The Wildcats on Saturday face Alaska Anchorage again at 4pm. CWU has struggled on their home floor against the Seawolves, they have not beaten Alaska Anchorage at home since 2007.
The Seawolves are led by decorated head coach Ryan McCarthy. In the past years, McCarthy has led spectacular campaigns in the GNAC going from 2014-2020 only losing 7 regular season GNAC games. However, the 2023 campaign is nowhere near such heights. Alaska Anchorage has struggled this year with a conference record of 6-7, and are clinging to the 5th seed in the GNAC playoffs.
Alaska Anchorage suffered a heartbreaking loss against Northwest Nazarene on Thursday losing in overtime 78-75. The Seawolves' Viche Rabb had a career night in the loss scoring 35 points. The Seawolves with a win can find breathing room for a playoff berth in the GNAC tournament.
Meanwhile, for the Wildcats, a victory would clinch CWU's ticket to the GNAC tournament. Stars to look out for with the Wildcats include Samantha Bowman who leads D2 in rebounds averaging 14.7 a game. On the perimeter watch out for Sunshine Huerta, who scored a conference record 46 points in December in a game against Walla Walla University.
Saturday's game will also be Senior Day for the Lady Wildcats which will feature a pregame ceremony for seniors Samantha Bowman, Kiera Bush, Tori Maeda, and Jenna Troy. Senior night coupled with what's on the line makes this a must see game. If you can't go or get to the game you can watch live on the CWU You Tube Channel at https://m.youtube.com/@CWUAthletics/featured. Danny DeBock will be on the call and once the live broadcast is over you can go back to watch the saved broadcast at anytime. Also please if you are a CWU fan be sure to subscribe to the Central You Tube page.

www.elisportsnetwork.com