2/10/2023
(Seattle, WA) The Metro League Championships were contested this past Friday night on the Seattle Pacific University gym floor before huge crowds for each game. In the girls game no surprises here as #1 Garfield met #2 Lakeside. In the boys it was #3 Rainier Beach taking on #4 Eastside Catholic and #1 Garfield and #2 O'Dea were both upset and knocked out of the league tournament. Our re-caps of both games with video highlights and pictures.
Metro Girls Championship
Garfield 53, Lakeside 47
The Lakeside Lions jumped out to a strong start outscoring Garfield 14-7. Mia Broom scored 8 while Claire O'Connor hit the other 6. In the 2nd quarter the Bulldogs turned it around scoring 16 led by Imbie Jones' 7 points while holding the Lions to just 8 and taking a 23-22 lead into the locker room.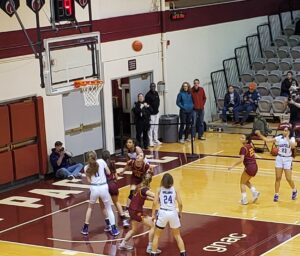 Garfield kept the pressure on and extended their 1 point lead to 9 38-29. The Bulldog smothering defense kept the Lions shooters in check giving up just 7 3rd quarter points. Meantime, Katie Fiso began to turn up the heat hitting 7 points while blocking a pair of shots for a total of 10 points. Naveah Talbert coming off an injury wore team mate Malia Samuels #0 in her honor after she suffered a similar season ending injury. Talbert had 10 after 3 quarters and Jones had 10 as well.
In the 4th, Garfield maintained their consistent scoring since the 1st with another 15 which was enough to keep Lakeside from making a late run. The Lions offense did pep up again in the 4th and they scored 18 with a huge effort from Claire O'Connor who finished with 21 including 10 in the final 8 minutes while grabbing 5 rebounds, 2 steals and 2 blocks. Broom finished with 15 while Willa Chinn added 6 and Kayla Garmoe sank 5 points. Garmoe also picked off 4 steals.
Garfield's Fiso led the Bulldogs with 15 and added 4 assists while Talbert had 14 and a pair of steals. Jones had 12, Jayda Lewis with 6, 8 boards, 2 assists and 2 steals, Sarah Lessig had just 2 points but grabbed 8 boards and had a block while Kahmiya Bryant finished up the scoring with 4.
Garfield takes the Metro League title and the 2 time defending State Champs head to districts as the #1 seed and will take on 8 seed Holy Names Academy Tuesday night at 6:30 at Bellevue College. Lakeside will head to districts as the 3 seed and face 6 seed Seattle Prep 3:30 tip-off on Tuesday at Lake Washington HS.
Our MVP's of the game went to Garfield's Katie Fiso and Lakeside's Claire O'Connor.
Interview with Garfield's Naveah Talbert
Interview with Garfield Head Coach Tre Simmons
Video Highlights
Metro Boys Championship
Eastside Catholic 62, Rainier Beach 56
The Crusaders and Vikings already pulled a stunner by eliminating the #1 and #2 seeds in the semi-finals. The Crusaders 64-56 ousting #1 Garfield and 49-48 the Vikings knocking out #2 O'Dea. It was their time and Eastside Catholic was looking for their 1st ever Metro League Championship.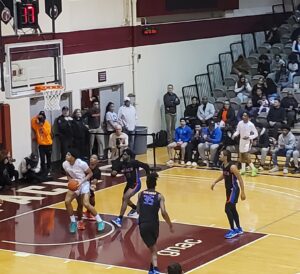 Rainier Beach got off to a solid 1st half start leading 32-25 lead at the break outscoring EC 18-9 to take the lead. Miles Gurske led the Viks with 13 and Ryan Mpoouli was in double figures with 11. The Crusaders Jacob Cofie kept them in the game knocking down 15 of his 24 points in the 1st 16 minutes.
In the 3rd quarter EC turned the tables on Beach running off a 19-8 run to come back and lead 44-40 heading into the final quarter. Easside Catholic kept the pressure on and outscored the Vikings 18-16 in the 4th to clinch the win and their 1st ever League title.
Ishe Kanhukamwe scored all 10 of his points in the 2nd half, Cofie added another 9 to finish with 24 and Kayden Greene added all 9 of his points in the 2nd half.
Our game MVP's went to the Crusaders Jacob Cofie and for Rainier Beach Miles Gurske. Eastside Catholic improved to 15-8 on the season and will next play in the opening round of the district tournament on Tuesday against West Seattle at Bellevue College at 8pm. Rainier Beach is now 13-11 for the year and opens district play on Tuesday at Lake Washington High School against O'Dea at 5pm.
For a further re-cap and full stats check out the ESN Post Game Show with Tony Davila and Joe Withee below:
ESN Post Game Show
Interview with Eastside Catholic Coach Brent Merritt
Interview with the Crusaders Jacob Cofie
Video Highlights
www.elisportsnetwork.com