2/13/2023
(Tumwater, WA) The girls District 4 2A basketball semi-finals were held at Black Hills High School on Monday night with WF west facing Mark Morris in game 1 followed by Tumwater and Columbia River. The two winners would advance to the District Championship but more importantly a birth to the State Tournament. The losers will have to battle through the consolation with 2 additional spots at state.
Our coverage of both games last night is below with a short re-cap but links to both post game shows with full re-cap and stats plus video highlights and pictures.
Game 1
WF West 45, Mark Morris 13
The night got off to a bad start for the Mark Morris Monarchs when their bus broke down on the way to the game in Castle Rock. But a great job by the Longview school district transportation folks got a replacement bus up there quick and the game was only delayed by about 20 minutes. However, it felt like that disruption carried over and the Monarchs never got into a groove and seemed out of synch the whole game.
The one bright spot for the Monarchs was their defense, if you asked Head Coach Sean Atkins if he would take holding the Bearcats to 11 points a quarter their 2nd lowest total of the season no doubt he'd take it. But the Monarchs offense was simply non-existent. Just 5 points in the 1st and 2nd quarters and a grand total of 3 points for the 2nd half doomed the Monarchs from the start.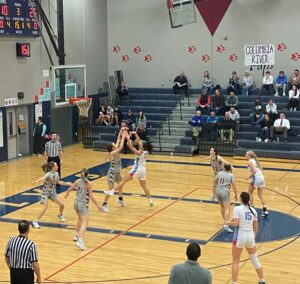 WF West simply remained consistent and when they did build their lead they began to run down the clock which also helped in keeping their overall total down but with no threat offensively from the Monarchs they didn't need it and cruised to the District Championship and advanced to the 2A State Tournament.
Julia Dalan doubled up Mark Morris on her own with 26 points and took our Thorbeckes MVP award. Dalan also grabbed 13 boards for a double/double and blocked 5 shots to fill out her scorecard. Grace Simpson had a pair of 3 balls and 9 points, Morgan Rogerson had 12 rebounds and Amanda Bennett dished off 6 assists.
For Mark Morris Amanda Noel had a pair of 3's including a buzzer beater at the end of the 1st quarter when the Monarchs were still in the game trailing by just 8. Noel added 6 rebounds with her total. Charlie Blain had 7 boards to lead the Monarchs in the paint. 
WF West (20-3) will play Tumwater (19-4) for the District Championship on Friday at 6pm at Hudson's Bay High School in Vancouver. Mark Morris takes on Woodland on Wednesday
For more on this game check out out Post Game show below along with Video Highlights.
ESN Post Game Show
Interview with Bearcats Coach Kyle Karnofski
Video Highlights
____________________________
Game 2
Tumwater 49, Columbia River 39
The Columbia River Rapids knew they had their work cut out for them taking on Tumwater and got to work quickly jumping out to a 16-7 1st quarter lead. Head Coach Jesse Norris was concerned about Tumwater's leading scorer Kylie Waltermeyer and kept her under wraps in the 1st 8 minutes with just 4 points while Peyton Dukes led the Rapids with 8.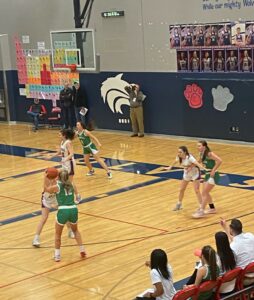 But Waltermeyer and the T-Birds turned it around in the 2nd where she knocked down 13 of her 26 points for the game. The T-Bird defense then put the squeeze on CR holding them to just 6 points and the T-Birds held at 25-22 lead at the break.
In the 2nd half it was defensive specialist Regan Brewer's time to shine on the offensive side scoring 13 of her 16 points down the stretch including a 3 and going 7-10 from the free throw line. Only 4 T-Birds scored with Cierra Larson adding 4 and Rhylee Beebe 3 to the total. Brewer led the T-Birds in rebounds with 8 while Beebe collected 6. Kendall Gjurasic had 3 steals and a blocked shot Brewer filled up her stat line with 3 steals and 4 assists. 
Columbia River's scoring was spread more evenly with Dukes and Emma Iniguez each with 10, Taegen Benke had 8 and Logann Dukes had 7. Iniguez had 5 boards to lead the Rapids in rebounding while Kinzi Drake grabbed 4. 
Tumwater (19-4) plays WF West (20-3) on Friday night at Hudson's Bay at 6pm for the Dist Championship while Columbia River (16-5) takes on Ridgefield (13-11) at Woodland HS on Wednesday night at 6pm.
For more on this game check out out Post Game show below along with Video Highlights.
ESN Post Game Show
Video Highlights
www.elisportsnetwork.com