2/18/2023
(Federal Way, WA) The 2022-23 Swimming season is over with the girls meets in the Fall and the Boys wrapping up on Saturday at the King County Aquatic Center in Federal Way. Coming into the meet the Anacortes Seahawks were seeking to repeat as Champions but they would have to try and resist the up and coming Pullman Greyhounds who were after their 1st ever Boys swimming Championship.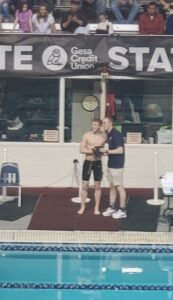 Bellingham and North Kitsap were also set up to take their shots and led to a very entertaining meet with fast times, incredible performances and tight finishes. Our coverage below with Video's of each race and if you click on the event title it will take you to the official finish chart.
Awards
Swimmer of the Meet: Miles Cratsenberg, Bellingham
Coach of the Year: Mark Van Huis, Kingston
Here is a short re-cap of each event and click on the event title for a link to the final result sheet.
The Seahawks of Anacortes got off to a fast start in their effort to defend their State Title but just out-finishing Pullman by just a 10th of a second with a finishing time of 1:39.71. Setting the pace for Anacortes was John Hernandez the 2nd leg was Zachary Harris, swimming 3rd Joseph Arrington and the final leg was Will McClintock. Bellingham had a strong run and was clearly 3rd while Squalicum came in 4th.
Race Replay
Bellingham's Miles Cratsenberg set a State meet record and just missed the State mark flying over the 200 yards in 1:37.75 breaking the old mark of 1:38.18. His time was also an Automatic All America time. Placing 2nd in an All America consideration time was William Miller of Pullman with a time of 1:39.19. Miller was well clear of 3rd place finisher Trenton Calloway of Quincy and taking 4th was Dylan Fisk of Squalicum.
Race Replay
Pullman's super sophomore Jake McCoy drew off and won this event by 8 seconds in an AAC time of 1:50.50 to give the Greyhounds their 1st individual win. Fife's Samuel Draeger swam well to get up for 2nd by about a half second over Ryder Chene of Sammamish who just out-touched Lindbergh's Heston Grant by 7/100ths of a second.
Race Replay
Selah's Charles Hudson defended his 50 Free title from last year pulling away for a clear 1/2 second victory. His final time of 21.04 just missed being an All America consideration time but he did have his 2nd Gold medal in this event. Finishing 2nd was Tarik Kurta of Fort Vancouver for the Trappers highest placing in the meet. Parker Dangleis of Hockinson was 3rd and taking 4th was Will McClintock of Anacortes.
Race Replay
Quincy's Trenton Calloway obliterated the meet record of 49.75 setting a new low by a half second of 49.25. This time was also an AAC time as Calloway registered the Jackrabbits lone individual win of the meet. Chip Swarner from Tyee was clearly 2nd with a solid effort. Taking 3rd was Ian Muffett of Zillah and rounding out the top 4 was Trey Rippon of Squalicum.
Race Replay
Pullman's William Miller just missed the meet record by 2/100's of a second but won convincingly for the Greyhounds 2nd win of the day. His final time of 45.83 was also just shy of an AAC time by .15-seconds. Taking 2nd was Hockinson's Parker Dangleis while Charles Hudson added a Bronze medal to his earlier Gold with the 3rd place finish and taking 4th was Mathias Synnott from Squalicum.
Race Replay
500 Freestyle
Bellingham's Mile Cratsenberg demolished the field in the prelims on Friday and just missed the meet record while setting an AAA time in 4:28.34. Cratsenberg literally lapped the entire field on Friday. In Saturday's race Cratsenberg didn't have quite the same punch but he had plenty to win by more than 12 seconds. Taking 3rd was Teo Uberuaga from Pullman and 4th went to Derek Jones from Bellingham.
Race Replay
The Anacortes Seahawks won their 2nd event of the meet and their 2nd relay with a 10th of a second win over Pullman in the 200 Free. The same 4 reeled in the 2nd relay win but in a different order with John Hernandez still leading off but followed by Will McClintock going 2nd, 3rd up was Joseph Arrington and the anchor leg was Zachary Harris. The Greyhounds took 2nd again while Hockinson was 3rd and North Kitsap finished 4th.
Race Replay
Jake McCoy pulled down his 2nd Gold medal of the meet for the Pullman Greyhounds with a strong swim in the Backstroke winning by nearly 2 seconds. The win increased the Greyhounds lead over Anacortes in the team standings to an insurmountable advantage. Placing 2nd from Squalicum was Mathias Synnott with his best finish of the day. Samuel Draeger from Fife medaled with his 3rd place finish and taking 4th was Will McClintock of Anacortes.
Race Replay
Ian Muffett of Zillah came into the finals as the 4th qualifier and went on to stun the field with a terrific effort winning by daylight in a time of 58.32 about a second and a half better than 2nd place finisher Zachary Harris of Anacortes. For the Senior Muffett it was his only event and he made the most of it. Taking 3rd was Evan Wold from Archbishop Murphy and in 4th Heston Grant from Lindbergh.
Race Replay
Pullman put a bow on their first ever team State Championship with a rousing 5 second win in the 400 free relay. The winning relay team began with Jake McCoy who picked up his 3rd Gold of the day while Zaine Pumphrey was the 2nd leg, Teo Uberuaga picked up the 3rd position and finishing strong for the Greyhounds was William Miller. The team is a pair of sophomores and a pair of juniors so the rest of 2A will have to deal with the Greyhounds again in 2024.
Taking 2nd was North Kitsap with a strong finish, Squalicum, who hit the board quite a bit all day grabbed 3rd and taking 4th went to Bellingham.
Race Replay
Combined Team Scores                  
 
  1. Pullman                           286   2. Anacortes                         245
  3. Bellingham                        190   4. North Kitsap                    188.5
  5. Steilacoom                        164   6. Sammamish                         160
  7. Hockinson                       154.5   8. Squalicum                         146
  9. Fife                               98  10. Selah                              72
 11. Lindbergh                          66  12. Quincy                             61
 13. Archbishop Murphy                  44  14. Lynden                             38
 15. Shelton                            37  16. Port Angeles                       36
 16. Zillah                             36  18. Fort Vancouver                     31
 18. Tyee                               31  18. Burlington Edison                  31
 21. Bremerton                          24  21. White River                        24
 23. Sehome                             20  24. Ridgefield                         19
 25. Sequim                             18  26. Kingston                           16
 27. Mark Morris                        15  28. Prosser                            14
 29. Olympic                            13  29. Evergreen                          13
 31. Toppenish                          11  32. East Valley (Yakima)                7
 32. Washougal                           7  34. Enumclaw                            4
 35. Foss                                1  35. South Whidbey                       1
Adaptive Swim
In the Adaptive Swim there were 5 participants and all made unbelievable swims. The 5 were Kieran Roxas of Sehome, Kai Borton from Sehome, Charles Hudson from Hudson's Bay, Eric Alaniz also of Hudson's Bay and from Fife Gordon Cannon.
Race Replay Adaptive Freestyle
Photo Gallery
www.elisportsnetwork.com