2/18/2023
(Federal Way, WA) The 2022-23 Swimming season is over with the girls meets in the Fall and the Boys wrapping up on Saturday at the King County Aquatic Center in Federal Way. The final day the swimmers brought their A game with records falling and several automatic All America times and several All America consideration times being recorded with 4 such times in a single race.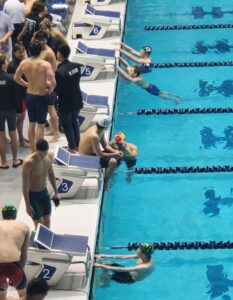 The Newport Knights returned to the winner's circle for the first time since winning 3 straight Championships from 2014-16 and they did by denying Curtis their first back-to-back title run. The Vikings could not match the Knights losing by nearly 40 but were a clear 2nd for a great run at the loaded Newport squad.
4 team trophies are awarded in each meet and Skyline took home 3rd place and then the WIAA had to order a 2nd 4th place trophy as Hanford and Redmond tied for 4th with 159 total points. They almost had to order 2 extra trophies as Union ended up 6th just 1 point behind both Hanford and Redmond with 158 points.
Awards
Swimmer of the Meet: Liam Campbell (Sr) Newport High School
Coach of the Year: Jesse Grow Hanford High School
Here is a short re-cap of each event and click on the event title for a link to the final result sheet.
Newport began with a bang breaking their own meet record they just set last year with a 1:32.70 final time just missing the State record of 1:32.42 set by Mercer Island also last year. The winning time also was an AAA (automatic All-America) time. The Knights lightning fast relay team was led off with Freshman William Ho the 2nd leg was Sr Christian Koh, up 3rd went Soph Nathan Xu and the anchor was Sr Liam Campbell.
Eastlake was a clear 2nd in the opener while Skyline took 3rd and Redmond was 4th to round out the top 4.
Race Replay
In the 200 Free Union's Sam Empey won his 1st of 2 Gold medals blowing away the field winning by more than 5 seconds in an AAC time of 1:39.43. Curtis's Adam Kwon out-touched Nathan Kim of Camas for 2nd by 3 10ths of a second. Ethan Georgiev  of Jackson rounded out the top 4.
Race Replay
Eastlake's Connor Brown was an impressive winner in the 200 Individual Medley rolling to a nearly 3 second win over Christian Koh of Newport. Brown really kicked it into gear in the final stretch and his winning time of 1:50.87 was the 3rd race in a row with at least one AAC or AAA time in the books. Jonah Medvinsky from Redmond tagged in just in front of Charles Lee of Skyline for 3rd place.
Race Replay
We'll call this Throwdown #1 between Curtis's Tolu Young and Newport's Liam Campbell. Young just missed setting the State and Meet record of 19.81 in the preliminaries when he blazed the 50 in a time of 19.86. Campbell was right behind in a time of 20.19. So would they repeat their amazing day 1 performances? No they wouldn't, they got FASTER! Young set a new meet and state record when he stopped the timer in an eye-popping 19.73 which was another AAA time as well for the Jr from Curtis.
Meantime, Campbell did all he could and also snapped the 20-second barrier with a 19.98 but settled for 2nd. That was also an automatic All America time. Austin Elwyn of Wenatchee took 3rd and rounding out the top 4 was Evan Ping of Newport.
Race Replay
Union's Sam Empey came in with the 3rd best qualifying time from Friday but was ready for his best effort as he shaved nearly a full second off his qualifying time to stop the clock in 49.60 which was an AAC time. Empey huge effort earned him his 2nd Gold medal of the day. Sumner's Tanner Wilson was the top qualifier and improved on his score as well but could not get by Empey. Nathan Xu of Newport took 3rd and in 4th was Curtis's Matthew Audette.
Race Replay
Here comes Throwdown #2 between Young and Campbell so could the Newport Senior turn the tables on the Curtis flash? Young was the top qualifier over Campbell by about 8/10ths of a second. At the start Campbell was off to a very fast start while Young seemed to get caught just a half beat off and was off behind Campbell.
In fact Young was 7th early on but as they turned for the final stretch Young was gobbling up ground with every stroke flying past everyone except Campbell who dug in and refused to give in winning clear by about a second in a time of 44.40 an automatic All America time. Young was 2nd in an AAC time of 45.61 just getting up in time to edge Evan Ping of Newport who missed the AAC time by 2/100ths of a second. Alexander Wahlman of Union finished 4th.
Race Replay
Hanford made their trophy run late and were led by Senior Andy Gelston and he took home his 1st Championship in the marathon event the 500 freestyle. Gelston took nearly 5 seconds off his qualifying time which was 2nd highest behind Redmond's Jaiden Sreenivasan. Gelston finished in a time of 4:36.79 about 3 seconds short of an AAC time.
Tahoma sophomore Evan Angeline got up for 2nd by 2/100ths of a second out-tapping Sreenivasan who was 3rd. Adam Kwon from Curtis took 4th.
Race Replay
The Union Titans got their 3rd win of the day and Sam Empey the lead-off swimming in the 200 freestyle relay grabbed his 3rd gold. The Titans were the top qualifier and took nearly 2 seconds off their top qualifying time with a 1:25.93 just missing the AAC time. Empery was joined by 2nd leg swimmer Owen Robertson, 3rd leg was Steven Empey and Alexander Wahlman finished up with a strong leg to clinch the win.
Curtis made a strong run at the Titans but finished 2nd just 4/10ths of a second behind while Newport finished 3rd and Hanford was 4th.
Race Replay
Hanford's Andy Gelston became a double winner leading start to finish in the backstroke and the only one with a sub 50-second time with a 49.97 which was also good enough for All America consideration. Benjamin Madson of Wenatchee had a solid run taking silver by a little more than a 1oth of a second over Joshua Pak of North Creek. Matthew Audette of Curtis was 4th.
Race Replay
Eastlake's Connor Brown won the 200 IM much due to his strong breaststroke leg and he was set to show-off his forte and did so with a powerful performance that blew away the filed by nearly 2 seconds in an AAA time of 54.76.
The race was for 2nd as 1/100th of a second separated 2nd and 3rd place. Redmond's Jonah Medvinsky just slipped by Skyline's Charles Lee in a tight finish. Christian Koh from Newport was 4th.
Race Replay
In the finale the Curtis Vikings did all they could to close the gap on Newport and defend their State Championship when they won the 400 Free relay in meet record time. Tolu Young, Matthew Audette, Adam Kwon and Sam Funches combined in that order to break their own record they set last year. The Vikings set the meet record last year in a time of 3:06.45. This year they blazed the 400 in 3:04.98 which also an automatic All America time and just a second of the all-time state record.
Newport didn't let the Vikings get too close as they also had a fast time in 3:06.64 which was an AAC time and they were clearly 2nd. Union ended up 3rd and Hanford finished off the meet with a 4th place finish, which them tie for 4th place in the overall team standings.
Race Replay
Final Team Scores
  
  1. Newport                         268.5   2. Curtis                            229
  3. Skyline                           175   4. Redmond                           159
  4. Hanford                           159   6. Union                             158
  7. Tahoma                            143   8. Eastlake                          142
  9. Wenatchee                         133  10. North Creek                       112
 11. Jackson                            84  12. Issaquah                           81
 13. Olympia                            61  14. Camas                              57
 15. Mount Rainier                      51  16. Lake Stevens                       50
 17. Richland                           48  18. Woodinville                        33
 19. Sumner                             30  20. Moses Lake                       28.5
 21. Kennedy Catholic                   28  22. Kamiak                             21
 23. Mount Si                           19  24. South Kitsap                       15
 25. Glacier Peak                       10  26. Chiawana                            7
 27. Mariner                             6  27. Kentwood                            6
 29. Kentridge                           4  30. Eastmont                            2
 30. West Valley                         2  32. Bothell                             1


Adaptive Swim
There were the 2 traditional adaptive races of the 50 free and 50 backstroke. The 4A Adaptive swimmers were Jordan Davidson from Eastlake, Danny Thurman from Moses Lake, Keller Yang of Richland and Julian Rivera from Davis. All 4 participated in both races and Danny Thurman finished 1st in each event.
Race Replay Adaptive Freestyle
Race Replay Adaptive Backstroke
Photo Gallery
www.elisportsnetwork.com