2/16/2023
(Federal Way, WA) The Diving competition kicked off the 2023 boys State Swim and Dive Championships. The 4A competition had the morning session, 2A/1A the afternoon and 3A the evening shift. Our coverage of all 3 tournaments is below.
4A Diving
The 4A divers got things started in the morning. Coming into the competition Mt Si's Ty Mitton was the top qualifier with 484.30 and Corwin Lindeman from Mt Rainier 2nd at 473.25 and it would be those two who would battle for the Golf medal. Mitton was 3rd in the line-up and Corwin dove 8th in line.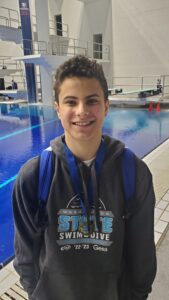 Mitton began with a solid 27.75 while Corwin scored 38.25 on his 1st attempt. Mitton countered with a 42 on dive #2 but Lindeman answered with the best single score of the meet hitting 58.50 on dive #3 and took a sizable lead. After 4 dives Lindeman was sitting at 180 or a 45 point per dive pace and would have put him in the top 4 all time if he could continue that pace.
Mitton would not give in and after 7 dives and snuck back within 4 points of Lindeman. The break came on dive 8 with Mitton scoring a 28 and Lindeman countering with another +40 at 41 and took a 319.70-302.60 lead over Mitton. Mitton would score a 50.70 on dive 10 and surround it with solid scores of 34.10 and 39.60 but Lindeman would not budge with a 37.80, 42 and finished with his 3rd highest score of the meet a 45 to secure the state Championship 444.50-427. The only 2 Divers to break 400.
Zach Halter of Skyline finished 3rd with a strong and consistent performance with a high score of 42.90 and a low of 23.80 for a final score of 359.85. Halter was about 33 points in front of 4th place finisher Karter Warner of South Kitsap who vaulted past several in a tight pack with his best dive on his final try scoring 45.60. Rounding out the top 5 was Cole McIntire from Redmond who just missed 4th place by 3 points. McIntire also had one really off in round 5 when his head appeared to clip the end of the diving board. He was checked out by the lifeguards and was cleared to finish and scored solidly through the final 6 rounds for the 5th place medal.
Finishing the top 8 in class 4A and awarded medals were Maxx Reagan from Tahoma, Luke Vlases of Mt Rainier and Cade Farmer from Kamiak.
Finishing 9 thru 16 and earning points for their team were Ben Leonardo of Kennedy Catholic, Matthew Logston of Chiawana, Dane Padgett from Redmond, Eli Farmer from Kamiak, also from Kamiak Zack Warren, Wesley Bass of Woodinville, Hudson Hamilton of Eastmont and Bothell's Nolan Ellis.
Interview with Champion Corwin Lindeman
Video Highlights
Corwin Lindeman hits a 58 on his 2nd Dive
Ty Mitton finishes strong to lock down 2nd place
Skyline's Zach Halter takes 3rd
2A Diving
Anacortes's Zephy Blee was the only returning Diving Champion  out  of the 3 classifications and he came in as the top seed. Several  other familiar names also qualified as top seeds including Connor McPhail and Carlo Zavala from Steilacoom, Jack Legan of Sehome and Burlington-Edison's Ezekiel Stansbury all placed in the top 8 last year. Meantime, Bellingham's Chayse Gauthier was the 2nd high seed and he and Blee were the only ones with more than  a 300.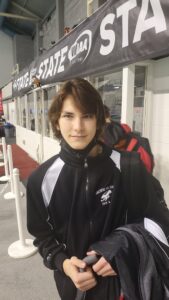 Blee began the day with a solid 27.6 which led the 1st round but not by much as Zavala and McPhail were right behind at 25.5. But Blee then put distance on everyone with the high score of the 2A meet with a 44.4 and followed that up with a 41.4 the only 2 40 scores. After the 1st 5 rounds going into the short break Blee had racked up a 161.60 score. However, Senior Carlo Zavala was not ready to throw in the towel and remained in striking distance with a 147.55.
Blee and Zavalo had separated themselves from the pack going into the final 3 dives and at one point only 4 points separated the two. But Blee came through with a 31.05 on dive 9 and followed it up with a 33 on dive 10 while Zavala back-tracked with a 26.4 and 24. On the final dive Zavala gave it all he had and registered his 2nd best dive of the meet with a 32.5 but Blee wouold still need just a 15 to win. Blee did not have his best for last but the 22 was enough to hold off Zavala for the 7 point win and defended his title.
It was a great meet for Zavala whose aggressive style won over the audience with great height on his dives and intensity to make the run for Gold a close call.
Meantime, the race for the other places got convoluted when two divers in position to take 3rd made a huge mistake and dove the wrong dive they had listed and received 0 points. Steilacoom's Nate Englund was having a terrific meet until dive 10 when he got a 0 and could have ended up 3rd had his dive counted. Englund ended up 7th overall while Chayse Gauthier also missed his dive in the 10th getting a 0 and ended up 5th.
The mistakes opened the door for Connor McPhail of Steilly who recorded the 3rd highest score of the 2A meet on his last dive with a 39.6 and grabbed 3rd place for the 2nd time in a row. Sehome's Jackson Legan took full advantage of the  door being opened and strolled into 4th place after an amazingly consistent day. Legan scored in the 20's 9 of the 11 rounds, had 1 at 18.9 and 1 at 31.9 and in fact were back to back in the 4th and 5th rounds.
Ezekiel Stansbury was another very consistent participant and ended up 6th also taking advantage of the 0 by Englund to beat him out by just 8 points. Taking the last medal in the 2A was Bellingham's Caleb Epps.
The 16 finalists all scored points for their team and rest of the finishers 9th thru 16th in order were Rhett Nordberg of Sammamish, Porter Chesbrough of Bellingham, Trevor Abramson from Archbishop Murphy, Gus Deluca from  Sehome, Noah Ketner of Anacortes, North Kitsap's Justin Anderson, Finn McKeage from  Lindbergh and Rydley Strong from North Kitsap.
Interview with Champion Zephy Blee
Video Highlights
Zephy Blee nails a 40 point Dive
Carlo Zavala gets a strong start to 2nd place
Connor McPhail finishes his career with a 3rd place medal
3A Diving
The 3A Divers wrapped up a full day and the 2 top qualifiers ran away with the competition. Christopher Sellers from Bishop Blanchet was the only qualifier over 400 points at 414.30 while Alma Smith from Cheney just under the 400 mark at 392.65. Smith came out strong in his 1st 3 dives with a 30.6, 42 and 31.05 while Sellers was consistent with a 21.6, 28.75 and 22.95.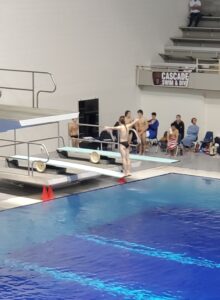 After the first 5 rounds of preliminaries Smith led with 151.55 points over 3rd qualifier Nate Orrantia of Marysville-Getchell with 133.25. Sellers was in 3rd at 127.75 just barely ahead of 4th seeded Isaac Bingay of Cascade who had 127.20. 
The field was trimmed from 24 to 20 after the 1st 5 rounds and going into the semi-finals Sellers would make a move and close the gap on Smith while taking over 2nd place with a score of 223.45. Smith was still in control leading with 241.65 while Orrantia dropped to 3rd with 202.35 and Bingay held 4th place.
After another 4 swimmers were eliminated the field of 16 went into the final 3 dives and Sellers closed the gap more with an electric final dive and took a 17 point lead over Smith so he needed a big stumble from Smith on his final dive for a shot at winning Gold. Smith did not waver and nailed his final effort  with a 1 and half twist and scored 40+ to win the Diving Championship 338.05 to 316. Sellers clinched 2nd and Orrantia did well and held 3rd also finishing with more than 300 points at 300.25. Bingay was super consistent and grabbed 4th place handilhy by nearly 30 points at 281.75.
Joseph Moore of Lake Washington came out of about an 8 diver pack to get 5th, Aaron Blume of Timberline made the medal stand in 6th,  Matthew Brady of Liberty was 7th and 8th place went to Giovanni Slye who captured the final medal on the final dive of the day.
9th through 16th all earned points for their teams and finished in order Wriley Savage of Gig Harbor, Thomas Cardinal from Perninsula, Shane Kornblume of Mercer Island, Keith Kirkwood from Marysville-Getchell, James Ferrier from Gig Harbor, Isaiah Gibbs of Marysville-Getchell, Nolan Peloquin from Liberty and Juanita's Logan Meigs.
Video Highlights
Alma Smith clinches the Championship
Christopher Sellers makes a strong push with his final drive
Nate Orrantia breaks the 300 point mark and grabs 3rd place
www.elisportsnetwork.com