2/18/2023
(Federal Way, WA) The 2022-23 Swimming season is over with the girls meets in the Fall and the Boys wrapping up on Saturday at the King County Aquatic Center in Federal Way. The final day the swimmers brought their A game with records falling and several automatic All America times and several All America consideration times being recorded. In fact in the 3A meet there were a total of 14 automatic All America or All America consideration times recorded.
The Mercer Island Islanders have dominated 3A boys swimming with 2 Titles in a row and 11 in school history. The Islanders simply overwhelm their competition with a deep roster of not only Champions but many swimmers who get into the finals heats and score many points to help them stack up those team points. Lakeside would be their nearest competitor and then a strange finish in the last event tightened things up and actually cost Bellevue 3rd place overall.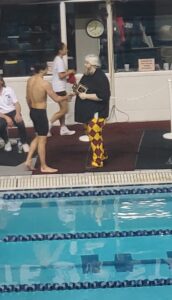 The Mercer Island 400 Free Relay team was disqualified from their 1st place finish moving Bainbridge Island up to 1st and Bellevue 2nd. But because the 2 teams were only 3.5 points apart and the difference between 1st and 2nd place is 6 team points compared to the 2 point difference between 2nd and 3rd was the difference, so if the final event had not DQ'd Mercer Island the Spartans would have gained only 2 points on Bellevue and would have finished 4th. But the difference between 1st and 2nd place lifted Bainbridge over Bellevue for a 1.5 point difference and the Wolverines ended up 4th.
Awards
Swimmer of the Meet: Jack Skarda, O'Dea
Coach of the Year: Matt Miller, Lakeside
Here is a short re-cap of each event and click on the event title for a link to the final result sheet.
Mercer Island got off to a fast start seeking their 3rd straight team Championship with a win in the opening event and did so in a very fast time of 1:32.89 which just missed their own meet and state record set last year of 1:32.42. This year's time did qualify as an automatic All America by 1/100th of a second. The winning relay team led off with Evan Lui followed by Emmett Ralston, Matthew Shield swam 3rd and the final leg was Coy Hounsell.
The Islanders win was not a blow away with 2nd place Lakeside clocking in at 1:33.61 and 3rd place Bellingham at 1:34.48, both All America consideration times with Bellingham's being dead on the minimum qualifying time. Bainbridge Island rounded out the top 4.
Race Replay
No doubt Gig Harbor's Aiden Hammer had already caught the eye of many swimming observers but if you had not seen or heard of the Freshman he made a huge splash, so to speak, in his 1st run at the State Championships. Hammer was the 2nd fastest qualifier in the 200 free but still more than a second behind the imposing Matt Williamson of Mercer Island. Even further behind Williamson in the qualifying was Wyatt Carlton of Mount Vernon who was 4th in the prelims.
As the race began it was Carlton who jumped to the lead with both Williamson and Hammer close by and that order remained until the final stretch and many thought this is when Williamson would show the experience of being a senior but it was the Freshman Hammer who stunned the crowd with a bold move and just caught Carlton at the finish. Carlton held on by a fingernail over Williamson for 2nd. Gig Harbor's Grant Huston finished 4th.
The winning time by Hammer was 1:39.58, Carlton finished 4/10ths back at 1:39.58 and Williamson was just off a couple of a 100th's second from his top qualifying time. All 3 times were AAC's.
Race Replay
Another sizzling time was set in the 200 IM, this time by O'Dea's Jack Skarda who was also named Swimmer of the Meet. Skarda blazed the 200 IM in a time of 1:48.33 which is an AAA time. Skarda won comfortably by more than a second. This is where Mercer Island's depth of swimmers began to put distance between the Islanders and the rest of the field as Aaron Liu took 2nd handily, Paul Gelinas of Garfield was 3rd and capping off the top 4 was Ingraham's Kjell Cady.
Race Replay
Bainbridge Island's Jason Nordgren was the only swimmer in the 50 Free to tab in under 21 seconds with an AAC time of 20.85 to win the Spartans 1st individual Gold of the meet. Mercer Island's Emmett Ralston took a few ticks off his qualifying time to grab 2nd, the Islanders also had entrants who took 7th and 8th in this event. 3rd place went to Lake Washington's Matthew Li and 4th was Jerry Chen of Lakeside.
Race Replay
Mt Vernon's Wyatt Carlton nearly stole the 200 Free with a front end effort just missing to take 2nd. In this race Carlton would not be denied and added yet another time to the AAC collection on the day. The senior earned his team's only Gold on the day with a clear win in a time of 49-flat. Less than a second behind was Zach Hur of Bellingham just missing an AAC time by 4/100ths of a second. In 3rd was Alvin Zhang of Lakeside while Bob Frazer from Bellingham took 4th.
Race Replay
Jason Nordgren had a huge day for Bainbridge Island winning his 2nd Gold medal of the day in the 100 Free in a time of 45.75 also barely missing an AAC time by a few 100ths of a second. Nordgren was the top qualifier and shaved a few digits off his time but was the clear winner. Mercer Island's Evan Lui took 2nd just a few ticks in front of Grant Huston of Gig Harbor. Sean Neils from Shorecrest was 4th. There was only 2/10ths of a second difference between 2nd and 4th in a tight finish.
Race Replay
Gig Harbor's fabulous Freshman Aiden Hammer was ready to prove his win in the 200 Free was no fluke and even though he came in as the 3rd qualifier from the Friday prelims and was more than 7 seconds behind top qualifier Matt Williamson. Williamson was ready to gain back his dominance and looked like he would do just that as he led for the first 16 of 20 laps. But Hammer was never far back and on the turn to lap 17 Hammer pushed to the front and from then on extended his lead to win by more than 2 seconds in an AAA time of 4:28.63.
Williamson was just off his qualifying time but his qualifying time would have also been 2nd best as Hammer trimmed off nearly 10 seconds from Friday to Saturday. Williamson did earn his 2nd AAC time of the meet in the 500 Free with a time of 4:30.55. Kjell Cady from Ingraham was all alone in 3rd and Bennett Rosenberg of Roosevelt had a great run to take 4th, the highest finish of the day for the Roughriders.
Race Replay
Mercer Island was racking up points all day but had only 1 Gold to this point and that was in the opening 200 IM relay. The Islanders picked up their 2nd event Title in the 200 Free relay. The relay team of Coy Hounsell, Colin Carmichael, Emmitt Ralston and Matt Williamson stopped the timer in a blazing 1:24.53 just 3/100ths of a second of an automatic All America time.
Lakeside without winning any events also had a deep roster and had been accumulating points along the way to be solidly in 2nd place in the team standings and this 2nd place finish further extended them over everyone but Mercer Island. Hazen ended up 3rd while Shorecrest took 4th.
Race Replay
Bellingham's Zach Hur capped off his Senior year with a dazzling win in the 100 Backstroke in a swift time of 50.33, just missing an AAC qualifying time. Stadium's Jack Andrew had the Tigers best run of the taking the Silver medal holding off Eastside Catholic's Julius Tuguinay who had the Crusaders best finish of the meet. Aaron Klym from Bellingham rounded out the top 4.
Race Replay
100 Breaststroke
Wow is all you can say about this race beginning with the winner, O'Dea's Jack Skarda who ripped through the 100 Breast in a sparkling 55.30 an automatic All America time. This was Skarda's 2nd Gold of the meet. The Wow part is added with the next 4 finishers, Jerry Chen of Lakeside, Emmett Ralston of Mercer Island, Alvin Zhang also of Lakeside and Garfield's Paul Gelinas all clocked in All America consideration times. Chen's time was 56.16 and Gelinas was 56.66. Just a half second was the difference between 2nd to 5th place.
Race Replay
The finale race was certainly interesting as Mercer Island had already clinched the team Championship which turned out to be a good thing for the Islanders. The Mercer Island team appeared to have won their 3rd Gold of the meet and would have swept the relays until the announcement was made that the Islanders were disqualified and would receive 0 team points.
The DQ lifted Bainbridge Island to 1st place and moved the Spartans from 4th in the team standings to 3rd. The winning team for Bainbridge included lead-off Aidan Cole the 2nd leg was Curtis Stewart, swimming 3rd was Finn Wenker and the anchor leg was Jason Nordgren for his 3rd Gold of the day. Bellevue ended up 2nd while Hazen took 3rd and O'Dea finished 4th.
Race Replay
   Combined Team Scores                   
 
  1. Mercer Island                     285   2. Lakeside                        242.5
  3. Bainbridge Island               209.5   4. Bellevue                          208
  5. Gig Harbor                        132   6. O Dea                             123
  7. Eastside Catholic                 122   8. Shorecrest                        120
  9. Hazen                             103  10. Garfield                         97.5
 11. Ingraham                           88  12. Lake Washington                    85
 13. Roosevelt                          55  14. Shorewood                          54
 15. Mount Vernon                       51  16. Bishop Blanchet                  50.5
 17. Snohomish                          37  18. Cascade                            33
 19. Marysville Getchell                24  20. Peninsula                          23
 20. Stadium                            23  22. Cheney                             20
 23. Mountain View                      17  23. Interlake                          17
 25. Liberty                            16  26. Timberline                         13
 27. Ballard                            12  28. Walla Walla                        11
 28. West Seattle                       11  30. Lincoln                             9
 31. River Ridge                         6  32. Prairie                             3
 33. Juanita                             1
Adaptive Swim
The 3A Adaptive swims had the most competitors of the 3 meets and included Josh Goulter of Hazen, Griffin Barlow from Mountainview, Matthew Skimmyhorn from Evergreen, David Le from Auburn-Mountainview, Taylor Gore of Gig Harbor, Stadium's Logan Lok and from Roosevelt Sam Nelson. All 7 swimmers were amazing in their efforts and David Le of Auburn-Mountainview did win both events.
Race Replay Adaptive Freestyle
Adaptive Backstroke
Photo Gallery
www.elisportsnetwork.com