3/10/2023
The Evergreen School district in Vancouver notified the 4 Athletic Directors at their 4 main campuses that they will not have a job at the end of the school year. Jason Castro at Heritage, Christian Swain at Evergreen, Adam Mathieson at Mountain View and Jamal McKenzie at Union were all warned prior to the recent school levy election that if the levy failed their jobs would likely be chopped but if the levy passed their jobs would be safe.
The levy passed with each of the AD's doing their part in getting it past by doorbelling, talking to folks and standing on the corner of busy roads with signs. The 4 thought their jobs were safe when they were hit hard with the news earlier this week that despite being told their jobs would be safe, they are still being cut. One AD expressed on social media how used he felt by the district.
On top of it is 3 of the AD's are also head coaches with 2 as the Head Football coach and 1 taking over the Baseball job this year. Without jobs it is unknown what their future is as Head coaches. 
The full story on the lay-offs was well laid out by Paul Valencia on Clark County Today on this link: Athletic directors from Evergreen Public Schools 'blindsided' and 'shocked'

So what is the fall-out of not having Athletic Directors? What do they do anyway? WIAA Executive Director Mick Hoffman has spent much of his professional career as an Athletic Director in the Vancouver school district including the District Director overseeing their 4 high schools of Columbia River, Hudson's Bay, Fort Vancouver and Skyview so a very similar set-up as their neighbor in the Evergreen district.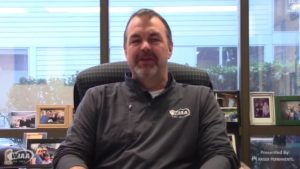 We talked with Hoffman on the impacts of clean sweeping out all 4 AD's. Hoffman says first people need to know what AD's do and what they are responsible for. He says AD's do many of the things you see them do or expect such as schedule their teams games and events, including busses when on the road and officials when hosting.
They organize those school workers willing to work the events selling admission tickets to programs, setting up the fields, making sure those handling concessions have everything they need to literally setting up chairs, cleaning up after games and making sure the visiting team and officials know where their locker rooms are located. AD's are many times responsible for security, dealing with loud fans and kids along with every aspect of each event.
Hoffman says those are the most visible things that AD's do but far from all of it and far from the most important. Hoffman says it's the things that most people don't see that make this job difficult and important to school districts. Hoffman says AD's are responsible for hiring all coaches whether they do it themselves or use a committee in the end it is the AD's decision.
They must vet each coach whether or not they are paid or volunteer. They must go through background checks, they must be trained correctly in many aspects of their particular sports from concussion protocols in football to arm restrictions for baseball pitchers and everything in-between. CPR training and in some cases how to use a defibrillator, hiring or contracting professional trainer's, working with local law enforcement and fire and aid services are also included.
AD's have to keep track of every single kid turning out for a sport and make sure they are in compliance with all paperwork being filled out, physicals, insurance  to mandatory grade checks. When grades are an issue the AD has to inform the coach but most will then work with the students to help them get back to being eligible whether that means talking with their teachers for extra help, tutors and working with parents.
Speaking of parents, they take an endless number of phone calls with concerns from their child not being treated fairly, to bullying issues to allegations against coaches favoring other kids or simply coaches that don't win despite the actual talent level of their current teams compared to a "belief" in talent level.
AD's have to make sure each student athlete is ok to participate, make sure the facilities are up to code and safe to be used and to make sure all safety precautions for each sport or event are followed. Many times AD's are at work at 7am and don't get home to after 10pm and no, there is no extra pay for AD's to put in all those extra hours.
Hoffman says he totally understands school districts in bad financial situations and the need to balance their budgets but he hopes some thought goes into what dropping all 4 AD's and passing off their duties to existing administrators tacked on to their regular duties will mean and if they indeed will save money. He wonders if enough thought about how important AD's are simply to comply with the rules of athletics but way more importantly the legal compliance.
Hoffman says the financial impact on a district if an improperly trained coach tries to treat an injured player or not correctly vetting someone to compliance with state and federal laws like Title IX. Who allows crews to come in and broadcast or team volunteers and they lay down a hundred feet of extension cords unsecured and someone trips and falls, whose responsible?
Hoffman says the job of AD is getting more difficult and more time consuming with fewer and fewer volunteers stepping up to make sure games and events can be conducted with little or no issues. Tacking that onto an existing vice-principal already in charge of many things thinking the AD position can easily be folded into an already busy schedule could easily end up costing school districts more money than keeping an on-site AD.
The Evergreen administration will be recommending cutting the AD positions at their next board meeting along with another 100+ positions to balance the budget.
Hoffman is hopeful the least that could happen is the 4 AD's are able to fill in to other positions in the district as they have families to support and certainly would be advantageous to be able to keep those coaching in those positions in place as there are already many Head coaching jobs open at this time and unsure if trying to hire a new Head Coach with no AD would be attractive to potential candidates or not is a gamble for sure.
Athletics and activities have shown to be strong influences on kids' grades, attendance and higher graduation rates and by chipping away at programs could very easily impact student count and full time employee counts which are the basis of much of education funding. Hoffman says the data is clear, quality programs keep students connected and accountable, there is no getting around it.
The recent pandemic shutdown was proof as the WIAA got many messages from Superintendent's all around the state pushing to re-start sports as quickly as possible as many students stuck with on-line classes just stopped participating. The school leaders relied on sports to keep a big percentage of kids engaged but without that motivation they saw their numbers drop significantly.
Hoffman also says he hopes the district has thoroughly thought this through and how they will cover these duties. He anticipates the athletic secretaries will likely have work added to their desks as they will now be the ones with the most institutional knowledge on the operations of athletics from A to Z. Hoffman says dumping decades of experience and first hand knowledge will not be easy to replace.
www.elisportsnetwork.com