3/17/2023
(Yakima, WA) Next Friday and Saturday the Yakima SunDome will be invaded by the State High School's Dance and Drill teams will put 2 full days of remarkable performances, tremendous athletic ability, precision, artistry and creativity on display. The 2-day competition will be divided with the 3A/2A/1A teams competing on Friday beginning at 12:30p and finishing around 9p. On Saturday it's the 4A turn and will begin at 1p and finish around 7p. 
The competitions are divided into 6 categories which include Dance, Hip Hop, Kick, Military, Pom and Show. Here are the descriptions of each category: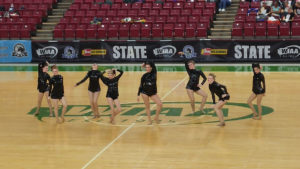 Dance: A Dance routine is an artistic form of primarily nonverbal communication. A routine may be of any style, or combination of styles (e.g. jazz, lyrical, modern, contemporary) that is not defined by another WIAA category definition (i.e. Kick, Hip Hop, etc.).
Hip Hop: A Hip Hop routine is funk or street style dance based on isolations and rhythms (e.g. free style, popping, locking, breaking, etc.). Timing and articulation of the body are major elements of the technique with movements and gestures being mostly percussive. Group synchronization, uniformity, and team style must be apparent.
Kick: A Kick routine highlights a variety of kick series. Kicks should be the focal point and must be used for at least fifty percent (50%) of the routine. All other
choreography is secondary and should not detract from the focus on kicks. A kick is defined as movement performed as an extension of the leg from the hip or knee.
Pom: A Pom routine is designed to emphasize the visual impact of the poms. The focus on poms is primary in choreography. All other movement and choreography is secondary and should not detract from the visual impact of pom patterning.
Military: A Military routine is a precision routine with an emphasis on sharpness through the dancer's entire body. Routine may include, but is not limited to, sharp angular arm‐hand sequences, military maneuvers, pattern formations, visual effects, and a variety of marching styles. Kickline sequence is allowed. All difficulty and technical elements must be in keeping with military style/quality.
Show: A Show routine focuses on story/characterization and/or theme. Props (including flags, manuals, poms, etc.), costumes, and the creative use and interpretation of music should be used to develop the story/theme. The choreography expresses a story line and/or theme that do not rely on any prior knowledge of the story/theme's origin (on part of the audience/judges). Backdrops, sets, and portable dance floors may be used to enhance the program.
Teams can only enter 1 team per category and may enter up to 3 events. All events except Show are 1:45-3 minutes in length while show is allowed up to 4 minutes plus 3 minutes to set-up and take down props.
****Important notice: Due to music copyright laws the competition will not be saved in the NFHS on-demand nor will it be available for purchase. Eli Sports will live stream it for the live presentation only. We know this is extremely frustrating but from a legal standpoint there is nothing that allows the WIAA, NFHS or Eli Sports to get around this legal blockade at this time. We are hopeful that at some point some legal relief can be accommodated for events such as these.
Last year's winners and placers: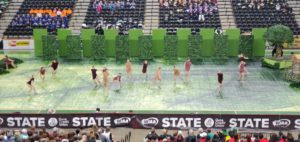 In the 3A/2A/1A competitions let's begin with the winners. Hermiston, Oregon was the lone multi-winner taking 2 events, the 2A/3A Dance and 3A Show categories. Othello was the 2A Hip Hop Champion and took 2nd in the 2A/1a Pom competition. Gig Harbor took home the 3A Hip Hop trophy. Bonney Lake won the 3A/2A/1A Kick competition took 2nd in 3A Military and 3rd in 3A Pom as the only triple trophy winner. 
Royal was 1st in the 2A/1A Military. Lake Washington was the 3A Military winner and also took home the 2nd place trophy in 3A Pom. Selah was the winner in 2A/1A Pom while Capital won the 3A Pom and was 3rd in 3A/2A Dance.
Other trophy winners included Tumwater with a pair of 2nds in 3A/2A Dance and 2A Hip Hop. Shorewood was 2nd, Prairie 3rd and Roosevelt 4th in 3A Hip Hop. Shelton was 2nd in 2A/1A Military, Interlake 3rd in 3A Military, Sehome 3rd in 2A/1A Pom and Hazen was 4th in 3A Pom.
In the Drill Down event Interlake swept the top 3 with Seanna Qin winning it, Raashi Ramanan 2nd and Miranda Wong 3rd. 
The 4A winners from last year had 2 double winners. Pasco took the 4A Hip Hop and Show category. Pasco was nearly a triple winner taking 2nd in Pom. Moses Lake was also a double winner taking the Military category and Pom. They also were close to taking a 3rd Championship finishing 2nd in the Kick competition.
There was a tie for 1st place in the Dance category with Issaquah and Skyline sharing the title. Skyline also picked up a 2nd trophy taking 5th in Pom. Mt Si was the other Champion winning the Kick competition.
Other placers included Kentwood who took home 2 trophies placing 2nd in the Dance and 3rd in the Hip Hop contest. South Kitsap also took home 2 trophies placing 3rd in Dance and 4th in Pom. Union was 2nd in Hip Hop, Newport 2nd in Military, Eastlake was 3rd in Pom and Kentridge was 4th in Dance.
The Drill Down Champion was Aubrey Stodgell from Kentwood, Sydney Hamilton from Kamiak was 2nd and 3rd place went to Camas' Beatrice Munson.
If you are planning on attending tickets are $22 for both days for adults and $16 for students, seniors and military. For those wanting to go to just one of the days ticket prices are $13 for adults and $10 for students, seniors and military. To purchase your tickets on-line here is the link: Buy tickets here
For more information including schedules and directions go to the WIAA "Tournament Central Page".
For those who can't go to the event you can watch our live broadcast covering both days on the NFHS Network. The subscription price is $11.99 for 30-days, not a pay per view or $79.99 for an annual subscription. You may cancel at any time no long term commitment. To subscribe or watch live go to: WIAA/NFHS Network page
www.elisportsnetwork.com