3/17/2023
Puyallup 2, Camas 1
(Puyallup, WA) The Camas Papermakers suffered their 1st loss of the year Friday night but had to feel like a win in many ways. The Papermakers lost a player with about 20 minutes to play in the 1st half to a red card when a defender took down a Viking from behind who was breaking away. It was one of those uh-oh plays, not at all malicious but a player trying to stop a for sure 1 on 1 and didn't get in front and left the official no choice but to have him leave the game. This left Camas with 10 players and still an hours worth of play to go. 
Then in stoppage time two starting Papermakers collided and after a lengthy delay both were out while they were furiously trying to score the tying goal. For all that to have happened and they lose by just 1 had to have given Head Coach Josh Stoller some great confidence that his team won't rollover for anyone.
Let's go back to the start where it didn't look very good for Camas when the home team Puyallup Vikings scored in 90-seconds for a quick strike goal and the 1-0 lead. The play came when the Bionic Man otherwise known as Dean Williams threw in an out of bounds ball about 25 yards in the air landing right in front of the Camas keeper to teammate Roby Hooper who punched it in after being re-directed on an outstanding play for the quick lead.

The Vikings kept up the attack but the Papermakers defense held denying Puyallup the chance to build on that early lead. Camas then began getting into their own groove and slowed down the hectic pace the Vikings wanted to play at and began building attacks that would pay off in the 19th minute when Markku Laukkanen lobbed up a beauty into the box to Caden Eckstein who headed it to the left side of the net for the game tying shot.
Camas then again got caught up in the chaos that Puyallup wanted to create when a lob pass went to a streaking Chase McMillian for Puyallup and was breaking away and Noah McLamb tried to punch the ball out from behind but caught McMillian's leg that led to the red card and from then on Camas was playing with 10 but the match tied at 1-1.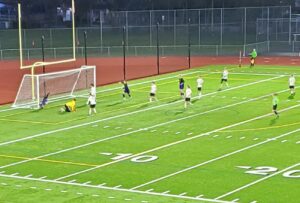 Puyallup would score the go-ahead in the 28th minute on yet another deep throw in from Dean "the Bionic Man" Williams that landed in front of Lucas Foster about 23 yards out in front of the goal and unloaded a sizzling low line-drive that hit the back of the net for the eventual game winning shot.
After that the Papermakers put up a stiff challenge for the Vikings and although both teams had some great opportunities neither could capitalize. Puyallup also had a massive advantage in corner kicks of 9-0 but could not add to their total. This a credit to both back lines and the 2nd half keepers of Kaian Mooring for the Vikings and the Papermaker's Jack Odone.
Other players with solid performances for Puyallup included Caden Duong, Jet Hazen, Liam Stoner, Aiden Bauer and Zach Robertson. Camas got great performances from Brayden Price on the backline, Theo McMillan, William Taves and Shiven Friedman.
We don't normally do this but a personal note it was great to see both teams play hard, it was physical but not dirty at all and both teams you could see appreciated the hard play. Both teams helped each other up, patted each other on the back and when the 2 Papermakers were injured late both teams congregated together while the players were being treated. It was a great display of sportsmanship throughout the match and really fun and great to watch.
By the way the injured players looked to have collided heads but both walked off the field under their own power and were being looked at by the training and coaching staffs. 
We did name an MVP for each team for the Puyallup Vikings Dean Williams and for Camas it went to Brayden Price and frankly both teams earn an extra big MVP for the kind of game they played on this Friday night in a non-league, pre-season match.
Puyallup is now 2-0 on the season and travels to Kentwood on Monday for a 7:30pm match while Camas drops to 1-1-1 and will next play on Saturday at Eastlake with a 2pm kick-off time.
Video Highlights
www.elisportsnetwork.com