3/20/2023
(Renton, WA) The last few years there have been some very long days and nights at the State Volleyball tournament and the WIAA Executive Board listened and took action to reduce the marathon sessions at the Yakima SunDome.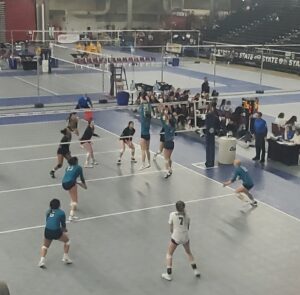 Last year the tournaments were split over 2 weeks with the 1B and 2B's beginning on Thursday, November 10 and finishing on Friday, November 11. The 1A began on the 11th and finished on the 12th. On Friday the 11th matches began at 8am and the last match slated for 8:15pm to begin didn't start until nearly 10pm.
The next week the 3A began on Thursday, November 17 and finished on Friday the 18th. The 2A and 4A began on the 18th and finished on the 19th. Matches began at 7am on Friday with the last match finishing early Saturday morning for an 18 hour day.
WIAA Assistant Executive Director Cindy Adsit took on this issue and worked with the SunDome to change up the schedule without adding any cost to the event and now only 2 classifications will be playing over any 2-day period. This will greatly reduce the time it takes to get the matches in along with having some leeway with an extra court available to play matches when they run behind on another court.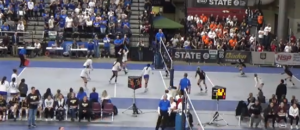 The 1B and 3A tournaments will still be 20 team tournaments with a loser out, play-in game to begin each of their tournaments. Seeds 13 thru 20 will play those matches with the winner the moving into the 16 team, double elimination portion of the tournament. The play-in games add 4 matches so the 1B and 3A are a total of 30 matches over 2 days and the 2B, 1A, 2A and 4A are all 26 matches over 2 days.
The time schedules will be released next Fall but rest assured there won't be any matches that begin at 7am. The WIAA Executive Board took the final vote affirming the new changes at their regular monthly meeting on Thursday.
www.elisportsnetwork.com