3/20/2023
Tumwater 1, WF West 0
(Tumwater, WA) The host Tumwater Thunderbirds were looking to keep the winning moving forward after losing their opening 2 matches a non-league to Archbishop Murphy and their league opener to Centralia. The T-Birds picked up their 1st victory last week against crosstown rival Black Hills with a 1-0 victory.
WF West was also 1-1 in league play entering this match, both looking up to the surprising Centralia Tigers at 2-0 in EVCO play and Aberdeen at 1-0. The Bearcats pummeled Shelton 6-0 but lost to Aberdeen 2-0. They were 1-2 with a loss to Prairie in non-league.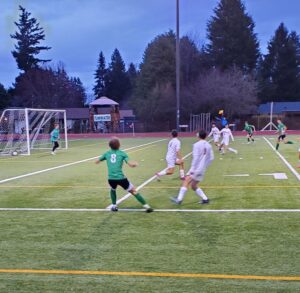 Tumwater's offense came out firing but the Bearcat defense held, then the tables turned with the Bearcats attacking but the Tumwater defense dug in and the back and forth lasted the entire 40 minutes with neither team giving in.
The rain had stayed away until just before 2nd half kick-off when it came down in buckets. Both teams were off to a slow start but then the rain subsided and the attacks heated up with the T-Birds striking 1st in the 60th minute on a shot by Gabe O'Connor to make it 1-0.
The Bearcats scrambled in the final 10 minutes to try and find the equalizer but fell short dropping to 1-2 in league play while Tumwater improved to 2-1. Both teams play again on Wednesday with Tumwater at home against Shelton and WF West takes on Centralia also at home.
The Thorbeckes MVP's of the game went to Lukas Stuart and for the Bearcats Hayden Sciera.

ESN talks with Tumwater's Gabe O'Connor on scoring the lone goal
Video Highlights
www.elisportsnetwork.com