3/27/2023
Montesano 3, Tenino 0
(Tenino, WA) Coming into tonight's EVCO 1A schedule the Montesano Bulldogs were tied with the Elma Eagles at 3-0 in league play while the Tenino Beavers and Eatonville Cruisers were tied for 3rd at 2-1.
The Bulldogs told our broadcast crew they wanted to come out aggressive offensively and they did just that but early on the Beaver defense was ready. The backline held up and keeper Alex Reichelderfer knocked and kept the Bulldogs at bay through the 1st 25 minutes of the 1st half.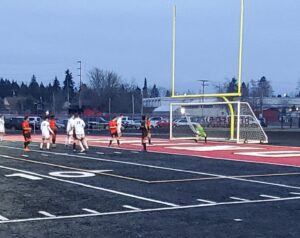 Montesano's offense broke through finally in the 26th minute when Spencer Lovell laid up a perfect pass to Felix Romero for the 1st goal of the match. Tenino then traded keepers and Brock Mauer came in but the Bulldogs again with an aggressive attack dished the ball to Mateo Sanchez who blasted the ball into the back of the net for a quick scoring burst to take a 2-0 lead. That's how it would go into the halftime break.
In the 2nd half, Mauer remained in at keeper and began with a great save to keep the Beavers within striking distance. Mauer would go on to have 10 saves after Reicheldefer had 6 in the 1st 25 minutes of the match. Montesano kept up their torrid pace and attack but the Tenino defense would not give in with Austin Ebling-Knaggs leading the backline.
Finally in the 71st minute Romero had a deep throw-in from the sideline and Levi Clements knocked in the 3rd goal of the match to ice the game. Along with the solid offense the Bulldogs defense was also solid when they did get challenged with Jayden McElravy in the box and their defenders Cole Eckerson and Michael Neal.
Montesano is now 4-0 in league play while Tenino is even at 2-2. Our Thorbeckes MVP's went to Montesano's Felix Romero and Tenino's Austin Ebling-Knaggs.
Video Highlights
Photo Gallery
www.elisportsnetwork.com