3/22/2023
WF West 3, Centralia 1
It was crosstown rivalry time and both the home WF West Bearcats and visiting Centralia Tigers were coming off frustrating losses and were looking to get back in the win column. Centralia got off to a surprising 2-0 start in EVCO 2a league play with a stunning win over Tumwater and then knocked off a spunky Rochester team before dropping one to Shelton.
WF West began  with a dominating 6-0 win over Shelton but have dropped a 2-0 loss to Aberdeen and then 1-0 to Tumwater for a 1-2 record coming into this early season showdown.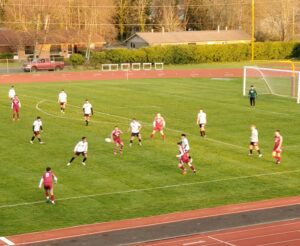 It was the Bearcats who got started quickly on a Cody Pennington 9th minute goal on an assist from Josh Silva to go up 1-0. That would be the score that held up to halftime. Both keepers and backlines dug in for some great saves and pressure defense.
In the 2nd half and both teams again banged heads in a very physical and chippy game at times. The Bearcats were awarded a free kick from just outside the box in the 62nd minute where Adrian Jaimes lined-up the shot and fired to the nearside goal where the ball skimmed the post and skipped past Tiger keeper Henry Silva for a 2-0 lead.
It looked like the Bearcats would hold off the Tigers from a serious threat until the 74th minute. Centralia lined up for a corner kick and was sent to the middle of the box. The ball squirted through to Kilmer Alverto who nailed a stinging shot into the left side of the net and all of a sudden it was a 1 score game with 6 minutes still to play. The assist went to Simba Osman.
WF West didn't play around though and in the 75thj minute Cody Pennington tapped the ball to himself to get into a 1-on-1 situation and knocked in his 2nd goal just under the right brace just under the crossbar to ice the game for a 3-1 win.
Both keepers played well with Hayden Sciera for WF West giving up 1 goal while recording 7 saves and Henry Silva who was replacing Carlos Hernandez who is out for several weeks dealing with a broken rib had 6 saves.
Our Thorbeckes MVP's went to the Bearcats Cody Pennington and the Tigers Kilmer Alverto.
WF West is now even at 2-2 in league play as is Centralia. The Bearcats will travel to Black Hills on Thursday while the Tigers will host Tenino on Friday in a non-league match.
Video Highlights
www.elisportsnetwork.com