5/7/23
(Seattle, WA) Whenever the Seattle Mariners and Houston Astros meet up for a series, it is sure to be in front of an electric crowd and emotions will be running high the entire time. The three game series in Seattle over the weekend was no different, but with both teams having rough starts to the season it felt like it meant that much more to both sides in this ALDS rematch. Neither team came into the weekend playing well offensively and injuries had been dealt to both teams pitching staffs. For the first 16 innings of the series, Houston dominated. The final 11 innings were where the Mariners did their damage to fight back and take two out of three from the defending World Series champions.
(Game 1) Astros 6, Mariners 4
Game one did not start the series on a high note for the Mariners. Luis Castillo was once again solid as always but one mistake was deposited for a three-run home run by Yordan Alvarez. That three-run shot put the Mariners in a tough spot against a very strong pitcher in Cristian Javier. A fourth run came in for Houston with runners on the corners as the runner on first was thrown out trying to steal second while Kyle Tucker scored from third on the throw.
The Mariners did have some fight left in them in the bottom of the 5th. Seattle loaded the bases and Kolten Wong stayed hot for Seattle. Wong cleared the bases with his second double of the season to cut it to a 4-3 game.
In the 8th, Seattle continued to find more success with two outs. With runners on the corners and two outs, Eugenio Suarez punched one into right field to score Ty France. The massive crowd that gathered to see the Mariners new city connect uniforms had come to life.
Kyle Tucker extinguished that fire in the top of the 9th. Tucker took a hanging Matt Brash slider into center field for a two-run homer. That gave Houston the lead at 6-4 and that would be the final as Seattle didn't have another rally left in them to drop the opener to the defending champs.
Notable Performances
Astros
Kyle Tucker- 3-4, 2B, HR, 2 RBI, 2 R
Yordan Alvarez- 1-4, HR, 3 RBI, R
Cristian Javier (ND)- 7 IP, 3 H, 3 R, 3 ER, 2 BB, 8 SO
Mariners
Kolten Wong- 1-3, 2B, 3 RBI
Eugenio Suarez- 1-4, RBI
Luis Castillo (ND)- 7 IP, 5 H, 4 R, 4 ER, 1 BB, 5 SO
(Game 2) Mariners 7, Astros 5
On Saturday, game two was chaos ball at its finest. Seven innings were not very enjoyable for the Mariner faithful starting from the first inning. Seattle loaded the bases against the debuting J.P. France of the Houston Astros, but they couldn't do anything with it. Cal Raleigh and Teoscar Hernandez both struck out which ended the threat and gave the Astros a little bit of momentum.
Marco Gonzales had another strong outing through three innings but ran into trouble for the first time in the top of the 4th. Houston also loaded the bases with one out, but they were able to muster some runs. Kyle Tucker hit a sacrifice fly to score the first run of the game making it 1-0 Houston. Jeremy Peña came up with a two-out base hit to left field to extend the lead to 2-0.
Houston struck with two outs in the top of the 5th as well. Runners on the corners and Yordan Alvarez at the plate is always a dangerous situation and it proved to be so once again. Alvarez ripped a double down into the left field corner. Meyers scored easily but a close play at the plate got the M's out of the jam after a review. A nice play at the plate by Tom Murphy kept it at a 3-0 deficit.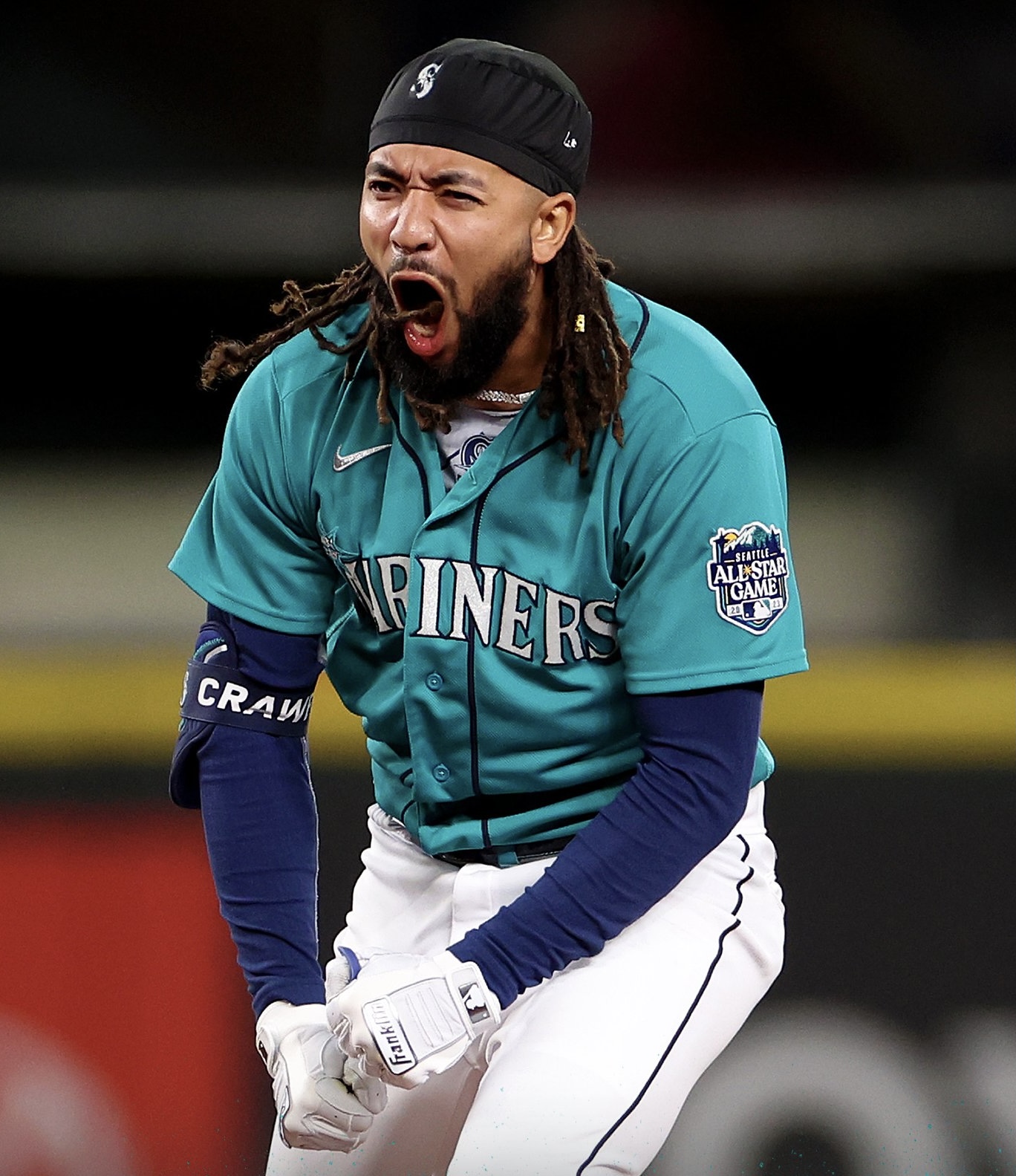 Lack of offense was once again the story for the M's. They couldn't do anything at the plate until the bottom of the 8th. With nobody on and two outs against former Mariner turned Astro Rafael Montero, the offense exploded. Eugenio Suarez drew a walk, followed by singles by Cal Raleigh and Teoscar Hernandez to load the bases with two outs. J.P. Crawford continued to be the unsung hero for the Seattle Mariners. Crawford sent a line drive to the gap in right center that got all the way to the wall. Everyone scored on Crawford's eighth double of the season and all of a sudden the game was tied at 3-3.
Seattle wasn't done in the 8th. Taylor Trammell drew a walk after pinch hitting for Tom Murphy against new pitcher Ryne Stanek. With runners on first and second, the Mariner middle infield continued to provide the offense. Jose Caballero put one in the gap in left center and with plenty of speed on the bases, Crawford and Trammell scored easily. Caballero's third double of the season put Seattle out in front 5-3. Julio Rodriguez then snapped his skid with a base hit into center field to score Caballero making it 6-3. After a Ty France single, Jarred Kelenic got a grounder into right field to score Julio making it 7-3. Nine consecutive Mariners reached base with two outs in the 8th which gave Seattle a comfortable lead headed into the 9th.
Houston didn't make it easy on Paul Sewald and the Mariners in the 9th. Kyle Tucker singled and Jeremy Peña doubled to put runners on second and third with nobody out. Sewald then got Yainer Diaz to fly out to shallow center to keep the runners put, and David Hensley struck out for the second out. Jake Meyers then created some issues. Meyers doubled home both Tucker and Peña to cut the lead in half at 7-5 and bring the tying run to the plate in Mauricio Dubon. Sewald disposed of Dubon on three pitches for a game ending strikeout. Seattle fought back to take game two 7-5.
Notable Performances
Astros
Jake Meyers- 2-4, 2 2B, 2 RBI, R
Jeremy Peña- 3-4, 2 2B, RBI, R
J.P. France (ND)- 5 IP, 3 H, 0 R, 0 ER, 1 BB 5 SO
Mariners
J.P. Crawford- 1-3, 2B, 3 RBI, R, BB
Jose Caballero- 2-3, 2B, 2 RBI, R
Marco Gonzales (ND)- 6 IP, 6 H, 3 R, 3 ER, 3 BB, 4 SO
(Game 3) Mariners 3, Astros 1
The rubber game of the three-game set was not as high scoring and there were some weird events in Seattle on Sunday. It was not a good day hitting with runners on base for the M's. Seattle had runners in scoring position in the first two innings, but couldn't drive in a run against Brandon Bielak.
A breakthrough finally came in the bottom of the 3rd. Julio Rodriguez led off the inning with the longest home run of his young career as he sent a ball 454-feet for a solo shot. Julio's sixth home run of the season put Seattle ahead 1-0.
A two-out double by Eugenio Suarez kept the bottom of the 3rd alive. It looked like the inning was over when Cal Raleigh hit a routing groundball to Jose Abreu at first base. Abreu let the ball go right between his legs and into right field. Suarez scored on the error to make it 2-0 Seattle.
Tempers flared in the bottom of the 4th. Jose Caballero knows to wait to look at the pitcher until he is ready in the batters box. Houston apparently took issue with that. After a swing and a miss by Caballero, he and Houston catcher Martin Maldonado got face-to-face which had the benches clear to try to keep peace between two teams with a little bit of history. Both teams were warned, even though nobody was thrown at or hit, but nothing else came of the dust up.
A bases loaded balk scored a third run for Seattle to make it 3-0. Bryce Miller followed up his amazing debut with another strong performance this time against a tougher lineup. Miller went six scoreless innings and only allowed two hits and one walk while striking out five. Any hesitation about whether Miller just took advantage of a bad lineup in Oakland were put to rest. This kid is special and is going to be just like Logan Gilbert and George Kirby.
Houston got one run on a Kyle Tucker RBI single in the top of the 7th that made the score 3-1 going into the 9th. Justin Topa would get his first career save opportunity. A first pitch single by Yordan Alvarez brought the tying run up immediately. However, Jose Abreu continued to struggle in a Houston Astro uniform as he hit a chopper that took Caballero right to second for an easy 4-3 double play to erase the leadoff baserunner. Topa then struck out Kyle Tucker looking to end the game, giving the Mariners the 3-1 win and giving Seattle the series victory over the defending champs.
Seattle (17-17) will now host the AL West leading Texas Rangers (20-13) for a three-game series starting on Monday at 6:40pm. Logan Gilbert (1-1, 4.01 ERA) will have a tough task facing a very good Rangers lineup in the opener. Jon Gray (1-1, 4.40 ERA) will get the ball game one for Texas as he tries to stabilize a struggling rotation.
Notable Performances
Astros
Kyle Tucker- 1-3, RBI, BB
Yordan Alvarez- 2-4
Brandon Bielak (L, 0-1)- 4.2 IP, 10 H, 3 R, 2 ER, 2 BB, 0 SO
Mariners
Bryce Miller (W, 1-0)- 6 IP, 2 H, 0 R, 0 ER, 1 BB, 5 SO
Julio Rodriguez- 1-4, HR, RBI, R, BB
Eugenio Suarez- 2-4, 2B, R
Matt's Takeaways
Oh man did this series win feel good. The M's have now won 6 of their last 7 games and seem to be on the right track. They do need to get better at hitting with runners on. Way too many times we've seen a runner on third with less than two outs get stranded. This rotation is good enough to give them a shot against any team in baseball. But the offense is still finding their way.
Ty France looks like he has worked his way out of his slump which is massive. France getting on base will give Kelenic, Suarez, and the middle of the order more opportunities to hit with runners on. The middle infield has been spectacular in the last week. Crawford, Caballero and Wong are all in a groove offensively and give ample speed to the M's on base. It really feels like the Mariners are one slump ending away from really hitting their stride.
That slump that needs to end is Julio Rodriguez. This weekend might be the start of that slump ending but he needs to be better. If he gets going there is no way to pitch around him. It all comes down to pressure. He is putting too much pressure on himself to be an MVP. Take that pressure off, and he is an MVP candidate. All the tools are there. He just needs to trust his natural ability. A hot streak is coming. It might have already started.
elisportsnetwork.com