5/10/2023
(Bellevue, WA) This past weekend at Bellevue College 160 Washington state hoopsters from all-over the state got together to play a 25 game tournament with each all-star team with 10 players playing 3 games over the 2-day event and 2 teams playing a 4th game for the Championship. Eli Sports streamed all the games for the tournament hosts the Washington Interscholastic Basketball Coaches Association and main sponsor Watts Basketball. All 25 games can be found by clicking the ESN on NFHS link here. You will have to scroll to find the games in the on-demand section as all of the Eli broadcasts are displayed on this page with the most recent games up first. The NFHS is a subscription page and the cost to view is $11.99 for 30-days (not a pay-per-view) you get full access to our games plus all the games around Washington State and in fact all games in all other states, it is full access to all NFHS streamed games, no limitations. There is also an annual subscription which is $79.99 for 12-months. Plus you can cancel at any time, no locked in commitment.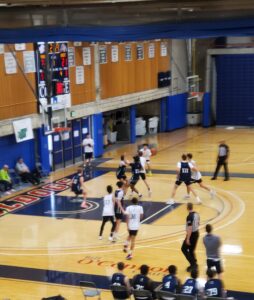 The showcase was over 2 days Saturday 16 games were played and each team got in 2 of their 3 games. Then on Sunday the teams knocked out of finals contention got in their 3rd games and on the winners bracket side the tournament worked their way to the final 2.
The showcase is to allow players who are graduating this year but have not yet signed with a school another chance to show off their skills in hopes of getting an offer. WIBCA Showcase coordinator Tim Gaebe says "Seniors are our focus to begin with and then we invite Juniors down to Freshman to fill out the 16 teams."
Gaebe reported that at least 23 coaches and or representatives from D2, D3, NAIA and NWAC colleges were in attendance. This was the 1st year the showcase was live streamed by the Eli Sports Network and on the NFHS Network. The broadcasts are video only with a score strip no live announcing. This is on purpose because it is for coaches and recruiters to watch the kids play. The number of views did not come close to say the State Tournaments, in fact all total would have been the total numbers of one of our least viewed State Tournament games with 347 unique live device views which onjly measures devices not the number of people viewing., However, and this is where the value of streaming this event is the number of replay or on-demand views is 259 through Wednesday.
This number will grow every time someone clicks on one of the 25 games played over the weekend. Generally our streamed games hit about 20% of the live views that will watch on demand or if there is 100 live views then we expect about 20 on-demand. In this case we have had a massive 75% on-demand views so far. This is good news for the players because likely many of those are coaches and recruiters looking at the players they are interested in and now will be going back to review these materials as often as they want. To watch any of the 25 games again click here to the ESN on-demand page. 
The teams were comprised by region with 4 from the Seattle area, 4 from the Tacoma area, 2 from Southwest Washington, 2 from Northwest Washington, 2 from Eastern Washington, 1 from the Tri-Cities and 1 from Yakima. The Championship came down to the 2 teams from the Northwest teams 1 vs 2 and Northwest #2 came out as the Champions.

Full coverage of the Showcase is below and written by Tim Gaebe and Bri Byrnes.
Records:
NW 2: 4-0
NW 1: 3-1
EW 2: 2-1
EW 1: 2-1
SW 2: 2-1
Yakima: 2-1
Tacoma 4: 2-1
Tacoma 2: 2-1
Tacoma 3: 1-2
Tri-Cities: 1-2
SW 1: 1-2
Seattle 1: 1-2
Seattle 2: 1-2
Seattle 3: 1-2
Seattle 4: 0-3
Tacoma 1: 0-3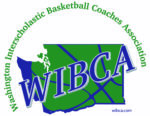 Players of the Tournament:
Dalton Stevens (SW 1) G1: 15 G9: 14 = 29
Tait Spencer (SW 2) G3:12 G10:15 G19:21 = 48
Jamison Atwood (SW 2) G3: 12 G10:15 = 27
Ajaji Simmons (Seattle 2) G4: 31 G10: 17 = 48
Matt Lindblom (Tacoma 3) G5: 11 G18: 21 = 32
Braydon Olson (Sw 1) G9: 14 G19: 24 = 38
Xavier Santana (Ew1) G16: 16 G21:15 = 31
Peter Dress (Tri-Cities) G15:10 G24:22 = 32
Brandon Logan (Tacoma 2) G24:30 = 30
Dalton Brown (Tacoma 2) G14: 12 G24: 29 = 41
Max Mayo (NW2) G21: 18 GC: 13 = 31
Championship:
The championship was an intense battle between Northwest 1 and Northwest 2. At the beginning of the game, both teams were trading buckets, making the lead change quite a few times before halftime. Northwest 2 had important defensive stops, and with those stops, they were able to find momentum, giving them a comfortable lead going into the last 10 minutes of the game.
The leading scorers for Northwest 2 were Svayjeet Singh and Max Mayo with 13 points. A few other big contributors for Northwest 2 were Bubba Palacol with 12 and Quinn Swanson with 10. The Northwest 1 hung on for as long as they could, but towards the end ofthe game, they just happened to have a lid on the basket. However, they never gave up and closed Northwest 2's lead a little bit by 12. Northwest 1 had only a couple of players in double digits. Zaveon Jones, who led the team in points with 13, and Isaiah White, who finished the game with 12 points. Northwest 2 went on to finish that game with one last win in the tournament, 79 to 60.
How they got to the championship:
Northwest 1: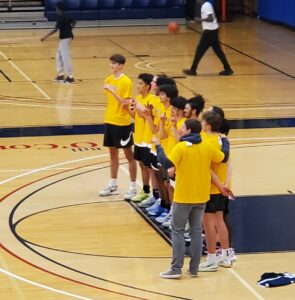 Northwest 1 came into this tournament dominating. The first game they played was against Tacoma 1, where they won 99 to 62. Northwest 1 had five players in double digits. Brant Heppner led his team with 20 points; following him, both Isaiah White and Anthony Canales had 16 points, and Zaveon Jones had 11 points as well as Ty Bloomfield.
This was a strong start for them, giving them momentum into their second game, which was against Seattle 4. This game was more of a battle. Seattle 4 didn't let them get comfortable. However, Northwest 1 stayed competitive and won that game, 73-69. The leading scorers in that game were Ty Bloomfield with 15 points and Brent Heppner with 13 points.
Having now two wins under their belt, they play Eastern Washington 2, where they get another win, 87 to 71. In this game, the whole team contributed, and over half the team was in double digits. Their leading scorers were Isaiah White with 18, Anthony Canales, Jaxon Dubiel, and Zaveon Jones, all of whom had 15 points.
They were soon off to the championship.
Northwest 2:
Northwest 2 started this tournament out by winning their game against SouthWest 2. They won this game by 15. Everyone on the team scored, with many of those individuals in double digits. The leading scorers were John Floyd with 14 points, Keaine Silimon with 13 points, Logan Tews with 12 points, and Bubba Palacol with 11 points. The final score was 81 to 66.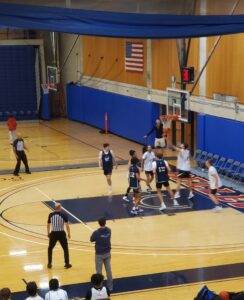 Winning the first game gave Northwest 2 the confidence to come in and win their second game, 76 to 53, against Tacoma 2. Their top scorer is Ryan McFerren, with 16 for this game. However, many of his teammates had double digits as well. Max Mayo and Logan Tews both had 12, while Bubba
Palacol had 10.
Now with two wins, and being very comfortable on the floor, Northwest 2 faced Eastern Washington 2. This game started with very even play, but Northwest 2 kicked it into gear and pulled away with a win, 70 to 55. The leading scorers in this game were Max Mayo with 18, John Floyd with 15, and Ryan McFerrern with 11 points. Then they were off to the championship.
Highlight Games:
Seattle 1 -74 vs. SW 1 -73
In the first game of the tournament, we had a great battle, Seattle 1 against Southwest 1. This head-to-head battle consisted of some amazing basketball. Both teams fought to win this game. The leading scorers for Seattle 1 are Caden Culver, who scored 16, Darius Wilcheer, who scored 13, and Derrick Nordale, who scored 12. Everyone on Seattle 1's team participated greatly in this game to get their win. Everyone scored. Southwest 1 also had everyone scoring and participating in this game. The leading scorers on Southwest 1 are Dalton Stevens, who scored 15, Andrew Collins, who scored 12, and Braydon Olson, who scored 11. This was an amazing game, and it was the only way we would have wanted to start this weekend of basketball.
Tacoma 3 -64 vs. Seattle 4 -60
This game was a great way to start the second day of the tournament. This was a very competitive game, bucket for bucket, and these boys got after it. Everyone contributed in many different ways during the game. This game ended with an amazing near half-court buzzer beater. Matt Lindblom wasn't only the leading scorer with 21 points but also hit this insane near half-court shot that won his team, Tacoma 3, the game. Lindblom ended up getting fouled on that shot as well, and he ended the game with a made free throw. However, with that amazing end to the game, Seattle 4 made Tacoma 3 fight for that win. With several different people in double digits for Seattle 4, they didn't allow it to come easy, with Kyler Mitchell scoring 19, Isaiah Brown scoring 11, and Hayden Conaxis scoring 12. It was a true battle until the end!
Seattle 2 -71 vs. Tacoma 1 -70
In this game, Seattle 2 came out strong, knocking down 3s, dominating the paint, and drawing fouls. This allowed them to have a pretty decent lead early in the first half. However, Tacoma kicked it into gear. They slowly trimmed that lead that Seattle 2 had early in the first half. Players, Jacob Hurskin scored 18 and led his team in points; Aiden Finley scored many crucial points to get them back in the lead and scored a total of 12 points; and Will Nasinec scored 13 big points. However, Seattle 2 was determined to keep their lead. With everyone scoring and four people in double digits, they weren't going to make this comeback for Tacoma 1 easy. Antonio Washinton led his team with 16, Atticus Boba scored 14, Tate Dawson scored 12, and Alex Elston scored 10. But that didn't stop Tacoma 1 from taking their first lead in the last 30 seconds of the game. trading buckets back and forth in those last 30 seconds. Seattle 2 inbounds the ball with 6 seconds left, and De'Rai Taylor takes it the length of the floor to hit the game-winning layup.
www.eilsportsnetwork.com