5/10/2023
(Renton, WA) The representative assembly of the WIAA was presented with 11 amendments to consider at the winter coalition in January. The voting period ended on May 5 and 8 of the 11 amendments were approved.
The most significant amendment will help adjust the classification levels between 3A and 4A to try and equal them out. ESN talked with assistant Executive Director Andy Barnes who says one of the goals of this amendment is to keep state tournaments to no more than 16 teams. Under the current system classifications with 84 or more schools get a 24 team tournament, 69-83 get 20 team tournaments, 50-68 16 teams, 37-49 are 12 team tournaments and 20-36 are 8 team tournaments. If a classification is 19 or under they get combined with either the classification above or below them.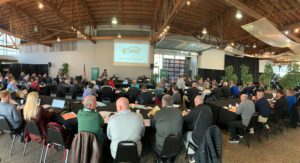 There are no 24 team tournaments and mixture of the rest. Each tournament is based on the number of teams participating and not simply the number of schools in a classification. For example there are 89 schools in the 1B classification but no sport has the 84+ teams in any one sport so there are no 24 team tournaments.
There are several 20 team tournaments and they are difficult to do because you end up with several play-in games or loser out 1st round games to get to the double elimination portion of the tournament. This puts a lot of schools, parents and fans in tough positions especially when it comes to having to travel knowing if you lose you are out of the tournament.
By instituting this amendment which lowers the 4A from 1,300+ enrollment to 1,225+. Under the current classification that would move up 14 schools from 3A to 4A pushing the 4A number from 51 to 65 schools. 3A would remain on the low end at 900 and go up to 1,224 instead of 1,299. The 2A and lower classifications remain unchanged and not impacted by this amendment.
This amendment is directed at the current classification numbers but the assembly also passed a second sister amendment that gives the executive board the ability to change the thresholds to best balance the number of schools in the 4A and 3A classifications.
These amendments will go into effect in the fall of 2024 after this classification cycle ends at the end of next school year. Barnes says the count is on now and will then be continued next October and November. The new classification student population count will be released early December and then schools who would like to opt up will make their decisions known. These changed should keep most of the state tournaments to no more than 16 teams.
The other amendments approved dealt with mostly policy issues except for allowing tennis teams to add 2 more matches per regular season from 16 to 18. You can check out all the voting results by clicking here.
Of the 3 amendments that failed, one would have split the 1B classification into 2 creating a 1B-1 and 1B-2 classification. The 2nd failed amendment would have allowed for accommodations to be made for students to participate in non-school athletic activities no more than twice per week.
The final amendment turned away was another attempt to allow basketball teams to play more than their 20 regular season games. Various iterations of this amendment has been offered for several years in a row now and has never passed. In fact supporters of this idea is becoming smaller as they have lost yes votes over the past couple of attempts. This year was an overwhelming no with only 14 yes votes and 21 no votes.
www.elisportsnetwork.com