5/15/23
Mariners 10, Red Sox 1
(Boston, MA) While Cal Raleigh was born and raised in North Carolina, his roots are ingrained in the northeast. One of those roots was in attendance on Monday as Cal played the closest he could to Vermont which is where his grandmother traveled from to watch her grandson play in Fenway Park in the opener of a three-game series between the Seattle Mariners and Boston Red Sox. Grandma Raleigh was the young catcher's good luck charm as he made Fenway Park history and was the driving force behind a blowout win for the Mariners as they dominated the opener with a 10-1 win over the Red Sox.
Both starters in George Kirby and Boston's Tanner Houck pretty much cruised through the first four innings. The game was flying by as we hit the one hour mark right around the top of the 5th. That is also when the first run of the game was scored. A leadoff single by Eugenio Suarez off of the Green Monster brought the Big Dumper to the plate. Raleigh started his dominant game with a two-run bomb to right field for his sixth home run of the season. One mistake was all it took for the Mariners to grab a 2-0 lead.
In the bottom half of the 5th, Cal added some great defense to his electric day. After a perfectly placed bunt single by Pablo Reyes, Boston tried to make something happen. Reyes attempted to steal second and got a phenomenal jump. Raleigh threw a perfect ball right to second base and J.P. Crawford made a quick tag to erase Reyes. That throw really secured the momentum for Seattle headed into the 6th.
Ty France extended his hit streak to 12 games with a leadoff double to right and France took third on an errant throw by right fielder Alex Verdugo. Julio Rodriguez then drew a walk to put runners on the corners for Jarred Kelenic. While it wouldn't be a big blow, Kelenic hit a chopper to second base to score France while JK avoided the double play to make it 3-0 with a runner still on first.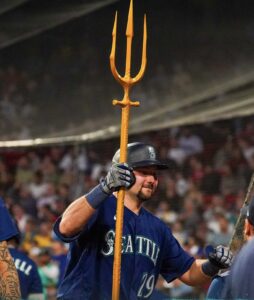 The Dumper would then strike again. With two outs, Cal Raleigh outdid his first home run with a two-run shot over the Green Monster and out of Fenway Park. Not only was Raleigh's seventh home run a monster shot, and not only did it give Seattle a 5-0 lead, but it made Fenway Park history. Raleigh became the first catcher in the 112 year history of Fenway Park to homer from both sides of the plate in the same game. He also did it in front of his grandmother and the catcher he grew up looking up to in Jason Varitek…who was a switch hitting catcher for the Boston Red Sox and never pulled off that feat. Jorge Posada is another legendary catcher who played a lot of games in Fenway and never left the yard from both sides of the plate. When you dig deep into the switch hitting catchers who have played in Fenway, it really shows how impressive it is that Cal was the first to do so.
Boston would get one back off of George Kirby in the bottom of the 6th. Doubles by Jarren Duran and Rafael Devers got the Sox on the board with a 5-1 score. George Kirby would be pulled in a tough situation in the bottom of the 7th. With runners on first and second with two outs, Gabe Speier made the situation even more dangerous. A wild pitch moved up the runners and he then hit Rob Refsnyder to load the bases and bring up the tying run in Alex Verdugo. Fortunately, Speier would jam Verdugo and got a weak pop up to Suarez to end the inning and leave the bases loaded.
Seattle would just put the icing on the cake after that. Eugenio Suarez ended his RBI drought with his fourth home run of the season on a two-run shot to dead center field to blow things open and make it 7-1. From there AJ Pollock added a couple of RBI singles, one off of a position player, and Ty France hit his 12th double of the season to drive in another run as well. Chris Flexen came in to pitch the bottom of the 9th and got Emmanuel Valdez to hit into a double play to finish the game, giving Seattle a dominant 10-1 win.
The Mariners (21-20) will try to earn a series victory in game two on Tuesday at 4:10pm in Bean Town. Luis Castillo (2-1, 2.70 ERA) hasn't necessarily struggled but has taken a step back from his dominant start to the season and will look to get back to that form when he gets the ball in game two. The Red Sox (22-20) will give the ball to Nick Pivetta (2-3, 6.23 ERA) as they look to snap their four-game losing streak.
Matt's Takeaways
There might not be a guy on the Seattle Mariners that is more easy to root for than Cal Raleigh. The guy just mashes. He is clearly loved by everyone on the team and just has a good time out there. Also, after his massive struggles to begin his career, to turn things around like he has is inspirational. Raleigh was hitting .165 in his career after April of last season with just three home runs. Since then, Raleigh has 33 home runs and a slugging percentage of well north of .400. The struggles were there and with Tom Murphy playing well to begin last season it looked like Raleigh might be in trouble. He got another opportunity and has absolutely ran with it. With a new era of catchers starting to take center stage, Cal Raleigh is right up there in the discussion for best catcher in all of baseball and has the best nickname to go with it.
Notable Performances
Mariners
Cal Raleigh- 3-5, 2 HR, 4 RBI, 3 R
Eugenio Suarez- 2-4, HR, 2 RBI, 2 R, BB
George Kirby (W, 5-2)- 6.2 IP, 8 H, 1 R, 1 ER, 1 BB, 6 SO
Red Sox
Rafael Devers- 2-4, 2B, RBI
Jarren Duran- 1-3, 2B, R
Tanner Houck (L, 3-3)- 5 IP, 5 H, 4 R, 4 ER, 1 BB, 5 SO
elisportsnetwork.com