5/16/2023
(Auburn, WA) A week ago the 2023  live racing season at Emerald Downs began which was also Kentucky Derby day. There were 7 local races with the Derby presented after the 4th. A total 39 horse or just 5.6 starters per race on the average and on the 2nd Saturday of the season or day 2 there were 9 races with 64 horses or an average of 7.1 per race with just 3 early scratches.
ESN talked with veteran trainer Edwin Cornier who also works for equibase as a chart caller during the season says there were two big issues that led to the short fields and only 7 races on opening day. The 1st was Turf Paradise was closing with several trainers still shipping their barns up north including the likes of former Emerald training Champion Joe Toye and newcomer Justin Evans. Many of those horses are now in the barns at Emerald Downs.
Cornier says the other impact was the weather during the spring that led to a constant sloppy or muddy track which slowed many trainers from having their horses ready to run. So another week of training under their belts and several loads of stock from down south have led to Saturday's 9 race card and on Sunday 10 races with 70 entries or an average of 7 per race.
________________________________________
Broken Hearts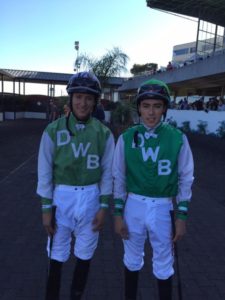 Eli Sports no doubt can speak for many who are sending their sympathies and love to Kevin and Irving Orozco. Kevin posted he received word on the morning of Mother's Day his Mom Linda passed away. Kevin of course has been a mainstay at Emerald Downs for several years and his brother Irving is a prominent rider in Northern California and has ridden several days at Emerald. 
All our love and thoughts are with Kevin, Irving their dear mother Linda and the entire Orozco family.
________________________________________
Below is our coverage of both Saturday and Sunday's races and we begin with the Feature races and a highlight race from Saturday. We were at the track on Saturday and only got to talk with jockeys and trainers from that day. Sunday we were not on track but have the run-down.
Day 2 Saturday, May 14
8th Race Feature Race "The Cancer Cartel" Purse
The feature race of the day, the Cancer Cartel Purse celebrating this non-profit's work on raising funds to help cancer patients and their families pay the day to day expenses. Emerald Downs presented the Cancer Cartel with a check for $4,500 and displayed a Harley Davidson motorcycle they are raffling off for $10 tickets. The drawing will be in September. For more information and y0ur chance to purchase a raffle ticket or tickets click on this link.
Meantime, a field of 6 broke from the gates going 5 1/2-furlongs and Aloha Breeze was bet down to odds on at 3-5 and Aloha Breeze proved she was by far the best in the field. Jockey Carlos Montalvo sent Breeze right to the front and quickly opened up a 2 1/2 length lead and set fractions of 21.83 and 44.52 for the half while pushing her lead to 6 lengths at the top of the stretch. Montalvo searching for his 1st win of the season and 1st at Emerald Downs continued to pull away and won by nearly 9 lengths.
Aloha Breeze races for George Todaro and is trained by longtime NW conditioner Tom Wenzel. Aloha Breeze stopped the clock in a brisk 1:02.63 and earned $14,500 for her effort to push her career earnings to $81,710. The 3-year-old gray Kentucky bred is now 2-1-1 from 5 lifetime starts.
Stepup with Francisco Diaz-Lopez broke 2nd and also did not give in was 2nd best holding off Shelby Gold by 3/4 of a length. Shelby Gold with Isaias Enriquez finished full of run but was no match for the winner and just missed 2nd and 7-1 Driveway with Kevin Orozco completed the superfecta. Aloha Breeze paid $3.20 on the $2 win.
Winners Circle Ceremonies with Joe Withee
7th Race Highlighted Race "The Vern Gibson Memorial" Purse
The Emerald Downs family lost a long time member earlier this year when Vern Gibson passed away after decades of being part of the NW racing industry. He was a longtime valet and handled multiple Emerald Downs Jockey Champion Ricky Frazier. We had a chance to catch up with Frazier as he was in attendance for Vern's race. Frazier says Vern was the essence of a lifelong horseman.
ESN talks with former Emerald Downs riding Champion Ricky Frazier
A total of 7 contested this race going 5 1/2-furlongs. 3 time defending jockey Champion Alex Cruz would break the ice in this one getting his 1st win of the season aboard Lucky Lad the 2-1 2nd choice. Cruz broke Lad good sitting 2nd behind Ice Needs Whiskey who set the early fractions. As they hit the quarter pole Cruz released the breaks and soared past the front speed to take a length lead and would draw off to win  by 2.
Not only was Lucky Lad the 1st win of the season for Cruz it was also trainer Luciano Medina's 1st ever win as a trainer. He also happens to solely own the 4-year-old gelding. Lucky Lad ran the 5 1/2 in a time of 1:02.74.
Tax Code was fractious in the gate but came on to run a good 2nd for Kevin Radke while 2-1 favorite Poverty Bay with Luis Negron ran 3rd and Midnight Mojo with Carlos Montalvo was 4th.
Lucky Lad paid $6.80 on the $2 win and completed a nice 50-cent Pick-3 paying out $170.70.
ESN talks with Alex Cruz getting his 1st win of the season
1st Race
2-1 favorite Miss Aggie Bling got jockey Alexis Valdes got off to a big day with an easy 3 length win. Miss Aggie nearly led from start to finsh and covered the 5 1/2 furlongs in a time of 1:04.28. Dodropin with Rigo Sarmineto ran a solid 2nd at 7-1 while Badger Gal with Kevin Orozco was 3rd and capping the 1st superfecta of the day was North Dawn with Kevin Radke. Miss Aggie Bling is owned by Remmah Racing and trained by Jorge Rosales. The 6-year-old mare is by Too Much Bling out of Festive Rain by Festival of Light. The 10-cent superfecta paid $45.16 or a hefty $451.60 for the $1 super.
2nd Race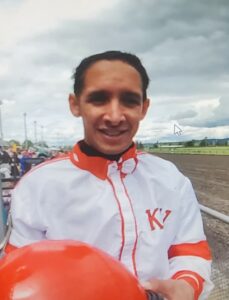 The 2nd favorite of the day did not disappoint as American Grit went wire to wire at 6-furlongs with Luis Negron aboard. The 6-5 favorite covered the 3/4's mile race in 1:10.03 and returned $4.20 on the $2 win. 8-1 Moonlightwine with Kevin Radke was 4 1/2 lengths behind the winner but was all alone in 2nd by more than 3 lengths. Regulation Dazed at 2-1 was 3rd followed by 8-1 Summanus with Rigo Sarmiento. Amercian Grit is owned by H. M. A. Stable and trained by Justin Evans.
The 1st stewards inquiry of the season the judges declared #4 Raajin Ribbon with Alex Cruz as a non-starter after declaring he was a non-start after deeming he did not get a fair start at the gate and all tickets were refunded, a consolation daily double was paid and all pick 3 and pick 4 tickets received the betting favorite which was American Grit.
3rd Race
Kevin Radke tripled on opening day and picked up his 4th win of the season in the 3rd race as the 3rd favorite of the day, Wear the Crown,  rolled to more than a length win but this time coming off the pace. Radke set Wear the Crown back into 4th and swung to the outside at the top of the stretch to run down the leaders and easily win. Wear the Crown is owned by Paddock Partners Ltd and trained by Joe Toye. Wear the Crown ran the 6-furlongs in 1:10.44.
A pair of 6-1 shots ran 2nd and 3rd with Alexis Valdes up on Darksaber for 2nd and Authur Spooner with Luis Negron 3rd. Front speed Forever Gold with Alex Cruz completed the superfecta. The 7-5 favorite paid $4.80 to win but combined with the 2 6-1's paid a solid $35.50 on the 50-cent trifecta.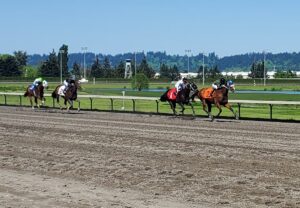 4th Race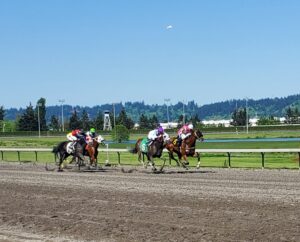 Last year trainer Mike Pierce won his 1st race at Emerald Downs on day 2. Pierce is making this a habit and did so this year with the longest shot of the season so far when 11-1 Silent Declaration came from 4th to get Lago De Oro by a neck at the wire and Alexis Valdes had his 2nd win of the day and denied 3 time defending jockey champion Alex Cruz his 1st win of the year. Thirsty Kiss with Silvio Amador was 3rd and taking 4th was the favorite Attorney Louis with Kevin Radke.
Pierce is also the owner of Silent Declaration with his Purple Rose Stable and the 4-year-old gelding ran the 5 1/2-furlongs in 1:04.6. The 11-1 winner set a season high for the $2 win returning $24.00. Coupled with 8-1 Lago De Oro the $1 exacta paid a nice $76, add in 6-1 Thirsty Kiss and favorite Attorney Louis and the 50-cent trifecta paid $186.90 and even though the favorite was 4th the $1 superfecta returned $1,303.60.
5th Race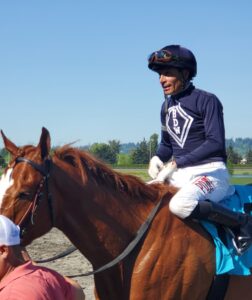 The 5th race had the largest field of the season with 10 going postward in a 5-furlong dash and the winner #9 Secret Saga made and eye catching move at the top of the stretch coming from just off the pace. Jockey Silvio Amador let go the Blaine Wright trained Oregon bred and rolled to an easy 3+ length win. Margaret Root is the winning owner and Secret Saga clocked the 5-furlongs in 57.30 and was Amador's 2nd win of the season.
Uncle Pete with Kevin Orozco ran a big race from the rail to nose out Theuntouchableone with Kevin Radke for 2nd. The front speed, Timer'er Too with Rigo Sarmiento faded to 4th. Secret Saga was 15-1 morning line but the public felt Saga was sitting on a big one and bet him down to 9-2, the slight 2nd favorite. The 9-2 to 9-1 to 8-1 to 7-1 superfecta returned a whopping $261.65 on the 10-cent bet and $2,616.50 for the $1 bet.
6th Race
Alex Valdes tripled with an impressive win aboard Danielle's Secret at nearly 8-1. Valdes and Danielle went straight to the lead in the 5 1/2-furlong dash and never looked back pulling out to a 5 1/2 length win. While it was Valdes's 3rd win of the day it was trainer Jorge Rosales and owners Remmah Stables 2nd victory of the day. The 3-year-old Washington bred filly by Raised a Secret out of Ashbecca by Sandpit was bred by Dr Rodney Orr.
Camden High with Isaias Enriquez ran a hard 2nd edging out 1-1 favorite Shemakescents for 3rd while Lucinda Rella and Kevin Radke were 4th. Danielle's Secret paid a season 2nd high $17.80.
ESN talks with Alexis Valdes on his early experience at Emerald Downs
9th Race
In the finale, Above the Stars was bet down to 2-5 and Luis Negron took no chances at the 5-furlong distance and quickly built a 2 length lead only to extend it to near a 6 length win finishing in a time of 57.51. It was Negron's 2nd win of the day along with trainer Justin Evans. Evans also is part owner of Stars with Bill and Susan Tumasic.
Gunnhild with Kevin Radke got up for 2nd, Zeva Dee and Alex Cruz held 3rd while Our Girl Ashley and Rigo Sarmiento and Pista Girl with Kevin Orozco were 4th and 5th to round out the Super Hi-5.
________________________________________________
Day 3 Sunday, May 15
Day 3 saw some familiar names light up the board as 3 time defending Jockey Champion Alex Cruz found his stride after a bit of a slow start winning 3 races on Sunday and former training champ Blaine Wright blew up on Sunday with 4 wins, the 2nd time he has accomplished that feat at Emerald Downs.
Let's get started with the Sunday, "Mother's Day" 10-race card with the 9th and feature race.
9th Race Muckleshoot Casino Purse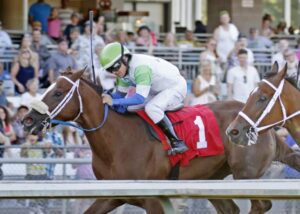 A field of 6 went to the post with a pair of Frank Lucarelli trained horses going off as the top 2 favorites, 6-5 It's Turbo with Isaias Enriquez and 9-5 Royal Halo with Carlos Montalvo but it would be the 9-2 3rd choice Company's Dream and Kevin Radke that would take the early lead.
Radke and Company's Dream set early numbers of 21.46 and 44.31 in the 5 1/2 furlong run and would stretch his lead to a full length at the top of the stretch as he was pressed by 11-1 Mister Midas with Luis Negron and Gold Rush Junior with Alex Cruz. Rush ran hard to the stretch and then faded to last while Mister Midas and Company's Dream both fanned wide into the stretch with Mister Midas widest of all which allowed It's Turbo to cut the corner and close up the rail.
Company's Dream put away Mister Midas who held on well to be 3rd but had to hold off a hard charging It's Turbo and got the nose victory. Radke clearly didn't know if he held on as he returned to the Winner's Circle area you could see him pump his fist as he saw his number at the top of the finish order.
Company's Dream stopped the clock at 1:02.56 and returned $11.20 on the $2 win to his backers. Company's Dream is trained by Vince Gibson who got his 1st win of season in the feature race. Company's Dream races for Lusk Racing who also got their 1st picture of 2023 at Emerald Downs. Company's Dream is a 3-year-old gelding by Jersey Town out of Double Dip by French Envoy and was bred by Joseph Dipietro.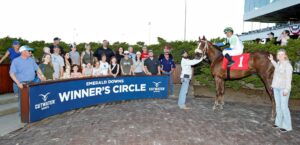 1st Race
Trainer Candy Cryderman and owner John Parker got their 1st win of the season when Alex Cruz guided Queen Breezy to a wire-to-wire win i8n the Mother's Day opener at 5 1/2-furlongs in a time of 1:02.99. The 6-year-old mare is a Washington bred by Linchpin out of Roxy Skylar by Hampton Bay and was bred by Alan Bozell.
Cruz got his 2nd win of the season as the 3-time defending Champion rider was just getting started on this day. Queen Breezy was the 1-1 favorite and paid $4.20 on the $2 win. Summerofthesamurai with Isaias Enriquez closed from last to be a clear 2nd 4 1/2 lengths behind Queen but 3 1/2 in front of the rest. Mean Sharon and Kevin Radke was 3rd with Low Dose and Luis Negron wrapping up the superfecta.
2nd Race
It was favorite to favorite to kick off the traditional 1st and 2nd race Daily Double when Luis Negron got 8-5 Rainbow Stew up by a neck at the line to beat 2-1 Secret Hottie with Kevin Radke. Goat Rocks also at 2-1 took 3rd with Francisco Diaz-Lopez and Many Memories finished 4th with Silvio Amador in the saddle. The opening Daily Double paid $6 on the $1 ticket.
Rainbow Stew is owned by Rick Kessler and Terra Firma Farm and trained by Joe Toye who got his 2nd win in as many days. The 3-year-old filly ran the 5 1/2-furlongs in a time of 1:04.65.
ESN talks with Trainer Joe Toye after his 1st win of 2023 at Emerald Downs
3rd Race
The field of 6 3-year-old fillies went 5-furlongs and Alex Cruz knew just what to do with Ms. Flashy Harbor and that was to let her run and went straight to the lead. Cruz and Flashy built a 4-length lead turning for home and extended it to an easy 5-length win. Ms. Flashy Harbor was sent off at 7-2 and paid $9.80 as the 4th favorite. Jamies Inheritance with Jose Zunino was 2nd, Alexis Valdes took 3rd with Scatalicious and Drinkup Buttercup with Kevin Radke took 4th.
Ms. Flashy Harbor is a Washington bred by Abraaj out of Point Da Harbor by Harbor the Gold and was bred by the owners Ron and Nina Hagen and Ron Bohlman. Trainer Steve Bullock got his 1st win of the season. Ms. Flashy Harbor ran the 5-furlongs in 57.16.
4th Race
Trainer Blaine Wright began an incredible day in the 4th sending out 2 runners in this field of 6 including odds-on choice Reservoir with Kevin Radke up and 5-2 2nd choice Miss Bella with Silvio Amador. Amador and Miss Bella continued the front running trend on Sunday with a 1 1/2 length lead turning for home and had plenty left denying all other comers stretching that win to 3 lengths. 15-1 Donne Cattive got up for 2nd with Javiar Matias aboard while Reservoir closed well but settled for 3rd and Signature Colors with Alex Anaya faded to 4th.
Miss Bella is owned by John and Janene Maryanski and stopped the timer at 1:02.80. Miss Bella is a Washington bred by Harbor the Gold out of Bella Campana by Slewdledo and was bred by the Maryanski's.
5th Race
After 2 late scratches in the 5th it left just 4 horses and frankly a match race between trainers Blaine Wright and David Martinez. Each conditioner had 2 entries in this race to complete the field of 4. With 2 6-5 co-favorites it was Wright's 3-1 3rd choice Beau Mischief who pressed the pace with Amara Mike. The pair ran the 1/4 in 21.56 and the half in 44.44 and when Silvio Amador popped the question to 6-5 Amara Mike he didn't have a positive answer while Beau Mischief had the answer for his pilot Carlos Montalvo and the duo roared down the stretch to a 1 3/4 length win over deep closing All the King's Men with Rigo Sarmiento at 7-1 who got up by a neck over the even running 2nd 6-5 choice Langston Road with Kevin Radke.
Wright had his 2nd straight 1st and 3rd finish and got the win for owner Ernest Sherman in a final time of 1:03.16.  The 3-1 3rd choice to the 7-1 longshot paid 14-1 in the Exacta at $14.20.
6th Race
Alex Cruz held true to his success on Sunday taking Feather Inthe Wind straight to the front and quickly pulled out to a 2-length lead in the 5-furlong dash. Cruz and Feather maintained that 2-length lead for the duration of the race until the final few yards when the 9-5 favorite Golden Halo and Alexis Valdes closed well to get 2nd but still more than a length behind the winner. Big Mama Thornton and Silvio Amador was 3rd and completing the superfecta was Datquickcat and Jose Zunino.
Feather Inthe Wind is trained by Jose Navarro and owned by Big Bill and Company and Constance Woerman. The 4-year-old filly is a Washington bred by Gold Aly out of Nina Nichols  by Touch Gold and was bred by Steve Meredith and ran the 5/8ths in 57.25.
7th Race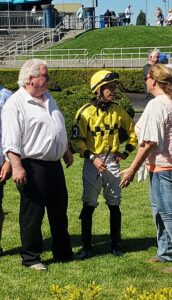 The Parker to Cryderman team struck again on Sunday with Frank's Fix It ridden by Javier Matias. Matias set Frank just off the pace early in 4th place while Dusalut with Alex Anaya went straight to the lead and held just a head advantage until about the 1/4 pole when Frank's Fix It took his 1sgt lead/ Dusalut though would not give in and the two remained locked in battle the length of the stretch and was joined late by closer Mamacallmeboo with Luis Negron. In the end, Frank's Fix It surged late for a 1/2 length win, Dusalut held 2nd by a head over Mamacallmeboo and a 1/2 length further back was 4th place finisher New Every Morning and Alex Cruz.
Frank's Fix It stopped the clock in 1:03.27 and is a 4-year-old Washington bred by Gold Aly out of Nina Nicole by Touch Gold and was bred by Steve Meredith. Frank was the tepid favorite at 5-2 paying $7.80 on the $2 win and capped a nice 50-cent pick-4 pay-off of 458.45.
8th Race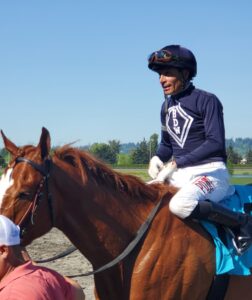 9 horses went to the post in the 8th and Heredia Boxer ended up being bet down as the favorite with a lot of late money dropping on 5-year-old Kentucky gelding. Silvio Amador broke alertly but settled into 4th place early on in the 5 1/2-furlong race as 12-1 Calibogee with Alex Cruz took a 2-length early lead. Mojave also at 12-1 sat in 3rd. As they turned for home Heredia Boxer rolled up on the outside and right on by to pull away for a 2+ length win in a time of 1:02.54.
Heredia Boxer is trained by Blaine Wright and also owns the 5-year-old gelding under his BDW Racing Stable. Boxer ran the 5 1/2 in 1:02.54. A pair of 12-1 shots held 2nd and 3rd with Calibogee 2nd and Mojave 3rd while Miso Fast with Kevin Radke closed to be 4th. The 9-5 favorite paid $5.60 to win but the 50-cent trifecta was $77.70 and the $1 superfecta a healthy $1,121.80 or $112.18 for the 10-cent bet.
10th Race
Trainer Blaine Wright would wrap up a spectacular day with his 4th win and Kevin Radke would finish strong winning the late Daily Double. Betting choice Miss Accelerate would begin the 5-furlong run back in 6th place about 4 lengths off the lead while A Little Grace with Alex Cruz took the early lead. Starry Beach was 3rd and in position with Silvio Amador. Radke would send Miss Accelerate between horses in the stretch and she had a lot more to give getting up in time to catch Starry Beach who had just passed a tiring A Little Grace to get the win by a neck. Starry Beach was 2nd a half length in front of Grace. Running 4th was Shesrsecretweapon with Christina Rodriguez and capping the Super Hi-5 was Vandulie with Luis Negron.
Don DeMulling is the owner of Miss Accelerate the 3-year-old filly bred in Kentucky and she finished the race in a time of 58.16. Miss Accelerate gave 1 lucky ticket holder a return of $5,159.68 for their 20-cent Jackpot Pick 6 bet.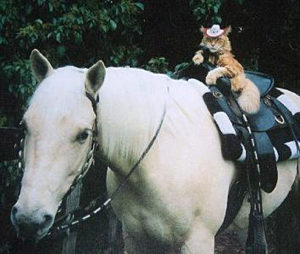 Weekend Round-up!
"In the Saddle"
3-time defending riding champ Alex Cruz came back with a huge weekend after getting shut out on Opening day. Cruz broke the ice with a win on Saturday and then came back to triple on Sunday for a total of 4 wins or the weekend which was the high win total of the week. This put Cruz in a tie for 3rd in the standings after 3 days of racing. (Note: I include 4th place finishes in the jockey records because the superfecta is an important wager.) Cruz finished the weekend with 15 rides and a 4-2-2-2 records for a 27% win clip and 67% top 4 finish rate.
Meantime, 4 riders tallied 3 wins including leading rider Kevin Radke. Radke was 1-3-1-4 4ths from 9 starts on Saturday and came back with 1 2nd, 3 3rd and 4th through 8 races on Sunday before he won both ends of the last Daily Double of the week for 3 wins on the week. Radke finished with a 16% win percent and a whopping 84% top 4 rate.
Alexis Valdes was red hot on Saturday winning 3 of his 5 races and finished the weekend with 9 rides and a 3-2-1-0 record winning at 33% and top 4 of 67%. Silvio Amador also tripled with 1 win on Saturday and 2 on Sunday. Amador finished with 12 rides and a 3-1-2-2 record for a win percent of 25% and top 4 rate of 67%. The final 3 race winner was Luis Negron who took a pair on Saturday and 1 on Sunday. In an oddity, Negron with 14 rides would only win or show or off the board, no 2nd or 4ths this week. Negron had 14 starts and finished 3-0-5-0 for a 21% win clip and 57% top '3' finish rate.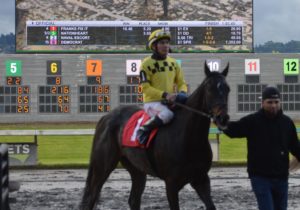 Two others got their 1st wins of the year beginning with journeyman Javier Matias who brought home Frank's Fix It on Sunday. Matias also had a 2nd and a 4th from 8 rides.
Carlos Montalvo broke through in the Saturday feature race cruising to an easy win aboard Aloha Breeze for Tom Wenzel. Montalvo then picked up a 2nd win on Sunday with Beau Mischief, one of the 4 wins by trainer Blaine Wright.
ESN Talks with Carlos Montalvo after his 1st win at Emerald Downs
Knocking on the Door
Riders that have yet to get that winners circle picture include Rigo Sarmiento with a pair of 2nds and 3 4ths this weekend from 6 rides, Alex Anaya with a place and a 4th on his 2 mounts, Isaias Enriquez had 7 rides and finished with 3 places and 3 shows, Jose Zunino took home a 2nd and a 4th from 6 rides and Francisco Diaz-Lopez who only rode 7 times all of last season had a pair of mounts and came home with a 2nd and a 3rd.
Leading Jockeys by wins
Kevin Radke 6
Luis Negron 5
Alex Cruz 4
Alexis Valdes 4
Silvio Amador 4
Carlos Montalvo 2
Javier Matias 1
"From the Barn"
4 wins in a single day is going to jet you to the top of our "From the Barn" trainer notes and Blaine Wright who has done a lot of winning in Auburn for a long time just threw down big time that he is still a huge force to contend with. On Sunday Wright started 6 horses in 4 races which meant he had 2 runners in 2 races. His line from Sunday was 6 starts, 4 wins, 0 2nds, 2 shows so 6-6 in the top 3. Wright is now 5-0-3 from 9 starts in 2023 for a win rate of 56% and a trifecta finish clip of 89%.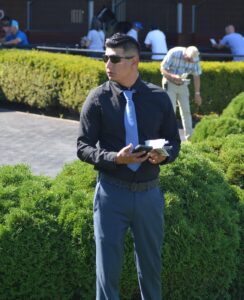 Jorge Rosales remained hot picking up a pair of wins on Saturday. Rosales with 3 wins and a 2nd from 6 starts on the season and has been busy at the claim window building his stock to make another run at the training title. Justin Evans shipped his barn up from Arizona and also pulled down a pair of wins on Saturday to push his win total to 3. He also has started just 6 horses and both Rosales and Evans are winning at a 50% rate but Evans is 100% in the top 3 with a 3-1-2 mark.
Last year Candy Cryderman got a bad case of 2nd"itis" early in the season but this year she may have broken that early drought with not 1 but 2 wins on Sunday. Cryderman who mostly trains for John Parker has sent out 12 starters over the 1st 3 days and has tallied 2 wins and a pair of shows.
Joe Toye was not here on opening day but the 2021 Emerald Downs training Champ was quick to get right in the thick of things with a win both days. Toye also has a 2nd and a 3rd for a 2-1-1 record from 7 starts.
Other trainers scoring their 1st win of the year included Vince Gibson who took the feature race on Sunday, Steve Bullock picked up a win on Sunday in the 3rd race and is now 1-1-0 from 4 starts, Jose Navarro won the 6th race on Sunday and is now 1-1-1 from 4 starts. Mike Pierce won a race on day 2 last year and repeated that with 11-1 Silent Declaration on Saturday and is now 1-2-1 from 9 starters. Tom Wenzel won the feature on Saturday and the trainer of the reigning Longacres Mile Champion is off to his normal but cautious start with just 2 starters and the lone win but that 1 win has him 9th in the earnings standings.
Finally there's Luciano Medina. Medina began his training career on opening day and got his 1st career win on Saturday in the 7th race the Vern Gibson Memorial Purse with Lucky Lad. It was also the ice breaker for Alex Cruz who got his 1st win of the season on Medina's winner. Luciano is now 1-1-2 from 7 starts and is off to a solid start in his training career.
"The Owner's Box"
John Parker is someone you can't miss when coming to Emerald Downs, the affable long time owner has dominated the owner standings for a decade with multiple owner Championships including doubling up the past 2 years with most wins and highest earnings. Parker and his trainer Candy Cryderman got to the winner's circle twice on Sunday with Queen Breezy and Frank's Fix It. Parker is one of to owners with 2 wins on the season however, he is not in 1st place in the earnings.
Luciano Medina who began his training career on opening day here at Emerald Downs got his 1st win on Saturday and so happens to own all of his starters so far. Medina has a 1-1-2 record as an owner and has banked $19,530 which is tops in the owners standings. Parker is 2nd with $18,380 after just 3 days.
Remmah Racing is the other owner with 2 wins on the year getting both on Saturday led by trainer Jorge Rosales. Remmah has earnings of $12,350 good for 7th race.
Rick Kessler and Terra Firma Farms got 1st win of the year and hit the board with their 2nd start for a 1-0-1 record. Prominent owner George Todaro ran twice and won the Saturday feature, Mike Pierce's Purple Rose Ranch has come to run with 8 breaking from the gates already over 3 days and then got his 1st win on Saturday.
Finally, Lusk Racing won the feature on Sunday with Company's Dream their 4th start of the season. Lusk Racing the well known owners bursting onto the scene with Papa's Golden Boy, a fan favorite have now built their stable with trainer Vince Gibson into a force. Lusk Racing is 1-0-1 with $16,910 in earnings, good enough for 3rd in the owners standings.
"Odds and Ends"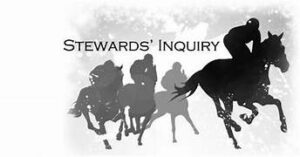 "Inquiry"
The 1st Inquiry of the season was posted on Saturday in the 2nd race but not a typical Inquiry as it was regarding whether or not a horse got a fair start and the stewards ruled that Raajin Ribbon in the 2nd race on Saturday did not get a fair start and declared him a non-starter and refunded all bets. 
"Owner-Trainer Connection"
Last week we mentioned that an astounding 6 of the 7 winning horses on opening day were owned and trained with a direct link such as the trainer owning or part owner of the horse or wife owned trained by husband or boyfriend/girlfriend connection. 
This week the tables are turned with 7 winners having a direct link between owner and trainer and the other 12 winners the traditional owner-trainer relationship. 
"Claims"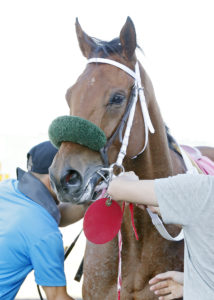 Saturday Claims
Race 1 North Dawn was claimed by Timothy Birdrattler for $3,500 and goes to trainer Jorge Rosales
Race 3 Darksber was claimed $3,500 by Timothy Birdrattler for trainer Jorge Rosales
             Minoso was also claimed for $3,500 by owner/trainer Justin Evans
Race 6 My Moondancer was red tagged for $8,000 by new owner James Carter ands goes to conditioner Jill Sorano
Race 9 Above the Stars was taken for $8,000 by Remmah Racing and goes to Jorge Rosales
Total Claims: $26,500
Sunday Claims
Race 1 Queen Breezy was tagged for $6,250 by new owner Rancho Viejo and Jerry Carmody for trainer Rigoberto Velasquez
Race 7 New Every Morning was claimed by Saratoga Racing Club for $5,000 for trainer Jeff Metz
             Our Empire was sold to new owner James Nunnally for $5,000 and goes to trainer Alan Bozell
Race 8 D K's Crown goes to Alexis Silva Martinez and Stevew Haahr for $5,000 and to the barn of Alexis Silva Martinez
             Heredia Boxer got taken by owner/trainer Justin Evans for $5,000
Total Claims: $26,250
Total Week Claims: $52,750
Total Season Claims: $57,750
The Betting Parlor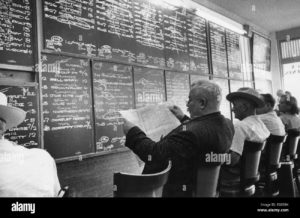 All bets set new highs over the weekend let's get started with the traditional $2 win, place and shows:

$2 Win: Sat 5/13 4th Race $24.00 Silent Declaration with Alexis Valdes
$2 Place: Sun 5/14 4th Race $14.60 Donne Cattive with Javier Matias
$2 Show: Sun 5/14 8th Race $7.60 Calibogee with Alex Cruz
Now the Vertical Pays:
$1 Exacta Sat 5/13 4th Race 5-6 $76.00
50-cent Trifecta Sat 5/13 4th Race 5-6-2 $186.90
10-cent Superfecta Sat 5/13 4th Race 5-6-2-7 130.36, $1 Super $1,303.60
50-cent Super Hi-5 Sat 5/6 7th Race 1-3-7-2-5 $167.95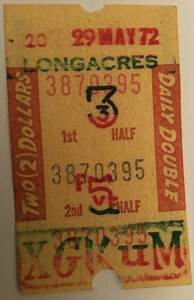 The Horizontal bets:
$1 Daily Double Sat 5/13 4th-5th Races 5-9 $99.30
50-cent Pick 3 Sat 5/13 4th-5th-6th Races 5-9-8 $422.65
50-cent Pick 4 Sun 4th-7th Races 6-5-6-9 $458.45
50-cent Pick 5 Sun 5/14 6th-10th Races 6-9-8-1-4 $539.35
20-cent Jackpot Pick 6 Sun 5/14 5th-10th Races 5-6-9-8-1-4 $5,159.68
www.elisportsnetwork.com