8/11/2023
(Auburn, WA) Friday night was a 7 race card with a total of 47 starters for an average of nearly 7 starters per race. The total handle was right on target of $817,402 for an average of $116,771 per race. 
Carlos Montalvo highlighted the night winning 3 including the feature race and final race on the card. He also won the 2nd race on a 10-1 shot. The battle for the jockey title continued between Alex Cruz and Luis Negron and each got a win so Cruz maintains his 2 win lead. Cruz also got a win on Friday but had his 22 straight Friday night streak of wins end last week. Kevin Orozco and Kevin Radke also recorded wins.
Trainer Rosie Simkins got her 1st win of the season recently and had stated she hoped this would turn things around and it sure dead Friday night. Simkins swept the two 2-year-old races with 1st time starters. Both were part owned and bred by the Horse Haven Creek Farm who also clearly had a huge night. Owner/Trainer Michael Morris also got his 1st win of the season as both an owner and trainer in the 2nd with Red Nova.
With so much to cover this past week and weekend our Friday night re-caps will be right to the point and the re-caps of each race.

6th Race Feature Race the McKinney Trailer Purse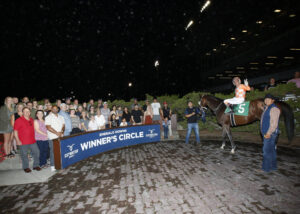 Fantastic Day and Carlos Montalvo showed a flash of why the 6-year-old gelding was a half a million dollar Kentucky bred yearling who began his career in the Bob Baffert barn. His career did not unfold as his early believers were hoping but Friday night Fantastic Day showed the potential that brought such attention to him early on.
Breaking dead last and so far back down the backstretch of the 6-furlong sprint the camera had to pan back to pick him up some 12+ lengths behind. Montalvo knew he had plenty of run and the front speed set fractions of 21.60 and 44.70 giving Fantastic Day plenty of speed to run at and began to inch closer heading into the far turn.
Meantime, up front Alleva at 3-1 with Luis Negron and 2-1 favorite Peso with Alex Cruz had overcome the 1st pace setter in Polacco. Now the battle of the two top jocks appeared to be on and when Peso finally shook Alleva and may have thought they were home when the orange and white silks of Fantastic Day blurred past Peso on the rail and went on by to tag Peso in the final 25 yards for a neck victory in a swift time of 1:09.77. Alleva held 3rd and finishing 4th was A View From Above with Alexis Valdes.
Fantastic Day went off as the co-2nd favorite at 3-1 and is owned by Alan Anderson and trained by Jorge Rosales. Rosales also trained Peso for the trainer exacta finish. Fantastic Day improved to 9-5-2 from 34 career starts. Fantastic Day picked up $10,440 in purse money to push his career earnings to $126,256. The $1 daily double paid a decent $79.10 and the 50-cent pick 3 returned $87.45.
1st Race
A field of 7 2-year-old fillies went 5 1/2-furlongs and Lutes Sea Gypsy with Kevin Orozco rated early and wound up for a fabulous stretch run as Gypsy and Orozco ran right past the betting choice Shilshole Bay and Silvio Amador to extend to a 4-length win. Shilshole Bay held 2nd by 6+ lengths over the show runner 3-1 Jeweled Again with Alexis Valdes and taking 4gth was 19-1 Fly Parker Fly with Jose Zunino.
Lutes sea Gypsy races for Horse Haven Creek and Barking dogs and trained by Rosie Simkins. Lutes Sea Gypsy made her 1st career start and ran the 5 1/2 in 1:06.76. The Washington bred by Lutes Gift out of Seadrifter by Rockport Harbor was bred by Horse Haven Creek Farm. Lutes Sea Gypsy paid 6-1 or $14.80 to win, $5.50 to place and $3.80 to show.
2nd Race
After a late scratch 6 broke from the Emerald Downs gates going 6-furlongs and Preskitt with Alex Cruz was the 3-5 odds-on favorite  but 10-1 outsider Red Nova and Carlos Montalvo weren't given the message. Montalvo and Red Nova went to the lead and set the early fractions of 22.08 and 45.23 and by the top of the stretch held a 2-length lead over Preskitt who was never far back. Cruz let out on Preskitt and looked like they might run down Red Nova but a reminder from Montalvo and Red Nova's gas tank was full and didn't stop winning by a clear 1 1/2 lengths in a time of 1:10.88 for the 6-furlongs. 12-1 Mischief Mama and Isaias Enriquez got up for 3rd while 4-1 Moscow Lady with Kevin Radke settled for 4th.
Red Nova races for owner/trainer Michael Morris. This was Morris's 1st win of the season as both owner and trainer. Red Nova rewarded her backers with a pay-out of $23.80, $7 and $5.20 or $36 for the $6 combo bet or $360 back on the $20 across wager. The $1 daily double paid off $108.10 and the 50-cent trifecta returned $71.55.
6 2-year-old fillies contested 5 1/2-furlongs and it came down to the 2 top choices. 5-2 Betty Lute stalked the early pace took control inside the quarter pole, extended that lead to 5 lengths or so and jockey Luis Negron knew he had it wrapped up inside the 16th pole and won by 1 1/2-lengths. Favorite Speightful Cat and Alex Cruz found their stride too late but were a clear 2nd. 6 lengths back was 10-1 Always Gallant and Jose Zunino just in front of the 4th place finisher Rockit a Day and Silvio Amador. Betty Lute stopped the clock in 1:06.49.
Betty Lute is owned by Horse Haven Creek Farm and John Kvinsland and trained by Rosie Simkins. The Washington bred by Lutes Gift out of Remembering Angela by Bertrando was bred by Horse Haven Creek Farm. Horse Haven Creek Farm along with trainer Rosie Simkins swept both 2-year-old races Friday night as owners although there were two separate co-owners, trainer and breeders along with their stud Lutes Gift. The 1st pick 3 paid $155.45.
4th Race
The start of the race was rough for longshot Tap the Bank who either bump or shifted quickly dumping rider Kevin Orozco fortunately neither rider or horse were injured. Meantime, 6-5 favorite Summanus with Alex Cruz sat on the outside of Agrigento with Alex Anaya and as they turned for home Cruz pressed go on Summanus who cleared the field then had to hold off a fast closing Perfect One with Isaias Enriquez at 10-1. 8-1 Nation of Faith and Kevin Radke grabbed 3rd and Agrigento was 4th. The Stewards of course hung the Inquiry sign and looked at #8 Tap the Bank's start and saw that #7 Perfect One did not have anything to do with that incident but then looked at Perfect One in the stretch where room got tight for Nation of Faith but the Stewards ruled minimal contact and no change.
Summanus races for Kenneth Bussey, Indigenous Stable and Filos Stable and trained by Kay Cooper. Summanus ran the 6-furlongs in 1:10.68. Summanus paid just $4.40 to win, the 1st pick 4 returned $495.70, the pick 3 was still triple digits $108.35 and the $1 superfecta paid $519.
8-1 Olympic Legend with Kevin Radke made quick work of this 6-horse field and went to the lead in the 6 1/2-furlong dash and never looked back cruising to an easy 4 length win in a time of 1:16.20. 3-2 favorite The Calabrese Kid with Silvio Amador ran on for 2nd, Mirror Image and Kevin Orozco got up for 3rd at 10-1 and 2nd favorite Crooked Finger Ray faded to 4th with Jose Zunino.
Olympic Legend races for Bryan Smith and is trained by Jose Raudales. This was Raudales' 2nd win of the season and owner Bryan Smith's 2nd win both with Olympic Legend. Legend paid $19.40 on the $2 win and the 2nd pick 4 paid just shy of $800 at $799.85.
7th Race
Betting favorite Single Merit gave Carlos Montalvo his 3rd win of the night and he did it with an early burst of speed and cleared the field which ultimately helped them stay clear of an unfortunate incident in which He's a Flyin with Alex Anaya went down on the turn and on the rail as they approached the 1/4 pole. Anaya hit the ground and rolled and may have suffered a wrist injury and avoided anything more serious. 26-1 Crawlingbacktoyou with Welfin Orantes ran a good 2nd while Exit Stage Left and Luis Negron got up for 3rd, Poco Diablo Rojo and Kevin Orozco ran 4th and capping the 50-cent Super Hi-5 was T. J. House and Kevin Radke in 5th.
Single Merit races for Sue Gilmour and trained by Debbie Van Horne. Even with the 1-1 Single Merit winning the finale no one strung all 6 winners in the 20-cent pick 6. 5 of 6 paid $144.04 and a carry over of $5,696 rolls over to Saturday. The Super Hi- 5 paid $356.40, the pick 5 returned $735 the final pick 4 paid $202.15 and the final pick 3 was good for $70.65.
www.elisportsnetwork.com