WATERLOO, Iowa – Diana Zavjalova of Latvia began Thursday night as the No. 4 seed in the five-player stepladder finals at the 2023 Professional Women's Bowling Association Waterloo Open, which was contested at Cadillac Xtreme Bowling Center and streamed live at BowlTV.com.
By night's end, Zavjalova was No. 1 as she rattled off four consecutive victories to take home her first title of the 2023 PWBA Tour season and the fifth of her career.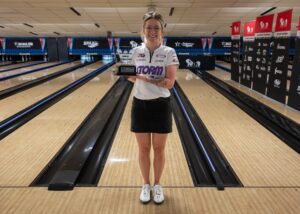 The 32-year-old right-hander reached the winner's circle by topping top seed Shannon Pluhowsky of Dayton, Ohio, 279-244, during a thrilling title match that saw the two competitors combine to strike 20 times in 24 opportunities.
Zavjalova collected 11 of those strikes with only a solid 9-pin in the eighth frame keeping her from perfection.
Pluhowsky was equally impressive, striking on nine of her final 10 shots; however, a spare in the first frame and an open in the second allowed Zavjalova to grab the early need and never look back.

The victory earned Zavjalova the $10,000 first-place check, a beautiful trophy and a berth in the season's final major, the 2023 PWBA Tour Championship, which begins Sunday night at Cadillac Xtreme.
Pluhowsky walked away with $5,000 for her runner-up finish.
Even though Zavjalova was more than happy to take home the cash and prizes, Thursday night's win was special for another reason, that being that it allowed her to finally answer the very nagging question: When are you going to win again?
Zavjalova faced that question many times over the past few seasons because, prior to her win at the Waterloo Open, she hadn't recorded a PWBA Tour title since her victory at the 2018 St. Petersburg-Clearwater Open in Seminole, Florida.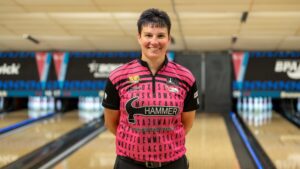 That wasn't due to a lack of opportunities, however, as Zavjalova had made several stepladder finals appearances in recent years; in fact, Thursday night's berth marked her fourth trip to the TV finals during the 2023 season alone.
Nevertheless, while getting there is nice, winning is much nicer, and Zavjalova felt a great deal of relief after finally reaching the top again on Thursday night.
"This has been a very long time coming," Zavjalova said. "I've been knocking on this door for a long time. I've made a lot of TV shows and talked to a lot of people asking 'hey, how do I win again?' Everyone told me to just keep knocking on the door and to keep being myself, and that's what I did. I'm just happy." 
It would've been hard for Zavjalova to be anything but after Thursday night's performance.
That's because she didn't just win; she won in extremely impressive fashion.
Zavjalova opened the stepladder finals with a 244-204 victory over No. 5 seed Kerry Smith of Lititz, Pennsylvania, a two-time PWBA Regional champion who was making her first championship-round appearance on the PWBA Tour this season.
The victory pushed Zavjalova through to Match 2 where she would face No. 3 seed Jillian Martin of Stow, Ohio. 
Smith, meanwhile, ended her night with a fifth-place finish and $2,000.
Two years ago, to the day, Martin, then just 17 years old, became the youngest player to ever win a PWBA Tour title when she defeated England's Verity Crawley, 221-188, to win the 2021 PWBA BowlTV Classic in Arlington, Texas.
Nevertheless, Zavjalova got the better of Martin on Thursday night, finishing with a seven-bagger to erase an early deficit and emerge with a 249-223 victory that ended Martin's bid for PWBA Tour title No. 2 and pushed Zavjalova through to the semifinals.
Martin finished the Waterloo Open in fourth place and earned a check for $2,500.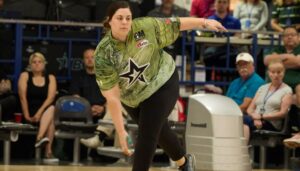 Zavjalova, meanwhile, advanced to face 2023 PWBA Player of the Year frontrunner Jordan Richard of Tipton, Michigan, who was making her fifth stepladder finals appearance of the season and was vying for her tour-best fourth title of the year.
Unfortunately for Richard, the striking power that had propelled her to the winner's circle three times already this season failed to materialize during Thursday night's match with Zavjalova.
Despite staying locked in on the 1-3 pocket all match long, Richard was only able to record three strikes.
Zavjalova, on the other hand, began the match with three strikes in a row and then used a clutch double in the ninth and 10th to hold Richard off and punch her ticket to the title match, where she would go on to defeat Pluhowsky.
Richard was forced to settle for a third-place showing and $3,500.
To some degree, Zavjalova felt fortunate to have walked away as champion.
"I felt very lucky today," Zavjalova said. "The last three shows I'd made, I threw the ball really well, but I just wasn't lucky enough by maybe choosing the wrong ball or something like that. Today, I felt good and happy, I got the breaks and the pins fell my way."
Luck had little to do with it, however, as Zavjalova had the pins falling in bunches throughout the Waterloo Open.
For the tournament, Zavjalova averaged 235.75 over the course of 28 games, which was certainly bolstered by the 984 (244, 249, 212 and 279) she authored during her four games in the stepladder finals. 
Zavjalova will see if she can maintain the hot hand when qualifying for the PWBA Pepsi Open begins Friday morning at 11 a.m. Eastern at Cadillac Xtreme Bowling Center.
Some bowlers may have preferred having some downtime and being able to celebrate a bit more before jumping into the next event; however, that wasn't Zavjalova's preference.
"I like that I have the opportunity to keep the momentum going," Zavjalova said. "I feel very comfortable in this bowling center, so even though it's a new tournament, I like that I get to go back in and try to continue. I think it's a good thing."
The Waterloo Open was the first tournament of PWBA Championship Week – Waterloo, which also will include the Pepsi Open and PWBA Tour Championship, the final major of the 2023 PWBA Tour season.
The Pepsi Open will feature the same format as the Waterloo Open. 
All rounds of the Pepsi Open, including the stepladder finals, will be livestreamed on BowlTV. The stepladder will be Saturday at 7:30 p.m. Eastern.
The season's final event, the 2023 PWBA Tour Championship, will begin the next evening.
In order to qualify for the Tour Championship, a player must be a current PWBA member in good standing and have won a National Tour title during the 2023 season. The remainder of the field will be filled from the PWBA season points list through the most recent tournament preceding the Tour Championship, which will be the Pepsi Open. 
All Tour Championship competitors will be seeded into the round-robin match play schedule according to their position on the season points list after the Pepsi Open.
Those 24 players will bowl three eight-game rounds of round-robin match play starting Sunday at 6 p.m. Eastern. Additional eight-game blocks of matches will be contested on Monday at 11 a.m. and 6 p.m. Eastern to determine the top five for the stepladder finals.
The stepladder finals will start at 7 p.m. Eastern on Tuesday and determine which player wins the 2023 PWBA Tour Championship and its $50,000 first-place prize. The finals will be broadcast live on CBS Sports Network.
All rounds leading up to the CBS Sports Network broadcast will be livestreamed at BowlTV.com.
www.elisportsnetwork.com