8/13/2023
(Special Thanks to track photographer Reed Palmer, Photographer Wayne Nagai and ESN photographer Tony Davila for a ton of great pictures.)
(Auburn, WA) The big day is here, Championship Sunday at Emerald Downs. There are so many story lines and we've covered many of them in our previews and stories this past week. So today is all about the races. Up first will be the 4 Stakes races beginning with the Longacres Mile followed by the Distaff, Muckleshoot Derby and the Washington Oaks.
We will also re-cap as usual the other races on the card. Sunday was an 11 race card with 78 starters for an average of 7.8 per race. The total handle was $3,019,386 a clear new high handle for the season. This was and average of nearly $275,000 per race.
As much fun as the other promotions are such as the Corgi's, Indian Relays the T-Rex races still to come Championship Sunday is all about the racing. That includes those undercard races. It's about the horses, jockeys, trainers and owners. It's about the pay-outs for the bettors, it's about the color, excitement and grandness of this great sport. This is why Championship Sunday is the most special day of the racing season.

Festivities began with the Railbird Rally where fans got to come early and enjoy some beverages and food while talking with several handicappers to pick their brain on the big races on tap on Championship Sunday.
Let's get to the races!
8th Race 88th Longacres Mile $150,000 1-Mile
The track was playing in favor of defending champion Slew's Tiz Whiz and regular rider Jose Zunino of sitting back and making a big stretch run. The biggest issue was would there be enough front speed to run at and that's where all eyes were on 2-1 betting favorite Five Star General with Joe Bravo shipping in to ride to see if they would press the issue and go to the front.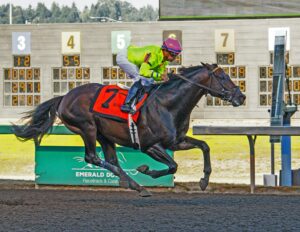 Ever since new trainer Grant Forster took over the care of Five Star General he had been closer to the lead and on the lead in many of his races. Forster told ESN it wasn't a training issue the General is a natural front runner we just let him do it. However, Forster quickly said but he doesn't have to lead he just needs to feel he's in charge and can sit off an unreasonable pace.
Bravo took those instructions to heart and let A Man's Man take the early lead. The 27-1 shot laid down fractions of 22.79 and 45.71 and led by 2 lengths. Five Star General laid off in 2nd with Seattle Bold right with him. Seattle Bold pulled up during the race and had to be vanned off. II Bellator and Alejandro Gomez began in midpack and also was never far back.
On the turn Bravo said Go and had the lead by the 6-furlong mark a length in front of A Man's Man while II Bellator began his run. Slew's Tiz Whiz and Zunino were settled back 2nd last early and began to make his move but was in 6th 8-lengths behind the General at the 6-furlong mark. Five Star General ran the 6-furlongs in 1:09.66 not the pace Slew wanted and had a lot of ground to make up.
Wheeling for home Bravo, in his 1st ever ride at Emerald Downs, took command by 4 lengths at the top of the stretch while II Bellator tried to chip away at the difference and Slew's Tiz Whiz was winding up on the outside. It was all for naught as Five Star General had way to much left and easily held off all challengers winning by 1 1/2-lengths in a time of 1:34.73. II Bellator was a clear 2nd by 3 1/2 in front of 3rd place Slew's Tiz whiz while Arma d'Oro had an even effort with Alexander Chavez for 4th place.
Five Star General runs for owner Ken Alhadeff of Seattle, whose Elttaes Stable and chartreuse silks honor his grandfather, Joe Gottstein, who founded and operated Longacres from 1933 until his death in 1971.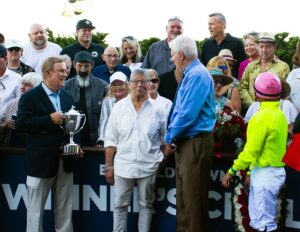 Ken Alhadeff watched the race from Hawaii and was represented by older brother Michael Alhadeff at Emerald Downs. "I'm really proud of my brother and this horse," Michael Alhadeff said. "It's so special to win the Longacres Mile, it's a historic race that means a lot to racing and our family."
With the victory, Five Star General bagged his first Longacres Mile win in four tries and became the first horse with four consecutive top three Mile finishes, accomplishing the feat with four different trainers.
Saddling his second Longacres Mile winner, Grant Forster is the trainer and a Vancouver BC native, won the 2005 Mile with No Giveaway at odds of 60 to 1. Now based in the Midwest, he said winning the Mile is a thrill. "Growing up in the Northwest, winning the Longacres Mile was the ultimate dream," Forster said. "I think most importantly, the horse deserves it."
Five Star General picked up $82,500 for the win to push his career earnings to $586,459 and his career record is now 10-5-6 from 30 career starts or a 33% win rate. The General's Logacres Mile record is  1-1-2 from 4 starts for a 25% win clip and 100% top 3 finish.
II Bellator earned $30,000 for 2nd, Slew's Tiz Whiz picked up $18,000, Arma d'Oro $9,000 5th went to A Man's Man with Alex Cruz collected $6,000 with the rest of the field each receiving $900.
Replay of the 88th Longacres Mile
Longacres Mile Winner's Circle ceremonies
ESN talks with winning Trainer Grant Forster
Longacres Mile Photo Gallery
5th Race The Distaff $50,000 1 1/16-Miles
7 starters broke from the gate and when the bell rang Tiz a Macho Girl with Carlos Montalvo were the slight 6-5 favorite over Blazingbellablu and Alex Cruz at 7-5. The Public got this right as the early pace was set by outsiders Brilliant Bird and In the Red. Macho and Bella sat 3rd and 4th most of the trip that saw fractions of 23.24, 46.33 and 1:10.65 for the 6-furlongs. Daffodil Sweet, Our Lyla Grace and Nan Elizabeth were the trailers.
On the turn Tiz a Macho Girl made a bold move sweeping to the lead getting the jump on Blazingbellablu. Daffodil Sweet went wider and moved into 3rd and it looked like both Bella and Daffodil might make winning stretch runs. But the track is deep and it is taking  a lot out of  these runners as Blazingbellablu lugged in toward the rail and then back almost to the outside of Macho who was also beginning to drift out and the die was cast as Tiz a Macho Girl and Montalvo had enough to hold off Blazingbellablu by a length who was a length in front of Daffodil Sweet and Isaias Enriquez and back another length or so was Our Lyla Grace and Jose Zunino in 4th.
Tiz a Macho Girl runs for Steve and Letha Haahr and is trained by Tom Wenzel his 5th Stakes win of the season. Tiz a Macho Girl is now 6-0-2 from 17 lifetime starts and has increased her career earnings to $161,763 after collecting the $27,500 winner's share of the purse . The win was the 3rd stakes win for Montalvo this year and his 7th win of this weekend already the most wins in a weekend this year.
Replay of the Distaff
Distaff Winner's Circle
Distaff Photo Gallery
6th Race Muckleshoot Derby $50,000 1 1/16-Miles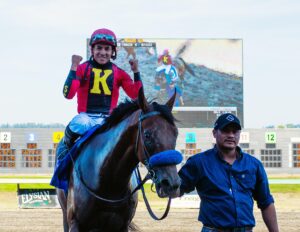 The Muckleshoot Derby went 3-5 odds-on choice Prince Abu Dhabi and jockey Alexander Chavez. This would seem like a pretty regular win for a big favorite but it wasn't quite that way. Let's begin with the start of the race where the outside horse Jin Tong in the field of 10 bolted  to the right toward the crowd and jockey Alex Anaya was unable to keep him straight lost his balance and fell off. Jin Tong quickly was gathered in by the outrider and taken to the paddock. Meantime, medics were there to help Anaya off the track. Anaya in his last race he rode on Friday went down in a spill and came away with a sore wrist and body only to hit the ground on his very next ride. Jin Tong was declared a starter by the Stewards but this would be the 1st of 2 inquiries the judges would have to decide.
Let's get to the race and 5-2 2nd favorite Lloyds Logic battled on the front end with Owhatarush. The pair would set fairly quick early fractions and it would cost both would fade and run out of the money. Meantime, 11-1 Deshambeau with Kevin Radke had been sitting 4th and made a move along with the Prince with Alexander Chavez in the saddle and both burst past a tiring Lloyds Logic. Prince Abu Dhabi on the outside of Deshambeau and came down twice with contact forcing Deshambeau to the rail and continued to lug in as the pair were right next to each other when finally inside the 16th pole Prince Abu Dhabi pulled away for a 2 length win.
The Stewards posted the inquiry sign to look at both the start of the race and then the stretch run. In the end they ruled no change and let the 3-5 invader remain at the top of the tote board. 23-1 J C's a Legend with Isaias Enriquez ran a great race to get 3rd and 55-1 Kahala with Alexis Valdes also ran big for 4th.
Prince Abu Dhabi ran the 1 1/16-miles in a time of 1:42.63 and races for Steve and Lance Kinross and is trained by Blaine Wright. Prince Abu Dhabi is now 5-0-2 from 7 lifetime starts and added the $27,500 top prize to push his career earnings to $166,700.
Replay of the Muckleshoot Derby Stretch Run
Muckleshoot Derby Winner's Circle ceremonies
Muckleshoot Derby Photo Gallery
7th Race Washington Oaks 1 1/16-Miles
Last year in the all-stakes pick 4 1 ticket collected more than 67k in the largest pay-out in state history. This year only in the Oaks saw a chance at a big pay-day when 23-1 Jamies Inheritance stunned the other 9 competitors with a thrilling stretch from a near last to 1st move.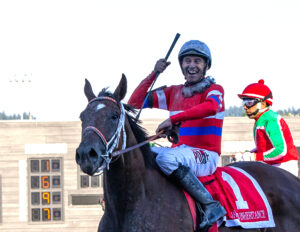 Many thought this would be the easiest of races to predict the winner with Aloha Breeze as the 2-5 odds-on choice. Carlos Montalvo has also been red hot and won the Distaff and was looking to double in the stakes races. This was going to be the furthest Aloha Breeze was going to attempt but there was no doubt that she was going to have a big lead and it would be up to the rest of the field to try and catch her. The connections may have been surprised then when Stepup went with Aloha Breeze who could not shake loose by more than 2 lengths.
Stepup's efforts could not be maintained and she fell back but another outsider Pepper Mill and Kevon Radke at 47-1 came calling next applying a ton of pressure on the filly who has run more often by herself than with many horses near here. Radke also fueled from the Derby when he felt he should have been moved up to 1st after being bumped multiple times in the stretch and his objection was denied, used that as a huge chip on his shoulder and had Pepper Mill in position to pull off a massive upset.
Pepper Mill took the lead at the 6-furlong mark of the race and around the turn had at least a length lead into the top of the stretch. Meantime, 23-1 Jamie's Inheritance and 39-1 Avanti Leah with Alexis Valdes were closing from 2nd last and last. As they turned for home Pepper Mill led but Zunino found a seem in the middle of the track and exploded past Pepper Mill for the lead and drew off to win by 7 lengths.
Avanti Leah was further back and wider but Valdes got her rolling and she was up in time for 2nd by a 1/2 length over Pepper Mill who held on well for 3rd by a head over 2nd favorite Carmel by the Sea with Alexander Chavez. Combined the top 3 finishers were 109-1 and the tote board blew up. Jamies Inheritance paid $49.60 breaking the Stakes record set just last year by Tiz a Macho Girl of $45. She paid $23.60 to place and $11.80 to show or $85 on the $2 combo ticket or $212.50 on the older school $5 combo. Avanti Leah set a new season mark for the $2 place of $31.60 and a new high for the show of $16.60. The Show mark would last as long as it took to post the results official as Pepper Mill destroyed that pay-out with a $23 show pay-off.
The exotics also set news marks, but surprisingly the $1 exacta did not break the season high mark by much. The previous season high was a 30-1 to 5-1 paying $425 and in the Oaks it was 23-1 to 39-1 and the exacta paid $452.90. The 50-cent trifecta paid $6,310.70 which demolishes the season high pay of $866. This is the 2nd highest 50-cent pay0ff in Emerald Downs history to the $10,621 pay-off in 2018. The 10-cent superfecta paid $3,906.62 the 2nd highest 10-cent pay-off in Emerald history.
Washington Oaks replay
Washington Oaks Winner's Circle ceremonies
Washington Oaks Photo Gallery
The Under Card Races
1st Race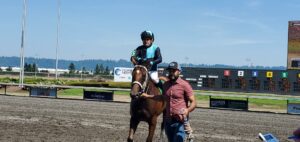 The longest shot on the board of the 5-horse field opener was 5-1 and #5 Distinctive Deb with Kevin Radke. Radke quickly settled in behind the front runners Lucinda Rella and Miss Accelerate who set fractions of 22.81 and 46.17 seemingly slow enough to hold their front end positions but it wasn't as Radke and Distinctive Deb came roaring up on the outside gobbled up the front runners and then off the closers I Am Yours with Luis Negron who got 2nd and Out of Stars with Isaias Enriquez taking 3rd. Miss Accelerate and Alex Cruz were 4th. The winning time was 1:11.43 and Distinctive Deb races for Carl and Debbie Seymour and trained by Preston Boyd. Distinctive Deb is a Washington bred by Nationhood out of Val de Saire by Harbor the Gold and was bred by Pat and Mullan Chinn. She paid $13.80, $6.60 and $3.60.
2nd Race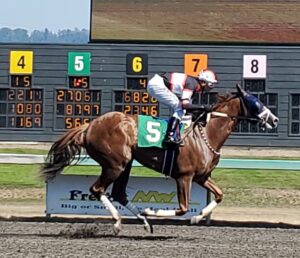 6 went 6 1/2-furlongs in the days 1st 2nd half of the daily double and 1-5 Danielle's Secret with Alex Cruz went right to the front and in this case won easily leading every step of the way. Danielle's Secret ran the quarter in 22.88 and the half in 46.11 extended her lead top 6 lengths at the 1/8th pole and cruised to the win in a final time of 1:17.91. Sassy Einstein with Carlos Montalvo closed well to be 2nd, Foggy Bottom and Rocco Bowen held 3rd while Sparkles and Spurs made a bid on the turn but ran out of gas to take 4th. Danielle's Secret is owned by Remmah Racing and trained by Jorge Rosales. The 3-year-old filly is a Washington bred by Raised a Secret out of Ashbecca by Sandpit and was bred by Dr Rodney Orr. The first daily double of the day paid $11.70.
3rd Race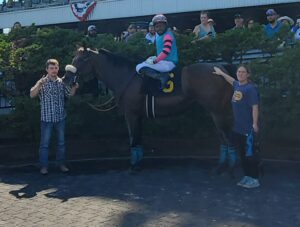 It was a wide open race of 6 going 6-furlongs with the favorite at 5-2 and the longshot 6-1. In fact 2 went off at 5-2 and it looked the slight betting choice Warfront Fighter with Silvio Amador would get the job done getting 1st run from his 3rd place position early on but further back was 5-2 Iron Rob and Rocco Bowen. Bowen and Rob made a big move to engage Warfront Fighter at the 1/8th pole and it was on from there, additionally Mileys Bluecat and Alex Cruz was gaining ground and from far back River Rose and Kevin Orozco. Inside the 16th Iron Rob surged to the front, Warfront Fighter could not hold the 10-year-old gelding off and Iron Rob got the win with Warfront Fighter 2nd just 1/2 length in front of River Rose who took 3rd and just a 1/2 length in front of 4th place Mileys Bluecat. Iron Rob ran the 3/4's mile in 1:11.81 and races for owner/trainer Jennifer Nunnally. The 1st pick 3 of the day paid $25.20.
4th Race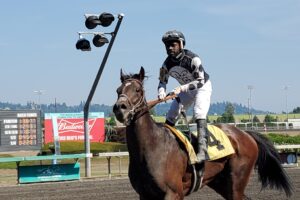 The 1st 2-turn race of the day was at a flat mile and Mister Mafioso with Silvio Amador went to the lead and led all the way setting each fraction except the final time. Amador on the 3-1 3rd choice had a 3 length lead turning for home but the fractions of 22.61, 45.54 and 1:10.74 caught up to the 3-year-old colt when 2nd choice Rhodesia with Luis Negron caught Mister Mafioso at about the 50-yard mark but over the top came longshot Howdoyoulikemenow and Rocco Bowen at 11-1. That's 2 in a row for Rocco. Howdoyoulikemenow races for Warlock Stable and Kelly Dougan and trained by Alan Bozell and ran the 8-furlongs in a final time of 1:38.77. Howdoyoulikemenow paid a handsome $24.20 and capped off the 1st pick 4 paying $215.
9th Race
The 9th race ended  in controversy as Mosquito Fleet with Alex Cruz was disqualified and placed 4th for alleged interference with Hunter's Ghost near the rail. The controversy came from this race being judged differently than the Muckleshoot Derby when there was clear contact between the two initiated by the unofficial winner. The Stewards ruled the contact did not change the outcome of the race.
In this race, Mosquito Fleet certainly came over but was in front and there was no contact but Hunter's Ghost had to switch paths. The 7-5 favorite went on to win. The stewards lit the inquiry sign and most observers did not think there would be a change, after all 3 races there was actual contact not once but twice and no change was made. Stunningly they took down Mosquito Fleet and moved March On Linch with Neptali Ortiz up to 1st, Coolcross and Luis  Negron 2nd, Hunter's Ghost up to 3rd.
March On Linch is owned by Michael Phillips and Alan Bozell and trained by Bozell. The 5-year-old is a Washington bred by Linchpin out of Tears for Parker by Parker's Storm Cat and was bred by Mr and Mrs Elwin Gibson.
10th Race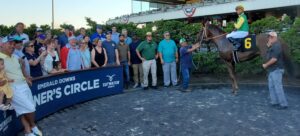 Lie and Deny with a very enthusiastic owner's group got to celebrate for their 2nd straight win when Isaias Enriquez unleashed the beast down the stretch to pull away for an easy 4 1/2-length victory. Enriquez sat the 7-2 2nd choice just off odds-on favorite Prime Example with Kevin Orozco. A bold move by Enriquez on the corner and Lie and Deny was on his way to a route. 8-1 Withee rallied well to be 2nd with Rocco Bowen, Prime Example held 3rd and 8-1 Crazy About You with Carlos Montalvo was 4th. Lie and Deny ran the 5 1/2-furlongs in 1:02.94 and is owned by Two Putts for the Win #21 and Trifecta King Stable and trained by Frank Lucarelli.
11th Race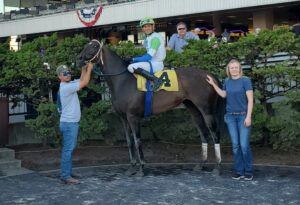 In the finale Rolinga and Alex Cruz rolled to an easy 4 length win as the 95 2nd choice running the 6-furlongs in 1:11.02. 3-2 favorite and Rocco Bowen ran 2nd, Bells and Whistles and Isaias Enriquez was 3rd, finishing 4th was Yellen and Carlos Montalvo and rounding out the Super Hi-5 was Laker Jet with Silvio Amador. Rolinga races for Lusk Racing and trained by Vince Gibson. There was 1 single winner of the 20-cent pick 6 which paid $14,429.14. The pick 5 returned $7,310.45 and the pick 4 was good for $565.55.
www.elisportsnetwork.com