8/19/2023
(Auburn, Wa) 8 races were on the card Saturday night with a total of  49 starters for an average of 6.1 per race. The total handle was $1,074,232 for an avereage of $134,279 per race. 3 favorites won out of the 8 races.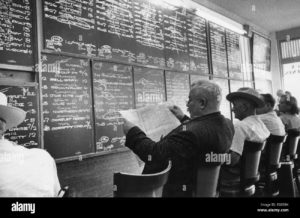 At the betting windows there were only 2 races where the $2 win paid double digits and were a 7-1 shot in the 5th race, Dragon Works paying $16 and box cars rolled in the 1st race with 30-1 Secret Life Style handing jockey Welfin Orantes his 1st win at Emerald Downs and giving returning trainer Don Roberson his 2nd win of the season. Secret Life Style paid $62.40 not quite enough to topple LaFonda's $63 pay-out for the highest $2 win of the season. A 4-1 was 2nd, 7-2 3rd and odds on 4th and the $1 exacta paid $161.80, the 50-cent trifecta $215.55 and the dime superfecta $81.76.
Total opposite in the 2nd race with the 1-5 Mr Bugs winning and the 1st $1 daily double returned $57.50 which is an awesome return with a 1-5 shot and disappointing pay for the 30-1. The 3rd race had a 3-1 win it in Chancellors Boom which help the 50-cent pick 3 pay $186.35 followed by another odds on winner at 3-5 which paid $265.50 for the 1st pick 4 of the day.
The 5th race had the 7-1 shot win followed by 6-1, 15-1 and 7-2. The $1 exacta was $60, another $200 50-cent tri of $221.25 and the 10-cent superfecta paid 167.95 or $1,679.50 for the $1 bet. In the 6th race the 2nd pick 4 paid $111.75. The biggest pay-off of the day was a lone winner in the Jackpot pick 6 which paid $2,513.66. This was stringing a 7-2 to 3-5 to 7-1 to 3-2 to 4-5 to 3-1 ticket. The pick 5 paid just $284 and the final pick 4 $154.55.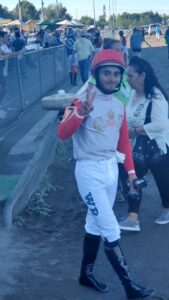 For the jockeys, trainers and owners there was a little something for everyone as out of all 3 categories only jockey Kevin Radke doubled on the day. There was a special win though in the 1st race. It's always fun to do something for the 1st time and apprentice jockey Wilfen Orantes was looking for his 1st win of 2023 and at Emerald Downs. Orantes has a total of 81 races under his belt and came to Emerald Downs after riding only in the Northern California area. He got his first win just his 3rd ride at the Sacramento Fair meet on Jan Jan Can. He would get another 2 wins in 2022.
In 2023 he rode at Golden Gate prior to coming to Emerald and was shut out. Since arriving at Emerald in mid July his chances have been limited with just 12 rides and let's just say he hasn't ridden many odds-on starters. Saturday was no different getting aboard the longest shot on the board 30-1 Secret Life Style. It's also hard to get to 30-1 in a 6 horse field. Orantes scored big with the 2nd largest $2 win pay of the season but more importantly breaking the ice and getting his 1st win at Emerald Downs and of 2023.
Let's get to the re-caps!
7th Race Feature Race "The Muckleshoot Casino Purse"
A field of 6 went to the Mark Gibson starting gates going a mile and Affirm Chief looking for his 3rd win of the season was bet down to 4-5 as the odds-on choice and Silvio Amador in the saddle. When the gates open longshot Decimate wanted the lead and quickly built a 3 length lead pushing to 4 down the backstretch setting fractions of 22.48 and 45.29. It didn't seem like those fractions could hold up and Decimate decimated himself and would throw in the towel on far turn finishing last.
This allowed the others to settle in behind 2-1 Provost with Alex Cruz and 13-1 Forty Smooches with Kevin Orozco to sit in the 1st run position while the favorite Affirm Chief was further back down the back stretch.
As they hit the turn and Decimate was hitting the wall Provost and Forty Smooches head and head swept past the fading speed and had a healthy lead over the rest. But Affirm Chief was just getting revved up and Amador swung him to the outside and was within 4 lengths as they turned for home. Provost and Forty Smooches would not give in to each other but neither could deny the thundering run of Affirm Chief who ran past the duo in the final 16th to post the length win. Forty Smooches ran a huge race and edged away for 2nd over Provost while Hey Sequoia and Alexis Valdes closed from last to complete the top 4 finish.
Affirm Chief ran the mile in 1:38.46 and is owned and trained by Luciano Medina Gabriel and picked up $9,280 for the effort. Affirm Chief is now 5-1-2 from 11 career starts and pushed his bankroll to $50,480. Affirm Chief was also claimed for $10,000 by new owner/trainer Justin Evans.
Saturday's Muckleshoot Casino Feature Race
Wilfen Orantes had enough and finally got to the winner's circle in 2023 and he did it with 30-1 Secret of Life. The 30-1 shot broke last but surprised everyone with a nice move at the top of the stretch angling out and then ran down the field to win easy by a length covering the 6-furlongs in 1:12.38. Secret of Life is owned by Rick Sackett and trained by Don Roberson and was Roberson's 2nd win of the year. Prince of Luck with Kevin Radke ran 2nd, Besame Mucho and Alexis Valdes was 3rd with Anna's Iron Man and Luis Negron 4th. Anna's Iron Man was claimed for $2,500 by Dawn Spillman and goes to Jorge Rosales.
2nd Race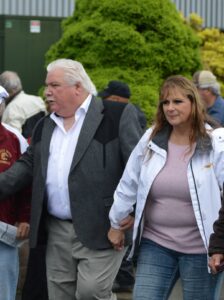 The team of owner John Parker and trainer Candi Cryderman have been dominant over several years but this season has been a bot frustrating but the black JP on the bright yellow silks were not disappointing on Saturday and Mr Bugs with Alex Cruz went straight to the lead and never looked back winning the 5 1/2 furlong dash by 3 lengths in a time of 1:04.42. Mr Bugs is a Washington bred by Sixthirteen out of Alpine Lass by Officer and was bred by Carl and Debbie Seymour. Smiling Preacher with Silvio Amador ran 2nd, Exit Stage Left and Luis Negron were 3rd and taking 4th was Poco Diablo Rojo with Damian Cruz. Mr Bugs was claimed for 5k by Sergio Perez and goes to the barn of Hilario Perez.
A field of 8 2-year-olds went 5 1/2-furlongs and #1 Chancellors Boom with Kevin Radke was the 3-1 2nd favorite and showed quickly the public had the wrong one pegged as the favorite as Boom is the right adjective in this race. Chancellors Boom and Radke roared out of the gates and quickly built a 2 length lead only to widen it 5 by the top of the stretch and by the time they were crossing the finish line in a time of 1:04.87 they were 7 1/4-lengths in front of 2nd place Dynamic Secret and Luis Negron the betting favorite. Allente and Jennifer Whitaker ran 3rd and a deadheat for 4th was between Whereever You Are with Silvio Amador and Well Imagine That with Isaias Enriquez.
The past few weeks have been a grind for Luis Negron and owner/trainer Justin Evans but in the 4th race some of the 1st half of the season magic was back when Negron sat just off the pace and pulled away for a 4-length win on Super Classic running the mile in 1:38.20. Marksman On Target and Carlos Montalvo ran 2nd, Thirty Kiss with Kevin Radke took 3rd and rounding out the top 4 was Warriors Hero and Alex Cruz. 
Isaias Enriquez doubled on Friday and kept the winning going with a score on 7-1 Dragon Works in the 6-furlong spring against 7 others. Dragon Works sat just off the pace and ran down the pacesetter Sensible Lute and Alex Cruz midway down the stretch and pulled away for nearly a 2-length win. Cruz and Lute held on for 2nd over a fast closing English Meadow with Jennifer Whitaker up. Square Fun and Luis Negron were 4th. Dragon Works races for Where We At stable and trained by Kay Cooper and stopped the clock in a time of 1:11.59.
Kevin Radke picked up his 2nd win of the season with another front running effort this time on 3-2 2nd choice Abraaj Mirage. Going 6 1/2-furlongs Abraaj and Radke went straight to the lead and never looked back setting times of 22.89 for the quarter and the half in 46-flat. This left plenty for the 2nd half of the race and the 4-year-old gelding was never threatened winning by more than a length in a final time of 1:17.55. Big favorite Executive Action ran a hard 2nd for Luis Negron, Hadlees Honor and Javier Matias was 3rd with Regulation Dazed and Alex Cruz 4th. Abraaj Mirage races for the Terra Firma Farm and trained by Joe Toye. He's a Washington bred by Abraaj out of Jasmine's Melody by Artax and bred by Ron and Nina Hagen.
In Saturday's get-away race it was a tight one at the wire with 3-1 Subito Slew and Jose Zunino getting the neck down in front of odds-on The Golden Egg with Alex Cruz. Cash's Cat and Kevin Orozco at 5-1 was the early speed and held 3rd with Yankee Go Home and Kevin Radke 4th and completing the Super Hi-5 Alex's Dream and Alex Anaya. Subito Slew runs for Victor Dalosto and trained by Steve Koler. This was a big win for Koler his 1st of the season and in fact his 1st finish better than 5th place but only from just 10 starts. Subito Slew ran the 6 1/2-furlongs in 1:19.57.
www.elisportsnetwork.com