8/20/2023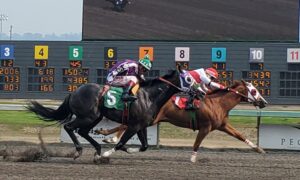 The Sunday card at Emerald Downs took a break from thoroughbred stakes races after last week's Championship Sunday but replaced them with the annual quarter horse Championships beginning in the 1st race with the John Deere Emerald Downs Juvenile Challenge for 2-year-olds. $30,000 was at stake for the 10 horse field going 350-yards. In race 2 it was the $40,000 Bank of America Emerald Downs Championship Challenge for 3-year-olds and up that qualified and remained eligible. A field of 10 also lined up for this 440-yard sprint.
The Sunday card was 11 races with a total of 74 starters for an average of 76.7 per race. The handle was not the 3-million from last week's Championship Sunday but was the 2nd highest of the season topping 2-million dollars at $2,239,830 or an average of $203,621 per race. The cancellation of southern California racing due to tropical storm Hilary that hit the San Diego and Los Angeles areas Sunday morning. 
Coming into Sunday Alex Cruz seeking his 4th straight riding championship maintained a 5 win lead over Luis Negron 53-48. Kevin Radke doubled on Saturday to hit the 40 mark and is in 3rd place 3 in front of Silvio Amador with 37.

On Sunday it was Kevin Radke shining tripling and finishing with a weekend high 6 wins. Carlos Montalvo was the other with multiple wins taking two on Sunday. Meantime, Cruz and Negron each won 1 race and with 9 racing days left of the season Cruz maintains his 5 win lead. Alexis Valdes and Francisco Diaz-Lopez both got wins as well. 
Trainers and owners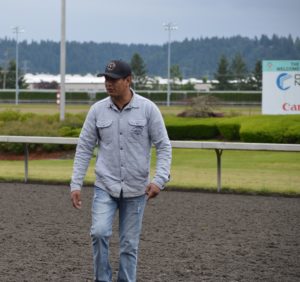 Despite a mid-season slump leading trainer Justin Evans still has a double digit lead over 2nd place Blaine Wright in wins in the trainer race 37-25.  Evans had just one go on Sunday and ran 4th while Wright did pick up 1 win. Tom Wenzel who is 3rd in earnings got his 9th win of the year. Jorge Rosales found the winner's circle with his 25th win of the season one behind Wright. Other winners were Shelly Crowe with her 7th win, Dan Markle got his 5th, Coco Patino got his 4th win, Hilario Perez with his 7th, Jill Soranno got her 8th and Jose Raudales is now 3-3-1 from 17 starts.
Evans also leads the owners in wins with 14 but new owner Luciano Medina Gabriel is just one behind with 13 both train all of their own horses as well. Defending champ John Parker is trying to make a late season run to defend his title is just 3 behind with 11. There were 9 different owners that won on Sunday, 11 counting the quarter horses. Sean Michael Perry got his 1st win of the season winning the finale with 9-1 Crazy About You.
T-Rex Races
The T-Rex "World Championships" were run this weekend at Emerald Downs, Track President Phil Ziegler declared it was the 1st World Championships held since the last ones 65-million years ago! There was a kids race and the 8 heats of adult qualifying runs leading up to the "World Championship"!
Vince Bruun provided the following coverage:
AUBURN, WA – The 2023 T-Rex World Championships Final Heat was a dazzler. Three T-Rexs hit the finish line right together.
After watching the replay on the Big Screen, the officials came to the agreement that Boto Rex (#5), Ocean Kim from Kauai, HI hit the wire first.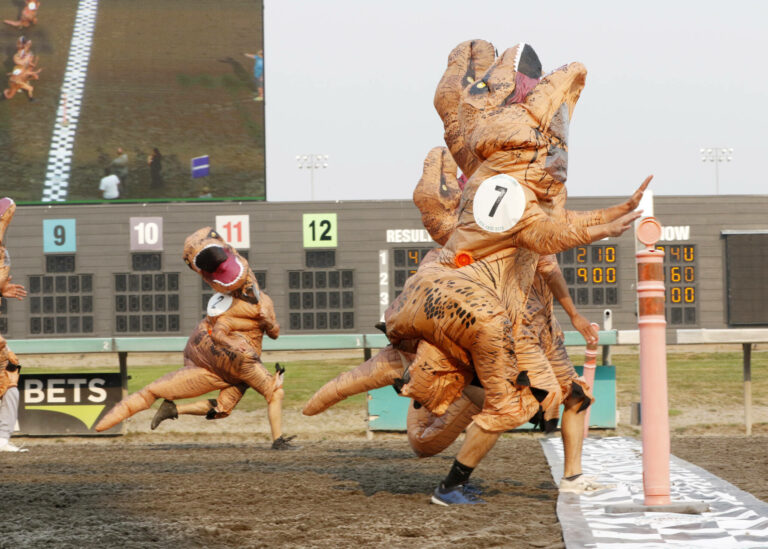 Deno the Dino (#7), Colton Winegar from Boise, ID got second and Rex Ray Machine (#3), Seth Hirschi, Renton, WA third.
Both Kim and Winegar work for Tri-Guard Pest Control who had 40 employees in the races. Tri-Guard started the T-Rex race at Emerald Downs as a team building outing in 2017.  The races were dedicated to Terry Richards, Tri-Guard's CEO who passed away tragically in a small plane crash earlier this year.
The T-Rex World Championships had over 200 participants. Each of the eight heat winners qualified for the Championship. The distance of the race was 100 yards. The T-Rexs came from many miles away. Texas, Ohio, Virginia, Louisiana, Oregon, California and Idaho all had racers.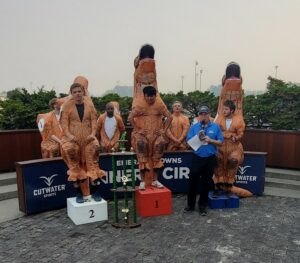 CHAMPIONSHIP RUNNERS (All won a qualifying heat)
#1, Tiberias Rex A Quan, Paul Perry, Bonney Lake, WA
#2, Dinoman, Holt, Prosser, WA
#3, Rex Ray Machine, Seth Hirschi, Renton, WA – 3RD
#4, Sexy Rexy, Dionte, New Mexico
#5, Boto Rex, Ocean Kim, Kauai, HI – 1ST
#6, Big Chomper, Devyrn, Idaho Falls, ID
#7, Deno the Dino, Colton Winegar, Boise, ID – 2ND
#8, Dev-a-saures, Dev, Seattle, WA
#9, Rex-Op, Ethan, Meridian, ID
Championship T-Rex Race
There was also a kids heat that started the competition
T-Rex Photo Gallery
The Quarter horse Stakes
1st Race John Deere Challenge $30,000 purse
A field of 10 was down to 9 with the scratch of Lee West T sending 9 to compete for the 30k purse. The morning-line favorite was Da Bros Cartel with Guillermo Suarez riding and went off as the odds-on 4-5 favorite. But the early money was on Nowhere to Run out of the 1 hole with Jaime Lopez in the saddle and was down to as low as 9-5. But the late money surge went to Da Bros Cartel which in the end made those backing Nowhere to Run pretty happy with the 7-2 pay-out.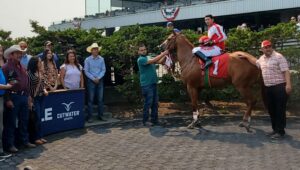 Nowhere to Run broke well and straight from the inside post while Suarez had to try and keep Da Bros Cartel from bolting to the right as he came out and made heavy contact cut off the 6 and 8 and ran into the 9 then swerved hard back to the inside late in the 350 sprint bumped Nowhere and took a short lead but Nowhere to Run dug right back in as Da Bros swerved back out and pulled away for the 3/4 length win.
Da Bros Cartel was 2nd a fast closing Peregrino AF came from the clouds to grab 3rd from the 10 hole and taking 4th was 12-1 JBC Capricho with Elmer Castillo.
The stewards put up the Inquiry sign and there was an Objection on the favorite Da Bros Cartel and somehow no change was made. It is another interesting determination by the stewards in this race as no doubt the 6 and 8 horses had no chance of placing after getting wiped out at the start of the race.
Nowhere to Run races for Onofre Garcia and trained by Benito Curiel. Nowhere to Run earned $20,258 for the win to push his career record to 3-1-0 from 5 lifetime starts and now a bankroll of $29,564. Nowhere to run is a Washington bred by Freakier out of A Clataclysmic Affair by A Classic Dash.
Nowhere to Run paid $9.00, $4.20 and $3.40, Da Bros Cartel $2.60 and $2.20 and Peregrino Af $3 to show. The $1 exacta was good for $11.30 the 50-cent trifecta $35 and the dime superfecta $23.32 or $232.20 for the $1 bet.
$40,000 John Deere Challenge
Nowhere to Run Winner's Circle ceremonies with Joe Withee
Photo Gallery John Deere Challenge
2nd Race Bank of America Challenge $40,000 purse
Another field of 9 went in the $40,000 Bank of America Challenge and the betting public settled on the only female in the race Apolinaria Prize a 4-year-old mare with Cordarelton Benn back in the saddle. Benn and Apolinaria Prize teamed up back on July 30 winning one of the time trials on July 30th by a 1 1/2 lengths. The bettors let her go at 14-1 on that day and would not make the same mistake betting her down to 1-1.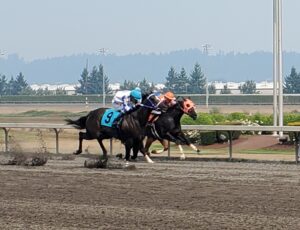 22-1 Fast Movin Freight with Alex Anaya had run a solid 3rd after leading in the time trial and the duo did the same and broke to the lead. Fast Movin Freight ran a huge race against Apolinaria Prize but could not deny the super filly who edged away to a 1 length win. Fast Movin Freight did hold off The Rev Rocker and Guillermo Suarez who beat them in July and the Rev settled for 3rd and Alabama Hills with Jaime Lopez took 4th.
Benn was pleased with how his mare broke and being on the outside being able to see the early speed to inside had and him feeling confident and about 100 yards into the race felt he had this measured perfectly. Speaking of perfect that is what Apolinaria Prize is at Emerald downs now a perfect 4 for 4, she certainly knows what the Cutwater Winner's Circle looks like.
Apolinaria Prize races for Juan Manuel Marquez and trained by Lorenzo Marquez-Campo. The 4-year-old mare is now 7-0-5 from 17 lifetime starts and earned $26,806 for the win to push her career bankroll to $138,526.
Apolinaria Prize paid $4.20, $2.80 and $2.40 while Fast Movin Freight returned $11.20 and $6 while the Rev Rocker paid $3.40 on the show. The $1 exacta returned $23.80, the 50-cent trifecta $47.25 and the $1 superfecta $851.20. The $1 DD paid $14.
$40,000 Bank of America Challenge
Apolinaria Prize Winner's Circle ceremonies with Joe Withee
Photo Gallery Bank of America Challenge
The Thoroughbreds
9th Race Thoroughbred Feature Race 
With the 2 quarter horse Stakes races in the books early we still had to have a Thoroughbred Feature race and it was a good one in the 9th race with a field of 6 going 6-furlongs. Dirt Road Red was trying for his 5th win of the season while Tax Code was looking to bounce back coming off a troubled trip in his last while Jin Tong who has run well but bolted to his right unseating rider Alex Anaya in the Muckleshoot Derby last week from the outside 10 hole position. Trainer Joe Toye and Anaya again drew the outside 6 hole in this one and the question was would he do it again?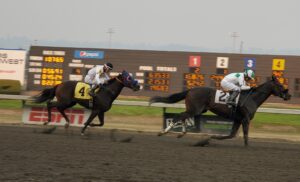 Prayer of Jabez was coming off a solid effort against Tax Code running just behind in 3rd and El Alto Hombre has been a longshot the past 2 races but run 4th and then 3rd but again no confidence from the public going off at 35-1 on Sunday.
When the gates opened first thing was Jin Tong indeed did the same thing and broke to his right toward the outside fence but Alex Anaya told ESN he was ready for it this time and stayed on but had given up at least 10 lengths to the 5th place horse let alone the leader. 
Prayer of Jabez with Alex Cruz was that leader and cleared by a length setting fractions of 22.38 and 45.24. El Alto Hombre and Jose Zunino was sitting 2nd while Tax Code with Kevin Radke settled inside in 3rd to save ground. As they rolled around the far turn Jin Tong made up a ton of ground and about halfway around Radke sensing someone was coming did not want to get trapped on the rail again and eased Tax Code the 1-1 favorite to the outside of both Prayer of Jabez and El Alto Hombre and inside of Jon Tong. Those 4 would battle it out as Dirt Road Red faded to last and Coastal Kid never got into the race and finished 5th.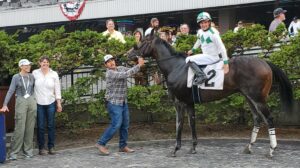 Top of the stretch Prayer of Jabez was trying to steal this one from Tax Code but Tax Code came roaring down the outside caught Jabez at about the 16th pole and pulled away for a 1 length win. Prayer of Jabez ran huge and Cruz really gave themselves their best chance to win but the 9-2 shot had to settle for a clear 2nd. Join Tong made that aggressive move on the turn but the start clearly took its toll and he flattened out to finish 4th a half length behind El Alto Hombre who ran a solid race and came back on Join Tong to take away the 3rd place money.
Tax Code ran a blistering 1:08.92 for owners Mischief Racing and Tax Code is trained by Shelly Crowe. Tax Code picked up $14,500 for the win and pushes his career earnings to $81,565. Tax Code is now 4-2-0 from 7 lifetime starts. He paid $4.20 on the win and the 1-1 to 9-2 to 35-1 to 19-1 superfecta paid $26.06 on the dime bet and $260.60 for the $1 wager.
Tax Code comes off the pace for the Feature win
Joe Withee talks with the Tax Code connections
3rd Race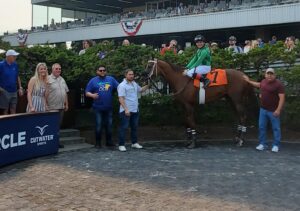 Kiss Ride Goodbye was bet down to 1-2 odds and Alexis Valdes did not disappoint her backers. Valdes broke 4th while Willing to Burn and Alex Cruz set the early fractions then Kevin Radke sent Kerralia up the rail to try and get a big jump on Kiss Ride Goodbye and had about a 3 length lead. Valdes wasn't playing games and cruised up on the outside Kerralia and extended to an easy 3 length win, Kerralia was a clear 2nd with Willing to Burn holding 3rd and capping off the superfecta was Blowing Bayou and Kevin Orozco. Kiss Ride Goodbye is owned by the Roundtable Stable #3 and trained by Tom Wenzel and ran the 6 1/2-furlongs in 1:18.03. Kiss Ride Goodbye paid $3 on the $2 win and the 1st 50-cent pick 3 was 5-1 at $13.80.
4th Race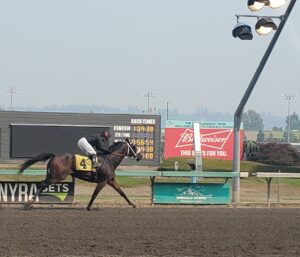 A late scratch left a field of 5 to go 6-furlongs and 4-5 Party Foul with Kevin Radke was another popular selection and Radke rushed to the front set a reasonable pace and controlled the race from start to finish for his 4th win of the weekend. 5-2 Quiet Charm and Alexis Valdes ran a solid 2nd, 9-2 Upper Room and Luis Negron took 3rd and 14-1 Pick Your Bid and Alex Cruz were 4th. Party Foul ran the 3/4-mile in 1:09.93 and races is owned and trained by Jill Soranno. Party Foul paid $3.60 to win and was the  final leg of the 1st pick 4 that returned $25.60.
5th Race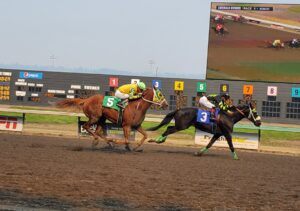 Front speed had been struggling but was making a big impact on Sunday as 8-5 favorite Night to Remember went gate to wire with Luis Negron. Night to Remember was never challenged while setting marks of 22.54 and 45.88 and held everyone at a safe arms distance to win by a late closing Pirate Red with Silvio Amador in a final time of 1:11.47. Amador was hoping one of the other 6 would have put pressure on Night to Remember but didn't get any help and made a valiant run for a clear 2nd. Street Mogul and Neptali Ortiz closed late on the rail for 3rd and 5-2 Seventh House with Alex Cruz ended up 4th. Night to Remember is owned by Kyrie and Coco Patino and trained by Coco Patino. The 5-year-old gelding is a Washington bred by Abraaj out of Maggie's Special by Spiker and was bred by Allen Gideon.
6th Race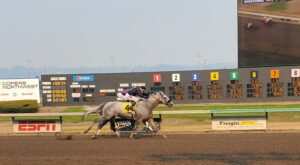 The 6th race sent 7 to the gates going 6-furlongs and not only has front speed struggled for the past month or more but so has favorites. Well the favorites were making up ground on Sunday as the rare 1-9 shot got the win, not without some excitement but Alex Cruz got Blazen Grazen to the line over 31-1 upset minded Peter Flies with Silvio Amador. Peter Flies went to the lead and led by 1 1/2 at the top of the stretch but Blazen Grazen was measured just right passing the big underdog in the final 25 yards for a 3/4-length win in a time of 1:10.14. Tiger Too at 30-1 with Kevin Radke nosed out 6-1 A Skip in the Park with Jose Zunino. Blazen Grazen races for Fred and Cindy Dinsmore  the estate of Glyn Kelly and Anne MacLennan and trained by Dan Markle. Blazen Grazen set the new low for a $2 win pay of just $2.20 he also paid $2.10 to place but thanks to a 31-1 running 2nd and a 30-1 running 3rd Blazen actually paid more than the win at $2.40 to show. Peter Flies paid $9 and $5.60 and Tiger Too $6 to show. The $1 exacta of 1-9 to 31-1 paid $9.20, the 50-cent tri $40.75 and the $1 super $142.40.
The 6th straight betting favorite won the 7th race when Kevin Radke booted home his 2nd winner on the card with 3-5 Hollywood Mistress. Radke laid off the front speed sitting in 3rd and when they turned for home took direct aim at Gold Coast Girl with Luis Negron and Sherlinda with Alex Cruz. Radke and Hollywood got it down to Negron and Gold Coast Girl and edged past them for the neck win. Sherlinda ended up 3rd and Akasi with Alexis Valdes was 4th. Hollywood Mistress ran the mile on 1:37.74 and races for BDW Racing and Shawn Sudo and is trained by Blaine Wright. The 50-cent pick 4 of $6.95…yes $6.95 was a new state record low pay-out.
8th Race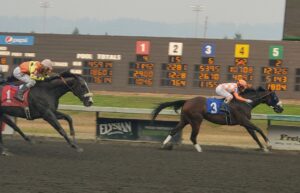 Defying both front speed and favoritism Fantastic Day ran a brilliant last to 1st race with Carlos Montalvo aboard at 6-1. The field of 6 went 6-furlongs and the speed on the engine were going a little too fast as Gold Crusher with Luis Negron at 2-1 went to the lead with 5-2 Mr Fireball 2nd and 15-1 Firewalker 3rd. Gold Crusher and Mr Fireball set fractions of 21.82 and a swift 44.63 and was too much too early as those 3 would finish 4th, 5th and 6th. Fantastic Day and Montalvo was far back early and made steady progress on the rail and turning for home while the front speed tired and drifted out the closers Coastal Jazz and Gabby Hayes were coming wider leaving the door open for Fantastic Day who blew by the field for an easy 1+ length win over Gabby Hayes and Alex Cruz who edged Coastal Jazz and Kevin Radke for 2nd and Gold Crusher held 4th. Fantastic Day runs for Alan Peterson and is trained by Jorge Rosales and ran the 6-furlongs in 1:09.70. Fantastic Day paid $14.20, $5.60 and $3.60 or $23.49 for the $2 combo. The $1 superfecta paid $396.60.
10th Race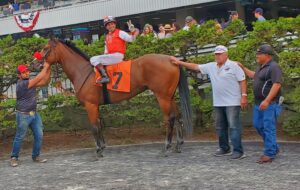 Carlos Montalvo then turned the tables in the 10th race with Young Life Laura as he went nearly gate to wire in this 6-furlong run breaking a head back of the swift Goat Rocks but took over by the 2nd call by a head. Montalvo kept the pace reasonable and then poured it on in the stretch keeping the rest of the 8-horse 2-year-old field at bay with a 3 length victory. Goat Rocks and Francisco Diaz-Lopez ran well and held 2nd over Unbridled Scholar and Kevin Radke who took 3rd. Radke and Scholar had to wait to get off the rail to make their run which no doubt cost them momentum and a shot at running down the winner. Ms Flashy Harbor and Luis Negron finsihed 4th. Young Life Laura ran the 3/4-mile in 1:10.32 and races for Sergio Perez and trained by Hilario Perez. Young Life Laura is a Washington bred by Mr Rancho Vista out of Chedoodlejo by Liberty Gold and was bred by Keith and Jan Swagerty. Young Life Laura paid $13.40 to win the 50-cent trifecta of 5-1 to 13-1 to 7-2 returned $322.20 add the 7-2 shot for 4th and the 10-cent super paid $211.74 or for a 50-cent super $1,058.70.
11th Race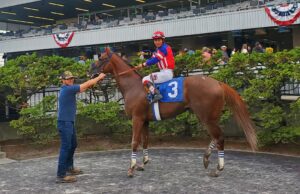 Francisco Diaz-Perez doesn't get many rides or chances for wins and nearly pulled off his 2nd win of the year on Goat Rocks in the 10th at 13-1. In the finale Diaz-Perez got the job done on 9-1 Crazy About You coming from just off the pace to win by a length covering the 5 1/2-furlongs in 1:04.63. This was Diaz-Lopez's 2nd win of the season and is now 2-4-3- from 23 starts. Crazy About You races for Sean Michael Perry and trained by Jose Raudales. V Bucks and Alexis Valdes ran 2nd at 7-2, Seven Sisters and Alex Cruz took 3rd at 1-1, 4th place went Fire Escape and Carlos Montalvo at 5-1 and rounding out the Super Hi-5 was 6-1 Heat Seeking Leta and Kevin Radke. Crazy About You paid the high $2 win of the day at 420. The 41 exacta returned $84.60, the late $1 daily double was good for $117, the $1 superfecta $912.60, the Super Hi-5 $594.80, the last pick 4 $1,201.20 the pick 5 $2,218.45 and the pick 6 had multiple winners paying $437.08 and leaving a $2,244 carryover to next Friday. 
www.elisportsnetwork.com