8/29/2023
The Litter Box (Opinion) by Larry the SportsCat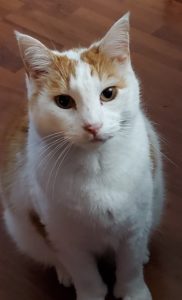 I'm sorry NFL but stop canceling games just because someone is slightly hurt. I understand that everyone is focused on the safety of the game but there is a line between cautious and overly cautious and that line has now been crossed to the latter. I get the extra cautious approach especially after the Damar Hamlin injury last year when he had to be resuscitated on the field, but to cancel games because the hit or collision looks worse than the injury is ridiculous.
If you are unaware of what I'm talking about the last 2 weekends the NFL have cancelled games in the 4th quarter due to players being carted off the field. Those games were the Aug. 21st game between New England and Green Bay and the Aug. 26 matchup between Miami and Jacksonville. In the Patriots game cornerback Isaiah Bolden was carted off the field after a hard hit and the game was cancelled with 10:29 to play in the 4th quarter with NE up 21-17.  In the press release it was stated that he was conscious and had feeling in all extremities at the time he was carted off. Bolden is now listed as day to day with no injury designation.
In the Dolphins game WR Daewood Davis was injured on a play with a violent collision and appeared to be unconscious on the field. In the press release the Dolphins say he too was conscious and had feeling in all extremities but again the decision was to cancel the rest of the game. Davis has been placed in the concussion protocol and when he clears that will be back on the sideline.

Many may think what's the big deal it's just pre-season, it doesn't count. But it does count in many ways. First, football is a contact sport and if we are going to cancel games just because a stretcher comes out on the field this is going to be a long and disappointing season. These injuries were no where near as serious as Hamlin's and both players were conscious and had full feeling in all extremities. This has happened in the NFL multiple times over and over again. Heck, in the old days the trainer would tell you to walk it off you didn't need a stretcher. So the fact that sports medicine has come so far to make sure there isn't any further serious injury and they take those precautions now is the progress everyone was asking for. That doesn't mean to stop the game.
Are the fans getting a refund for an incomplete game? For many fans this is the only time they will get to come and experience an NFL game because even though ticket holders are charged full price many sell them for a portion of the face value and others simply give them away. That's just a fans point of view.
Now imagine you are a parent of a rookie trying to make the team and this may be your only chance to see this monumental moment in your child's life. Playing in the NFL for the first time or getting a chance to play for/against the team you rooted for growing up only to have it cancelled.
There are many players on the bubble that didn't get a chance to play. The league already took away one of the pre-season games that allowed these young players to make an impact and to simply cancel games because of an injury from a hard hit but the player is ok is simply unfair.  Yes the world isn't fair and these players have other chances to have their film seen but for anyone that watches NFL media they constantly state that the preseason is a tryout for these players for all the teams because they get to get film of them in a game and not just what you see in practice.
What is my point? Let the game of football be football through the years there have been gruesome injuries on the field and the game was not cancelled. Notably Joe Theismann and Alex Smith with their leg injuries. I just hope this isn't the state of football going forward when a concussion is a reason to cancel a game how can this game survive?
To me it's the pathetic Players Union that is to be blamed. Why the NFL is allowed to field such small rosters is beyond stupid. Every time we turn around the sale of a team has reached a new high so how can these billionaire owners not be able to afford another 20 protected athletes on their team that would form their "JV" squad so to speak at say 300k a year, that's a lousy 6-million dollars extra a year. What young man wanting to make it in the NFL wouldn't jump on the chance to make 300k a year on the NFL JV squad?
Maybe teams could afford to hold onto quarterbacks and allow them to mature and learn the game instead of "I hope we found the diamond in all these lumps of coal" style of picking your QB. Geno Smith was not an accident with his performance last year. Aaron Rodgers sat for 3 years and now his replacement Jordan Love is likely in a far better place to succeed than Trey Lance or Zach Wilson, although Wilson is now in a great position to learn and have time to grow. 
The NFL should never be in a position to cancel games with very few exceptions and that used to be the standard. It took 9-11 for the NFL to postpone 1 week of games and then it was important to show the world we would not allow outside enemies to deter what we do. Of course the pandemic canceled games but prior to that sports has been a common ground to bring Americans together. The NFL played their games 48 hours after JFK was assassinated, Major League baseball played the following day after Pearl Harbor was attacked. This is not a good look for the NFL and they need to stop it now.
www.elisportsnetwork.com