9/1/2023
Tumwater 49, Burlington-Edison 8
Officially gone now is the direct connection between the famed Head Coach of the Tumwater Thunderbirds Sid Otton and the Head Coach position. When Otton retired in 2016 Bill Beattie took over after spending most of his years as the head coach at Olympia. Otton the winningest coach in state history passed the torch to a former player in Beattie who also coached a short time under Otton before getting started with his own career that began in Tenino, then in Elma and then Olympia. Beattie stepped away last Spring getting that elusive State Championship for his alma mater before calling it a career.
That direct tie of Otton to Beattie lasted 50 years. Now William Garrow takes over as the Head T-Bird and although Garrow was an assistant under Beattie that direct bloodline isn't there so naturally the question is can Garrow carry on the culture and tradition of one of the strongest athletic programs in Washington State history?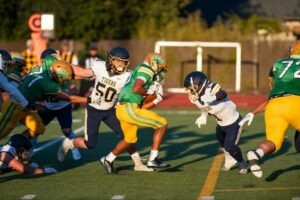 If the result of the T-Birds 1st game under Garrow is any indication the answer is a confident YES!. Tumwater rolled to a 49-0 lead over Burlington-Edison in a non-league season opener. The Tigers have traditionally been a strong program out of that tough NW league where those dreaded Lynden Lions reside.

Burlington-Edison threatened early in this game but the Tumwater defense held tough. The Tigers did put together a good late game drive to score their only points on a 5 yard run by Antonio Rodriguez. 
Tumwater ran off 7 straight touchdowns beginning with Logan Cole scoring the 1st 2 from the 8 and the 6 yard lines. Mathias Rodriguez was next with a 5 yard run, Peyton Davis added a 12 yard scamper followed by another Rodriguez run this time from the 4 yard line. Kooper Clark caught the 1st TD pass of the Coach Garrow era, a screen pass and ran it in from 13 yards out. Jacob Dillon wrapped up the scoring with a 40-yard TD reception and at the time made the score 49-0.
The T-Birds are off to a 1-0 start and will travel to face North Kitsap next week while Burlington-Edison will be looking to even their record again on the road at Mount Vernon. 
Below are our video highlights and our complete Post Game show with the ESN crew. If you'd like to watch the replay of this game you can do so on the following link on the NFHS Network but you will need a subscription to view it. Link to watch the game replay.
The ESN Crew re-caps the game with the Post Game Show
Video Highlights
Logan Cole scores the 1st TD of the season for the T-Birds
Kooper Clark catches 1st TD pass of the season for Tumwater
B-E's Antonio Rodriguez scores and the Tigers get on the board
www.elisportsnetwork.com