9/10/2023
It is the 2nd to last weekend of the 2023 season at Emerald Downs and while there is still a lot of good racing left to go you can tell folks are gearing up for their next stop. Several season long battles have been decided beginning with the trainer standings where newcomer Justin Evans came to town with a barn full of horses from Arizona and ran up a big early lead. Evans then hit a mid-season slump as many of his horses were either claimed or ran out of their conditions but Evans had built such a huge early lead the race was over quickly.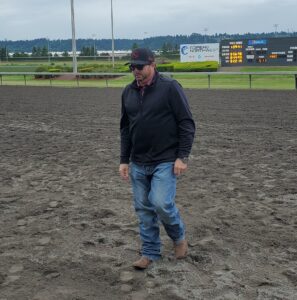 Evans has since rebounded and has again been hitting his stride with 8 wins over the past 5 racing days including a triple on Sunday. The jockey title is in the hands of 3 time defending Champ Alex Cruz with a 8 win lead and no more than 20 races left to be run this year. Cruz tripled on Sunday including winning the feature race. Luis Negron holds on to 2nd and Silvio Amador is surging and has taken over 3rd place from Kevin Radke.
In the race for most wins by an owner it remains up in the air with Justin Evans leading newcomer Luciano Medina Gabriel 19-18 with both getting a win on Sunday. Evans is part of a lot more wins but is part of ownership groups and the owners race is determined by single ownership entities so being part of another group does not count toward the owner's standings.
Gabriel is in his first year as a trainer and has had remarkable success as an owner/trainer with a 18-7-8 record from 59 starts. He remains in the race for top owner. Defending champion John Parker still had an outside chance entering the final month but has not been able to close the gap and is all alone in 3rd with 13 wins.

On the 2nd to last Sunday of racing there were no Stakes races but a solid 10-race card with 70 starters or a 7 horse field average. A total of $1,385,798 was wagered. Below is a blow by blow of the Sunday card and below that is a re-cap of Saturday's card.
Visiting Jockey
Lindey Wade with more than 1,500 wins to his credit made his first appearance at Emerald Downs on Sunday. Wade is well known in the midwest riding at tracks such as Lonestar, Sam Houston and most recently Canterbury in Minnesota. Wade was out visiting friends and decided to pick up a few rides on Sunday. He didn't get in the Winner's Circle but was surprised and pleased he came for the visit and the chance to ride in the PNW.
Sunday's Races
9th Race (Muckleshoot Casino Feature Race)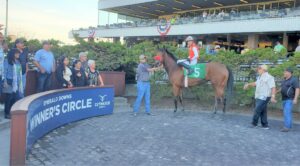 6 broke from the gate when starter Mark Gibson pressed the button at the 6 1/2-furlong distance and 5-1 Young Life Laura with Alex Cruz aboard went straight to the lead. 11-1 Pepper Mill with Kevin Radke was right there 2nd and 9-1 Donne Cattive with Silvio Amador a close 3rd. That trio would battle each other all the way around with fractions of 22.74, 45.15 and then in the stretch Young Life Laura simply would not give in and Cruz had his 3rd win of the day.
Pepper Mill held 2nd and Donne Cattive 3rd. Deep closer and 2nd favorite Nan Elizabeth with Kevin Orozco ran 4th at 9-5. Young Life Laura paid $12.20 on the win and $26.60 for the across the board wager. Pepper Mill returned $14.40 to place and $6.20 to show while Donne Cattive paid $6.80 to show. The 50-cent trifecta returned $109.75 or the old school $2 tri $439. The 10-cent superfecta paid $72.45 or another old school $2 super returned $1,449.
Young Life Laura runs for Sergio Perez and is trained by Hilario Perez and picked up her 4th win of the season. Young Life Laura is a Washington bred by Mr. Rancho Vista out of Cheedoodlejo by Liberty Gold and was bred by Keith and Jan Swagerty. The 3-year-old filly is now 4-0-1 from 10 lifetime starts and added $14,500 to her bankroll which is now $48,100. She ran the 6 1/2-furlongs in 1:16.34. 
Stretch Run of the Sunday Feature Race
Winner's Circle Ceremonies for Young Life Laura
1st Race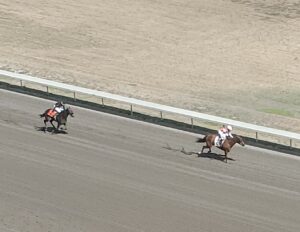 The 3-year-old maiden race saw 6 go 6-furlongs and the betting public was not fooled as 1-9 favorite Square Fun broke out on top and never looked back with the hot Rocco Bowen aboard. Square Fun set fractions of 22.33 and 45.67 before pulling away ton by a more than 4 lengths in a final time of 1:11.56. Stablemate Haughty Kitty ran 2nd with Alex Cruz, 1st time starter Dazzle Me Ginger with Kevin Radke was 3rd and Dreamofbling capped the superfecta taking 4th. Square Fun races for Rakoczy Racing and Justin Evans and trained by Justin Evans. Evans owned and trained the runner-up Haughty Kitty as well and the all-Evans exacta paid $2.30.
2nd Race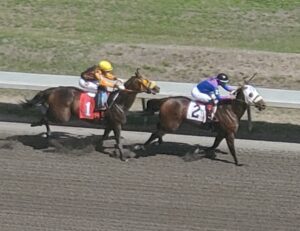 Luis Negron is getting some odds home lately on the front end and he did it Saturday night with 10-1 Coastal Jazz and again with Flyin By in the 2nd race on Sunday at 14-1. Negron put Flyin By on the lead and outran big favorite Ms Parkside for the early lead setting the pace with times of 22.30 and 45.37. Turning for home the biggest threat came up the rail with Big Mama Thornton and Silvio Amador at 9-1. Just inside the 16th pole Flyin By appeared to come down on Big Mama forcing Amador to check but after an inquiry the stewards ruled that it would not have changed the outcome of the race and left the finish stand. Mary Walker and Isaias Enriquez took 3rd and Costrando with alex Cruz was 4th. Flyin By is owned by Rebecca and Kimberly Johnston and trained by Kimberly Johnston.
Flyin By paid $30.40 on the $2 win and $47.40 on the $2 combo. The 14-1 to 9-1 exacta paid $139, the 50-cent trifecta $223.65 and the 10-cent superfecta $191.71 or $1,917.00 on the $1 ticket.
Leading rider Alex Cruz has seen his 7 win lead shrink to 5 and was in need of a victory. The track is playing to the front speed and that is where Cruz sent 6-5 favorite American Tsunami in the field of 7 going 5 1/2-furlongs. Cruz and Tsunami ran the quarter in 21.85 and the half 45.77 leaving plenty for the stretch running off with a 3+ length win in a final time of 1:05.83. American Tsunami races for Justin Evans and John Haas and trained by Evans, his 2nd win of the day. The 1st 50-cent oick 3 paid $26.50. Far Far Away and Silvio Amador ran 2nd, Rockit A Day and Jose Zunino 3rd with Shilshole Bay and Lindey Wade taking 4th.
4th Race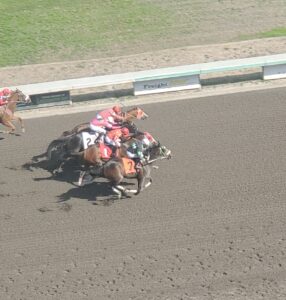 The 4th race finally saw the front speed go too fast and off the pace they came charging. Candied Lute, Stephen James and Pick Your Bid all battled for the early lead and set fractions of 22.25 and a swift half of 44.96 which ended up dooming the front running trio. Pick Your Bid was threatening to pull a stunning upset and held the lead to the 16th pole Candied Lute and Kevin Orozco tried to rally but the pair could not hold off Spire and Rocco Bowen over the top on the far outside who just got by another closer just to his inside Dennard and Kevin Radke. Spire stopped the clock in 1:09.96 and is owned by Boll Nooney and Robbie Baze and trained by Baze. Dennard was 2nd, Candied Lute got the nose up for 3rd and Pick Your Bid faded to 4th.
5th Race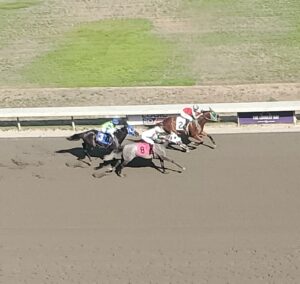 A field 8 2-year-old fillies went 5 1/2-furlongs and Veronica's Delight with Jose Zunino, Chai and Isaias Enriquez and Coastal Girl with Rocco Bowen all went to the front and that trio would not give in to anyone else. Veronica's Delight and Coastal Girl would ease out down the back stretch with Chai sitting in the catbird seat 3rd. Turning for home Chai cruised right up to join the leading pair and by the 1/8th pole may have had the lead but Veronica dug in and and pulled away for a 1/2-length win over Chai and Coastal Girl finished 3rd with Princess K taking 4th. Veronica's Delight races for George Todaro and is trained by Tom Wenzel and ran the 5 1/2 in 1:05.05. The 5-1 to 5-1 $1 exacta paid $44.20, the $1 superfecta of 5-1 to 5-1 to 2-1 to 30-1 paid $1,104.10.
6th Race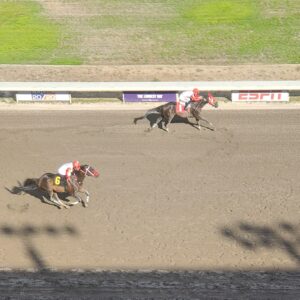 6 went 1-mile in the 6th and the tag-team partners of Bel Regazzo and Baby Frankie owned and trained by Lucinao Medina Gabriel both sat just behind the pace until the far turn and Baby Frankie the 6-5 favorite with Neptali Ortiz chose to go wide while Silvio Amador on Bel Ragazzo sat and waited for the rail to open and it did and that's when Amador struck sending Bel through and would pull away for a length win over stablemate Baby Frankie. Bel Ragazzo would stop the clock in a time of 1:36.73. Hard to Deny with Jose Zunino ran 3rd and Coolcross finished 4th with Alex Cruz. The all-Gabriel exacta paid just $5.80.
7th Race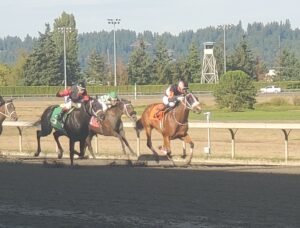 Above the Stars and Alex Cruz went to the front at start and drew off to a 2 1/2-length lead down the backstretch with 26-1 For You Only and Jennifer Whitaker right behind in 2nd. That duo would stay on the front end and deny all-comers but Above the Stars ran especially game and refused to allow the longshot from getting by. The Emerald Racing Club's Scatalicious with Rocco Bowen closed well to be 3rd and Distinctive Deb and Kevin Radke took 4th. Above the Stars ran the 6-furlongs in 1:10.86 and races for Remmah Racing and trained by Jorge Rosales. For You Only paid a hefty $21.60 to place, the $1 exacta was 67-1 paying $68, the 50-cent trifecta returned $145.30 the $1 super $2,556.60.
8th Race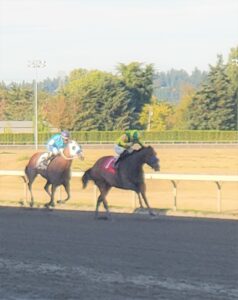 Front speed continued  to dominate and Miss Bella breaking from the 1 post with Silvio Amador set all the fractions going 6-furlongs with the quarter in 21.75 and the half 44.30. Turning for home Amador and Miss Bella had plenty left maintaining their length plus lead over You Go Girl and Alex Cruz to win by nearly 2 lengths. You Go Girl held 2nd, 13-1 In the Vault with Rocco Bowen was 3rd and taking 4th was Reign of Fire with Isaias Enriquez. That's the order the 4 broke from the gate and how they finished. Miss Bella stopped the clock in a final time of 1:09.56. The 4-year-old filly races for John and Janene Maryanski and is trained by Blaine Wright. She's a Washington bred by Harbor the Gold out of Bella Compana by Slewdledo and was bred by Mr and Mrs William Griffin.
10th Race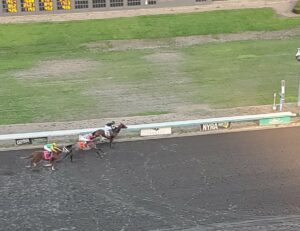 In the finale the big favorite Hulk and Rocco Bowen nearly didn't get out of being boxed in down the stretch and was stuck on the rail as 17-1 early speed Impact Zone with Alex Cruz had led the 1-mile race for more than 7 furlongs. Perfect One and Isaias Enriquez had been just to the outside of Impact Zone and Hulk further inside on the rail. At about the 1/8th pole Bowen tried to force his way out but Enriquez and Perfect One had position and kept him hemmed in on the rail. Perfect One could not get by Impact Zone though but the 3-year-old gray gelding was getting tired and drifted a bit off the 2 path opening a spot for Hulk and Bowen to shoot through and they did to win by about a half length. Hulk ran the 1-mile in 1:38.03 and races for owner/trainer Justin Evans. 
Hulk keyed several pay-outs to wrap up the Sunday card starting with the 20-cent pick 6 which had 1 winner paying $1,488.28. The 50-cent pick 5 returned $477.35, the last pick 4 paid $179.15 and the 50-cent super hi 5 returned $175.75. 
Saturday, September 9, 2023
The 2nd to last Saturday night card featured 8 races with a total of 59 starters or 7.4 per race. Total handle was $738,261. The big betting news was the 20-cent Pick 6 Jackpot had a single winning ticket and paid $12,702.08, the 2nd largest pick 6 pay-out of the season.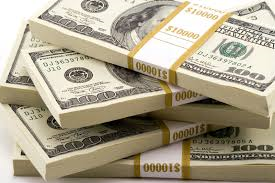 The big pay-off was keyed by the feature race winner, 10-1 Coastal Jazz with Luis Negron. Coastal Jazz went straight to the lead and was never challenged in the stretch winning by nearly 4-lengths. Coastal Jazz paid $22.80 on the $2 win and $228 on the $20 win ticket. Jazz was the longest shot by far to win one of the pick 6 races. The odds in order of that big winning ticket were Arthur Spooner in the 3rd at 9-5, 2-1 Agrigento, 2-1 Goat Rocks, 7-2 Lie and Deny, then Coastal Jazz at 10-1 and finished with 9-5 Mean Sharon. The combined odds total is an average of 7-2, pretty good for a 12k pay-off.
Other news from Saturday, jockey Francisco Diaz-Perez doubled for the 2nd time in 3 racing days to triple his win total from 2 to 6 wins on the year. Diaz-Perez won for the 2nd time this season on Goat Rocks and also brought home Agrigento. Silvio Amador also doubled winning the 1st with Start Them Up and the 3rd with Arthur Spooner and Rocco Bowen also brought home 2 winners with Mo The Down in the 2nd and Mean Sharon in the 8th. Negron won the feature with Coastal Jazz and the other winner went to Isaias Enriquez with Lie and Deny.
There were 8 trainers with wins and all familiar names with Justin Evans, Blaine Wright, Frank Lucarelli, Steve Bullock, Vince Gibson, Luciano Medina Gabriel, Jose Raudales and Jose Navarro. 8 different owners also found the winner's circle on Saturday and included Ron Burner, Justin Evans, Luciano Medina Gabriel, Sean Michael Perry, Clemans View Racing, Two Putts for the Win #21 and the Trifecta King Stable, Gold Coast Racing and Ashley Potts and the White Diamlond Syndicate.
Here's Emerald Downs' Media Director Vince Bruun's re-cap of the Saturday feature race: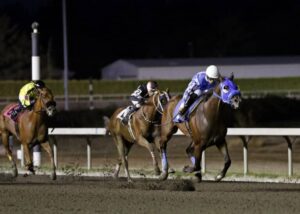 Coastal Jazz blazed away on the lead and scored a 10 to 1 upset in Saturday's $21,000 Muckleshoot Casino Purse for 3-year-olds and up at Emerald Downs.
Ridden by Luis Negron, Coastal Jazz zipped six panels in a very fast 1:08.31 and paid $22.80 as the second longest choice in a field of six. Steve Bullock is the winning trainer for owner Gold Coast Racing.
Breaking from the No. 3 post, the winner set fractions of :21.97, :44.37, and :56.02, and held off Executive Chef and 6 to 5 favorite A Man's Man for a 3 ¼-length victory. Scoring his third win of the meet, Coastal Jazz improved to 8-1-8 in 29 starts lifetime with earnings of $127,443.
Executive Chef, the 2 to 1 second choice ridden by Silvio Amador, edged A Man's Man for second, while Dirt Road Red, Overly Fast, and Smoken Shadow rounded out the complete order of finish. Lucky Lad and Peso were scratched.
www.elisportsnetwork.com