9/9/2023
The SPSL in week 2 had some big wins and maybe surprising results for some. Curtis has been aiming for this season for about 3 years now and walked away with their biggest win over those 3 seasons beating Sumner on their home turf. Graham-Kapowsin is not ready to give up their place at the top of the SPSL with a dominating win and Emerald Ridge kept pace with a shut out win at Olympia.
Meantime, Bellarmine Prep got their 1st win with a 3-0 victory over Bethel and on Thursday night South Kitsap defeated Rogers. (Link to our coverage of the Wolves win) Eli Sports was at both the Curtis and G-K wins, our reports interviews and video highlights are all below. Plus full standings at the bottom of the post.
Curtis 38, Sumner 33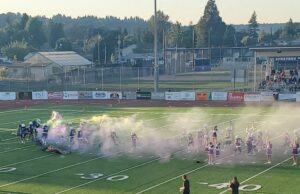 The atmosphere at Sumner is simply electric. The Spartan faithful always show up, the massive marching band, huge cheer staff and drill team truly make it "college like". The Spartans were coming off a dominating win over Bellarmine Prep and Head Coach Keith Ross was excited with that effort and believes this squad may be extra special. But Ross was quick to say his team better be ready for tonight because he has been watching what his counterpart, Darren McKay has been doing over at Curtis and after escaping with a win at the Vikings last year he knew this year was going to be a huge challenge.

On the other sideline Coach McKay was honest in saying this game will determine whether or not the Vikings are ready to be in the mix with the top SPSL teams or if they will continue to knock on the door trying to get in.
The Vikings answered that question by not knocking on the door but busting through it and demanding they be recognized as one of the top teams. The Vikings offense had an official total of 8 possessions. They scored on every possession except for the 1 play knee at the end of the 1st half and the victory formation at the end of the game.
Sometimes teams with good defenses just run into a team that has their number and in this one the same could be said for both teams as there was exactly 1 punt between the 2 teams. We counted the 2 times the teams held the other to a field goal attempt as a stop for the defense,
Sumner scored 33 points in this game which is more than enough to win 95% of the time. The Spartans began it with 9 play 76 yard drive capped off with QB Tristen Rebar surging into the endzone, Austin Ferencz knocked through the PAT for a 7-0 lead at the 89:05 mark. Curtis would respond with a 74-yard drive in 9 plays and a 27-yard TD toss from Rocco Koch to Parker Mady and Ethen Bell hit the extra point and at 3:45 to go in the 1st it was tied 7-7.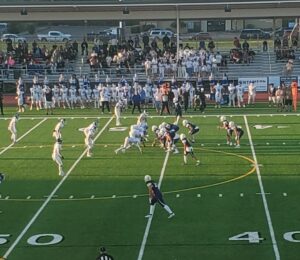 It may start to sound like we're just repeating ourselves and we are but Sumner took over on their own 25 and 10 plays later Matthew Spurbeck piled into the endzone from the 2-yard line, PAT good and it was 14-7with 42-seconds to go in the 1st. On the next kick-off Ferencz, who regularly kicks the ball deep into the endzone didn't quite get it there and Xavier Ahrens for Curtis took it from the goal line, just outside of the endzone 69 yards to the Sumner 31. 5 plays later Koch scored from the 1, PAT good and it was tied again 14-14 with 10:59 in the half.
The Spartans did not flinch and took over on their own 30. It took 5 plays for Rebar to find Jaidon Ortiz on a 20-yard pass, catch and run for the score. However, the 1st flinch was then a PAT that went wide right leaving the score 20-14 with 9:03 to play in the half. Could the Spartans get a stop was the question and the answer was no. The Vikikngs began on their own 20 took 8 plays, 4 rushing and 4 passing and in the end it was that guy again, Koch running it in from the 5 yard line, Bell hit the PAT and with 6:28 to play in the half Curtis had their 1st lead 21-20.
Then it was the 2nd flinch of the game as Curtis held Sumner forcing them to punt, the only punt in the game and it came up short giving the Vikings great field position on the Sumner 38. The Vikings looking to add to their lead did so but we called it a stop by the Spartan defense as Curtis was forced into a 37-yard field goal attempt by Bell. Bell hit but had it been a 38-yard attempt he may have missed getting just enough on it but Curtis took a 24-20 lead with 3:41 left to go in the half.
This was plenty of time for Sumner to get back on track and they did so with an efficient 10-play drive, 9 running plays and 1 pass play on the 10th play, a play-action pass to their tight end Carter Cocke, a 4-yard fade from Rebar. The PAT was good and with 15-seconds to play the Spartans had re-taken the lead 27-24 at the break.
In the 2nd half, Curtis received the opening kick and took it on their own 20. They would drive 80-yards in nearly half the quarter and Koch would finish off the drive with a hard nosed 15-yard run, the PAT was good and the Vikings re-took the lead 31-27 with 6:04 to go in the 3rd. Sumner looked to answer with the ball on their own 20 they would grind out a 13-play drive but stalled on the Curtis 20. Ferencz came in to try and match Bell's 37-yard field goal and pull within 1 but his kick again went wide right. He had plenty of distance but again just missed keeping the score 31-27 with less than a minute to play in the 3rd.
Curtis would break through and push the game to a 2 score difference for the 1st time on another 80-yard drive that went 9 plays. 7 rushing and 2 passing plays and the Vikings would finish it off with another Koch 1 yard surge, Bell hit the PAT and it was 38-27 with 8:39 to play. If all went to plan, Sumner would right themselves again and score…and they did. A 75-yard drive in 8 plays and took off less than 3 minutes as Rebar found Freshman Braylon Pope on a slant route for the touchdown. They would go for 2 to try and pull it back to a 3 point game but fell short on a nice defensive surge by Curtis.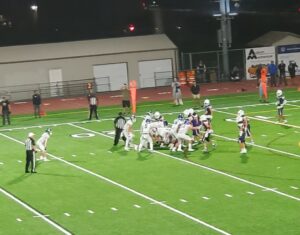 This left 6:14 still on the clock but Curtis was not in the giving mood and would not score again and would not give up the ball again. The key play early was a 3rd and 17 that the Vikings converted for a fresh set of downs and they just ran the clock out. The Spartans could not get a final stop and Koch breaking free for the last 1st down likely could have scored with 2 minutes to play but got the 1st down and got down. They went into victory formation and Sumner was out of time-outs and killed the clock for the massive win for the Viking program.
ESN stats had Rocco Koch with 31 carries 163 yards and 4 touchdowns while going 17-20 and 231 yards passing with 1 score. Parker Mady had 6 catches for 95 yards and a TD and ran the ball 5 times for 19 yards. Xavier Ahrens ended up with 58 yards receiving, a 69-yard kick-off return and on defense was a huge factor in keeping Sumner from breaking off even more rushing yardage and had a couple of tackle for loss from his safety position. Tight end and defensive end Joey Costanti had 2 big catches and played well on the front line. Mataio Wilson also added to the passing yardage with 55 yards in receptions. The Curtis offense finished the night with 424 yards.
Sumner was no slouch offensively with Matthew Spurbeck pounding away for 151 yards and a touchdown, Steele Isaacs ran for 108 himself and the Spartans rushed for a total of 278 yards. Tristen Rebar also went 15-20 for 136 yards and 3 scores and he rushed for 8 yards and ran in a TD. 6 different Spartans caught balls Jaidon Ortiz had 27 yards and a TD, Cocke caught a TD on 2 receptions and Braylon Pope nled Sumner with 41 yards and a touchdown. Sumner finished the night with 414 yards.
Our MVP selection, and we try to spread this around so last week Koch won it against Olympia, this week we went with Xavier Ahrens in a tough choice between he and Parker Mady. The 69-yard kick return was the play that leaned us slightly to Ahrens but all 3 could easily have been named the MVP.
Curtis is 2-0 and will host 1-1 Bethel next Thursday. Sumner drops to 1-1 and travels to Sparks stadium next week with another huge showdown with Emerald Ridge.
To watch the full game replay you can do so on this link on the NFHS Network. (It does require a subscription.)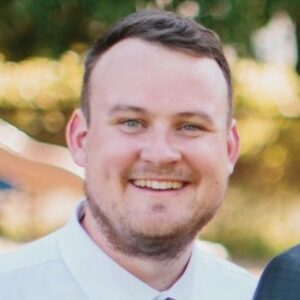 In a side note, The Tacoma News Tribune's Jon Manley wrote this brilliant piece on Curtis QB Rocco Koch. Great work Jon and if you haven't read it it is certainly worth the time. Link to Jon Manley's story on Rocco Koch
ESN talks with MVP Xavier Ahrens
ESN talks with Curtis Coach Darren McKay
Video Highlights
Curtis ties the game at 14 set-up by this kick return
Sumner re-takes the lead on their 3rd straight possession with a TD
Rocco Koch has an answer on the opening drive of the 3rd quarter
Graham-Kapowsin 42, Puyallup 13
The Graham-Kapowsin Eagles had no intention of overlooking the Puyallup Vikings again this year and jumped out to a 21-0 lead before the Vikings could respond. The Eagles kept the pressure on and never let up keeping Puyallup at a safe distance to pick up their 2nd win of the season to go 2-0. The Eagles will next host the Olympia Bears on Friday. Puyallup drops to 0-2 and will try to get their 1st win next Thursday at South Kitsap. 
For a full re-cap, stats and our MVP award check out the ESN's Post Game show just below followed by some video highlights.
To watch the full game replay you can do so on this link on the NFHS Network. (It does require a subscription.)
ESN Post Game Show
Video Highlights
G-K gets on the board 1st
G-K defense not fooled by the trick play
Puyallup keeps their hopes alive with a TD strike
Bellarmine Prep 3, Bethel 0
The Lions have scored just 3 points in 2 games and yet they are 1-1 as their defense showed up and pitched the shut out against Bethel. Bellarmine Prep is now 1-1 and will host Rogers next Thursday. Bethel drops to 1-1 and travels to Curtis next Thursday.
Emerald Ridge 34, Olympia 0
The Jaguars are looking to make their own run at the top of the SPSL and they cannot afford to overlook anyone and they did not Friday night at Olympia where they took on a beat up Bears squad to stay unbeaten at 2 -0. Emerald Ridge will host Sumner next Friday where the Spartans will likely be in a foul mood after dropping a tight one to Curtis. The Bears will try to re-group but face a tough test at Graham-Kapowsin next Friday.
Standings
South Puget Sound 4A
WIAA
League
Overall
Team Name
CL
W
L
T
W
L
T

 Emerald Ridge

4A
2
0
0
2
0
0

 Graham Kapowsin

4A
2
0
0
2
0
0

 Curtis

4A
2
0
0
2
0
0

 Bethel

4A
1
1
0
1
1
0

 Sumner

4A
1
1
0
1
1
0

 Bellarmine

4A
1
1
0
1
1
0

 South Kitsap

4A
1
1
0
1
1
0

 Puyallup

4A
0
2
0
0
2
0

 Olympia

4A
0
2
0
0
2
0

 Rogers (Puyallup)

4A
0
2
0
0
2
0
www.elisportsnetwork.com