9/8/2023
The 17th Power Rankings saw Rocco Bowen put it altogether with a big move up the rankings leading the week with wins. Bowen has been getting into the winner's circle but has fallen short of that big week. He finally had it last weekend. Meantime, Silvio Amador remains solid as a rock, Francisco Diaz-Lopez had a double win weekend while the top of the standings with Alex Cruz, Luis Negron  and Kevin Radke all kinda grinding out the last few days of 2023 racing with Cruz still in 1st place by 7 wins with 4 days to go. Let's get to this week's Power Rankings!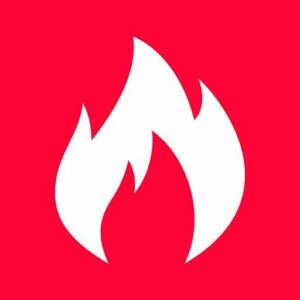 The Red Hot Mover of the Week!

#1 Rocco Bowen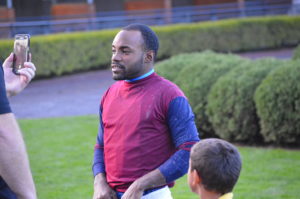 .
Rocco Bowen was the clear Red Hot Mover of the week with 5 wins, 2 more than anyone else and finished the week 5-4-4-2 from 17 rides for a win clip of 29% and top 4 finish at a blistering 88%. He has moved into 7th place in the overall win standings with 24 wins.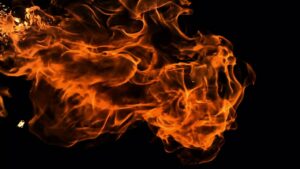 #2 Silvio Amador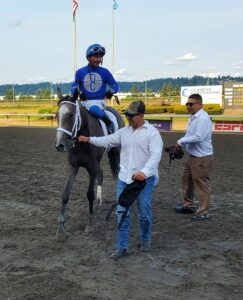 Silvio Amador continues to fire on all cylinders picking up 3 wins from 10 rides for a whopping 30% win rate. He did get a place and a show so if there was any negative is he didn't hit his top 4 finish rate that he normally hits but still winning is the goal and he did that enough to be our Blazer of the Week.
#3 Francisco Diaz-Lopez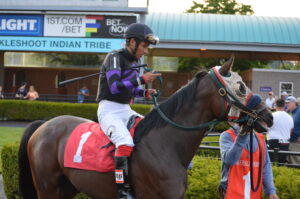 Francisco Diaz-Lopez leapt up the rankings winning 2 races from only 2 rides. Diaz-Lopez is having his best year at Emerald Downs picking up his 3rd and 4th wins of the season from just 26 mounts.
#4 Isaias Enriquez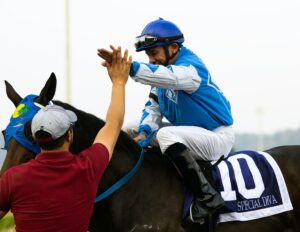 Speaking of steady this former Emerald Downs riding Champ does a lot with the chances he is given to ride. He got 6 mounts last weekend and finished 1-3-2 for a 17% win percent and a 100% TRIFECTA finish.
#5 Javier Matias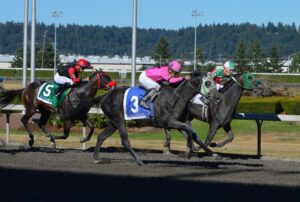 Javier Matias returned to the winner's circle with a big horse You're the Cause the same horse he stunned the field with in the 2022 Muckleshoot Derby at huge odds. Matias had just 3 rides and hit his own trifecta with a 1-1-1 record.
#6 Jennifer Whitaker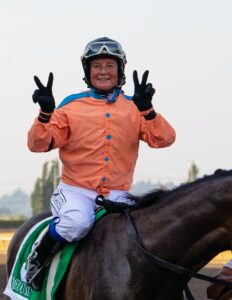 Another with limited tries and she made it pay-off with a win and a 4th place finish from 2 rides for a 50% win rate and 100% top 4. Whitaker also is registering a much better season than last year with her 7th win.
#7 Alex Cruz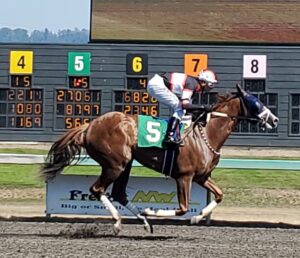 The leading rider has been focused on winning his 4th straight jockey title and has 4 days left to maintain his 7 win lead. He is in great position to do just that but don't be surprised if he puts a cherry on top this weekend or next. Cruz was just 1-4-3-4 from 16 rides for a 6% win rate but 75% top 4 finish.
Kevin Radke has been sitting in the top 3 all season but now Amador has caught him and he is tied for 3rd. He did get a win last week and went 1-2-0-1 from 8 rides but don't be surprised if the veteran turns it on for the final 4 days.
#9 Carlos Montalvo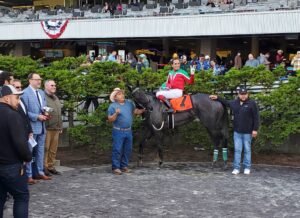 Carlos Montalvo has been a huge addition to the jockey room this season and the old pro keeps proving why you should nver overllok him as he ground out another win from just 7 rides. Montalvo went 1-1-1-0 from just 7 rides and sits 5th in the standings.
#10 Jose Zunino (Tie)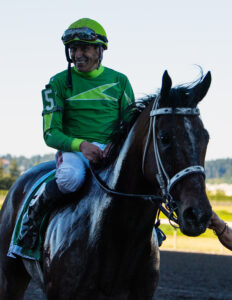 Jose Zunino holds on to the #10 spot with a win to his credit. Zunino went 1-0-2-0 from 8 rides this past weekend.
 #10 Kevin Orozco (Tie)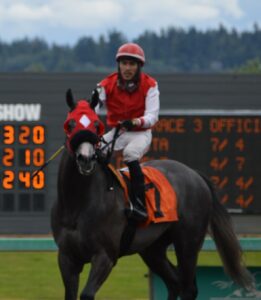 Kevin Orozco is a grinder as well and after a slow start to the season has been finding wins on a regular basis with limited tries and while serving as his own agent. Orozco was 1-1-0-1 from 11 starts this week.
www.elisportsnetwork.com