9/17/2023
Curtis 3, Lynden 2 (13-25, 25-10, 26-24, 15-25, 15-10)
(Lynden, WA) As the volleyball season starts rolling into the conference matches many teams want to take on tough non-league opponents as as a measuring stick and to face that tougher competition outside of your comfort zone. Last year the 2A Lynden Lions traveled to 4A Curtis to take on a talented Viking program and "got it handed to them" was the quote from Lynden coach Chris Elsner. She said it was one of the best things to experience and the Lions went on to place 5th in last year's 2A state tournament.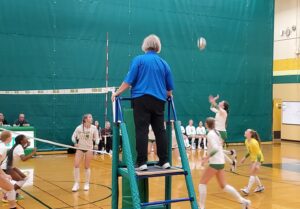 Curtis coach Taylor Bautista says she welcomes taking on Lynden because good teams are good teams regardless of classification and taking the long trip up to Lynden is part of the challenge as well.
The match ended up being a lot better than last year going 5 sets but it was certainly a match of runs. In the 1st set Lynden led 10-8 when Mya VanderYacht took over at the service line and fired 0ff 9 straight points with a couple of aces. Rian Stephan and Ashley Parcher helped out with outstanding net play. That run was too much to overcome and Lynden won it 25-13 and led 1-0.

The 2nd set was just the opposite as Avery Cukjati took the ball to serve with a 7-5 lead and when she finished it was 17-6 Vikings. Cutjati got great help from Kate Harris and Ariana Medchill during this run playing balls off the net and keeping points alive and in the end this run was way too much for Lynden to overcome dropping 25-10 and evening the match at 1-1.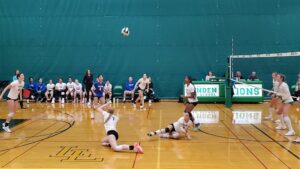 The 3rd set was likely the key set with Lynden shooting out to a 5-0 lead with Haylee Koetje serving. Medchill for Curtis countered with 3 for and the 2 teams exchanged points where Lynden led 8-7. VanderYacht would hit for 3, Kasi Thomas added 1 and Koetje hit for 2 and the Lions had built an 18-12 lead. Lynden would push this to a 24-19 lead but lose the point and Kate Harris took-over for the Vikings.
Harris needed to hit 4 to push overtime and got it to 24-23. She sent over a little soft serve telling us "I just needed to make sure I got it in". She did and the Viks rallied to tie it. On her next serve she let loose and fired a laser seemingly surprising the Lions defense and they couldn't return it to go up 25-24 and Curtis finished off the comeback with Harris hitting 6 straight for the win and a 2-1 lead.
But if Curtis thought the Lions would then fold they were mistaken and the Lions came back with a convincing 25-15 win with another nice run by VanderYacht of 4 but Grace Rice coming on to finish the job scoring 5 straight to even the match at 2-2.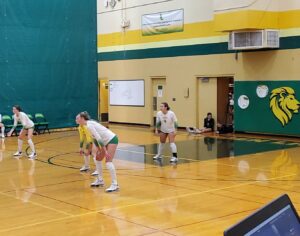 In the 5th set, the sprint to 15 the Lions came out roaring jumping to a 5-1 lead. Curtis battled back and the big shift in momentum came with the match tied and Cukjati scoring 3 straight to make it 9-6. Lynden countered with VanderYacht scoring 2 and tying it at 9. The Vikings would take the 12th point to go up 12-10 and again turned the ball over to Kate Harris who closed out the match hitting 3 straight points. 
Curtis had strong performances all around with great efforts from Elaina Duong, Mia Nelson, Peyton Ensign who was making her 1st start of the year, Kennedy Kinley and the lone senior Sam Harris.
For Lynden, also a super effort from Ava Langstraat and Ashley Schumate. Our MVP of the match went to Curtis's freshman Kate Harris. Had Lynden pulled it off we would have gone with Mya VanderYacht.
Curtis is now 3-1 and travels to Rogers in SPSL 4A nplay on Monday while Lynden also is now 3-1 and will face another tough opponent on Monday when they travel to 4A Lake Stevens. The Vikings placed 2nd in the 4A State tournament last November.
Below we talk with our MVP, you can watch our Post Game show for more coverage and video highlights If you would like to watch the full replay it is available on the following link on the NFHS Network (you do need a subscription to view the replay) Curtis vs Lynden Volleyball
ESN Post Game Show
ESN talks with Kate Harris the MVP of the match
Video Highlights
Lynden's Mya VanderYacht is on a heater
Curtis' Avery Cukjati answers in the 2nd set
Curtis finishes off huge 3rd set comeback
www.elisportsnetwork.com