10/12/2023
(Renton, WA) This current season is the final year of the current classification system which means the WIAA is conducting their official school counts which will then determine where which level school will be designated to compete beginning next Fall through Spring of 2028. The WIAA passed a new rule last Spring that allows the WIAA Executive Board to shift specifically the 3A numbers with the goal of  dropping the number of 3A schools to better even out the classifications and avoid having to do 20 team state tournaments.
There has been a lot of talk from AD's, coaches and those following the upcoming re-classification. There has been a lot of guessing at what schools are going to move and where they are going to go. Several AD's have told us expect chaos once the final numbers are set. One AD said, "You thought College re-alignment was crazy, this may be worse."
We will say we do hear a lot of this each time re-classification comes up and it usually is not as chaotic as predicted but there are always surprises to be sure.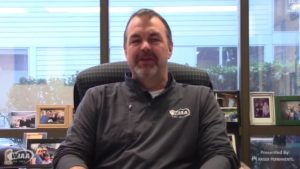 ESN talked with WIAA Executive Director Mick Hoffman who says the 20 team tournaments are difficult to do and really make it hard on those teams that just get in. Each sport has had to create a way for the 20 teams from including them in a single elimination bracket to, byes for upper seeds to basically a play-in game. Hoffman says the 20 team bracket is awkward and if they can avoid it while maintaining the fairness of qualifying for the tournaments then that is the much preferred method.

Hoffman says there are also chances for schools to appeal their designation if there are extenuating circumstances that make it difficult for a school to participate at a certain level. There is a committee that considers each request and rules on the appeals.
Hoffman points out that the WIAA simply sets the classification each school must participate and has nothing to do with leagues and districts. Each school can decide which league they want to play in dependent on league approval. We talked with Hoffman about these issues and more in the below interview to get the information straight from the source.
WIAA Exec Director Mick Hoffman on re-classification
www.elisportsnetwork.com