10/12/2023
Puyallup 3, Olympia 1 (23-25, 25-20, 25-23, 25-23)
(Puyallup, WA) It was a battle of SPSL 4A undefeated the 5-0 and #4 RPI Olympia Bears at 5-0 and #6 RPI Puyallup Vikings on Thursday night. This match was taking place at the PHS gym while just 3 blocks away the Puyallup football team was hosting Bethel so a split fanbase likely took some fans out of the gym and over at Sparks. For those that chose to do that made the wrong choice. The Football team fell short with a last second touchdown while the Volleyball team turned in a gritty tough-nosed win over an exceptional Olympia squad. In fact on the season both teams have 1 non-league loss and the Vikings non-league loss was to Olympia in a very early season match.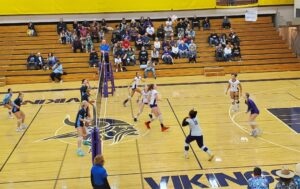 The Vikings knew they would have their hands full as the Bears rolled out to an 18-13 lead in the 1st set getting some great runs at the service line from Hannah Byers and Ellie Johnson. Puyallup fought back with some great net play from Rylie Hangca and Dani Brown. But Rebecca Wilber was ready to roll as she was everywhere early on.
However, Olympia was not about to blow the early work they had put in and with some big kill shots from Susannah Barnett and Byers along with superb middle play from Kate Herrick and libero Ava Hoy the Bears held off the late Puyallup surge to go up 1-0 on a 25-23 win.

In the 2nd set the Vikings got started earlier and didn't give the Bears a 5 or 6 point early lead. In fact there would not be a bigger difference either way than 2 points until the Vikings, trailing 16-15 got a 4 point burst from Hangca at the service line with Dani Brown, Sienna Hanson and Milley Guardipee working the net and Wilber making some incredible digs and continued her dominance all over the floor. The Vikings pulled ahead to 22-19 and then closed it out with 2 points from Reese Sheppard for a 25-20 win and evened the match at 1-1.
The 3rd set came down to the final couple of points again after Olympia tied it 10-10 the two teams would not separate by more than a single point for the next 13 points. It was 23-23 when Dani Brown tore the cover off the ball with a booming shot to push it to set point. Leilah Lemalu then dropped back to serve the winning point and the Vikings took a 2-1 lead.
In the 4th set it appeared we were going to a 5th set as the Bears came out hot building a 15-10 lead. Puyallup chipped away and made a big move with libero Samantha Pirillis scoring 3 including a pair of aces to actually give the Vikings an 18-17 lead going on an 8-2 run. The Bears would score the next point to make it 18-18. They would go back and forth to  21-21 when Puyallup's Lemalu scored 3 straight ending with another booming kill shot from Brown making it 24-21.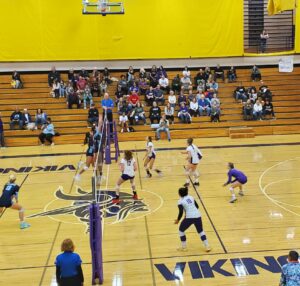 Olympia's Mimi Ceesay then returned the favor pulverizing a shot to get the serve back to Olympia's Byers. She scored the 1st point to make 24-23 Puyallup. Byers served it across trying to push it ot OT and the Vikings returned but the set shot from the Bears carried a little too far into the net and the defense was unable to dig it out and it fell for the match point for Puyallup.
Our "Education as a Career" MVP went to the Vikings Rebecca Wilber with her great all-around performance. Dani Brown was right there as well for the Vikings. Had Olympia pulled it out Hannah Byers was our front runner. All-in-all it was a great match and both of these teams have a high chance of facing each other again in post season.
Puyallup is not 6-0 in SPSL league play and 10-1 overall. They will again have their hands full on Monday when they host Curtis whose only league loss is to Puyallup. Olympia is now 5-1 in SPSL play and 10-2 overall and hosts Graham-Kapowsin Monday night.
To watch the full replay of this match on the NFHS (subscription) Network click on this link: Olympia at Puyallup Volleyball 10/12/2023
ESN Post Game Show
Huge rally to begin the Match 
Puyallup makes run at Bears in 1st set with a "header" play
Bears dig down in crazy rally to begin 2nd set
Puyallup's Dani Brown with a pair huge plays
www.elisportsnetwork.com