(10/19/2023)
Curtis 4, Olympia 0
(University Place, WA) Olympia came into Bob Lucey Field with a 5-3-2 league record and coming off a 2-2 tie with Rogers. Curtis came in 7-0-3 in the SPSL 4A and looking to stay undefeated for the season.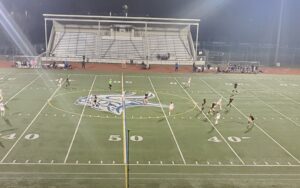 The game got off to an interesting start with Curtis honoring injured Senior Juila Erwin with the opening kick before subbing her out one final time for the Vikings during their Senior night celebration.  Curtis got the scoring going in the 31st minute when Isla Dravis got on the end of an Enya Niebergall cross to take the 1-0 lead. Kat West scored with seconds to go in the first half on a breakaway that was initially blocked but she was there to finish it off for the 2-0 lead at the half.
Olympia came out of halftime with better offensive play but the stifling Vikings defense kept them at bay. Curtis's Cate Kilga scored in the 53rd minute on a corner kick and Enya Niebergall scored the final  goal of the game in the 67th both goals were assisted by Kat West. Olympia made a big final push but Curtis goalie Shaliyah Dupar made several big saves to keep the clean sheet.

Our Education as a Career MVP went to Curtis' Kat West with her goal and 2 assists. Curtis is now 8-0-3 in SPSL 4A play and has Puyallup and Sumner left on their schedule. Olympia is now 5-4-2 with games against Graham Kapowsin and Emerald Ridge to finish out the regular season.
To watch a replay of the match on the NFHS (Subscription) Network click on this: Olympia at Curtis
Aldersons Awards West Post Game Show
Kat West Scores for Curtis
elisportsnetwork.com