10/20/2023
The EVCO 2A has officially locked in their top 2 with Tumwater and WF West winning. Aberdeen's and Rochester's losses kept the door open for Shelton to keep their hopes alive for a crossover slot. The Highclimbers took advantage with a win over Black Hills.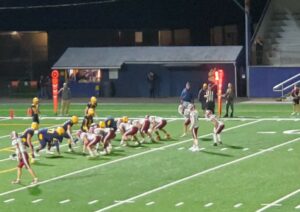 Going into the final week Aberdeen is 3-2 in league play, Rochester is 3-3 and are done and will play Tenino in a non-league game. The Warriors beat Shelton but lost to Aberdeen. All 3 have lost to both Tumwater and WF West. So next Friday Shelton goes to Aberdeen and if they beat the Bobcats that would create a 3-way tie with Rochester beating Shelton, Aberdeen beating Rochester and if the Highclimbers win they will have beaten Aberdeen so there is no head-to-head tiebreaker.
If that happens it would force a 3-way Kansas Tie-Breaker with 2 advancing to the crossover with a chance to get to state. This happened last year with Aberdeen, Shelton and Black Hills. It was also significant as Black Hills was the 3rd seed and upset GSHL #2 Mark Morris to get to State and Shelton nearly gave the EVCO 2A a sweep losing in the final minutes to GSHL #1 seed Washougal. So there is plenty left to play for in the final week of the season.
Here are the scores from this week:
WF West 41, Aberdeen 14
Tumwater 54, Rochester 6
Shelton 34, Black Hills 20
Centralia 13, Hoquiam 6 (non-league)

Next Week's schedule:
Shelton at Aberdeen
Tumwater at Black Hills
Centralia at WF West
Rochester at Tenino (non-league)
Here is our coverage of week 8 of the EVCO 2A
WF West 41, Aberdeen 14
(Aberdeen, WA) The WF West Bearcats got rolling early on their 1st drive that took just 3 plays to get down to the 2-yard line and QB Gage Brumfield surged into the endzone with a big push to take a 6-0 lead. It remained 6-0 as the PAT was blocked. Aberdeen would turn it back over after a 3 and out and the Bearcats took-over on their 30-yard line. WF West would go opposite from their 1st drive with a long sustained 10-play grinder with a perfect balance of 5 run and 5 pass plays ending with a 15-yard strike from Brumfield to Grady Westlund. The Bearcats went for 2 and Declan McDonald scored to make it 14-0 with 2:54 to play in the 1st quarter.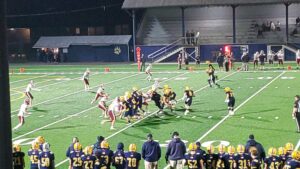 The Bearcats then stunned the Bobcats with an on-side kick by Rafael Mendez and recovered by the WFW. Aberdeen's defense would dig in and forced the Bearcats to punt it away where Aberdeen would begin their 3rd possession on their own 28 with 31-seconds to play in the 1st. Aberdeen would take to the ground and pound out an 11-play drive with 10-running plays led by Aberdeen's leading rusher Aidan Watkins but the drive was finished off by QB Grady Springer with a 1-yard dive for the score. The PAT was good to cut the lead in half 14-7 and Aberdeen was back in the game with just 6:06 left in the half.
WF West was not finished though and 6-minutes was plenty of time to answer and they did it twice. They would first go 74 yards in 9 plays finishes it with an 18-yard pass from Brumfield to Tucker Land with a spectacular catch just inside the back of the endzone. The PAT was good and it was 21-7 with 1:25 to play. Aberdeen would go 3 and out but more importantly only burn off 34-seconds leaving 51-second for the Bearcats and on the Aberdeen 49 yard line. WF West would not need more than 1 play with Brumfield hitting Westlund for 49-yards on a fly pattern to take a 28-7 lead with 42-seconds to play.
The Bobcats would get a huge play from Watkins to get down to the Bearcats 16-yard line and on the final play of the half Springer would throw an incomplete pass but a pass interference call on the Bearcats gave Aberdeen one more chance with an untimed play from the 8-yard line and completed it to Watkins but short of the goal line and the half ended with Aberdeen falling short.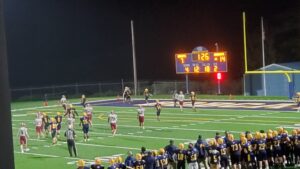 On the opening drive of the 2nd half WF West picking up where they left off and pushed the ball down the field in 5 plays capping it with a 29-yard touchdown pass Brumfield to Carson White to go up 35-7. That really put the game away with the Bearcats adding another score after a high snap on 4th down by Aberdeen leaving the ball on the Bobcat 2-yard line. Miles Martin would carry it in on 1 play to make it 41-7 and the PAT was blocked.
The Bobcats got one more score in with 6:07 to play in the game as Marcus Hale plowed in from the 1-yard line on a 6-play 65 yard drive to make it 41-14 and that is how it would finish. 
With the loss the Bobcats can still clinch 3rd place next Friday with a win over the visiting Shelton Highclimbers. WF West will finish off with their crosstown rival Centralia but regardless of the outcome the Bearcats will finish 2nd behind the undefeated Tumwater T-Birds.
Our NW Home Team Better Homes and Garden Realty "Takin' it to the House" play of the game is the 49-yard 1-play drive of Gage Brumfield to Grady Westlund just prior to halftime. Our Thorbeckes M-V-P was the Bearcats Tucker Land.
Stats
WF West
Total Yards: 441
Rushing: Land 3/47, Guyette 7/30, Brumfield 6/22 TD, Martin 5/13 TD
Passing: Brumfield 18/27 297 4 TD
Receiving: Westlund 4/94 2 TD, 3/68 TD, Coleman 2/75, White 3/41 TD
Aberdeen
Total Yards: 242
Rushing: Watkins 18/113, Springer 8/26 TD, Hale 12/51 TD
Passing: Springer 5/12 51
Receiving: Watkins 2/24, Hale 1/16, Hammonds 1/11
To watch the replay of the full game on the NFHS (subscription) Network click on this link: WF West at Aberdeen Football 10/20/2023
Video Replays
Aberdeen cuts 1st half Bearcat lead in half
WF West Brumfield to Westlund BHG "Takin it to the house" play of the game
Bearcats add to their lead early in the 3rd
Other EVCO 2A Games
Tumwater 54, Rochester 6
The T-Birds continued their dominance of the EVCO 2A league jumping out to a 35-0 halftime lead over the much improved Rochester Warriors. However, Rochester surprised the T-Birds with an impressive 7+ minute drive to open the game but a bobbled snap on 4th and short deep in T-Bird territory handed the ball over to Tumwater.
The T-Birds would drive down and score with Logan Cole taking it in from the 10-yard line to go up 7-0, But after the 1st quarter it was only 7-0 Tumwater. The T-Bird defense would not allow Rochester to go on that long sustained drive again and stacked up 28 2nd quarter points to lead 35-0 at the break.
Kooper Clark scored on a 40yard run to make it 14-0. Cole got his 2nd score also a 4 yard blast to push the lead to 21-0. Tumwater got their air-attack rolling with back-to-back touchdowns completions from Ethan Kastner to David Malroy. The first one was a 53-yard rain-maker to a wide open Malroy and would follow that up with a perfect pass and catch into the back end of the endzone from 37-yards out to make it 35-0.
Tumwater would push the lead to 48-0 with scores from Cole and Clark and then Rochester would avoid the shutout with a 5-yard run from Mason Armstrong to get Rochester on the board. The T-Birds had one more score in their bag when Kyson Sayamnet dashed in from the 22.
Tumwater has clinched a share of the EVCO 2A Championship and the #1 seed into the crossovers and are now 8-0 and will finish their season next Friday as the away team against crosstown rival Black Hills.
Rochester has completed their EVCO 2A league schedule and finished an even 3-3 and are now 4-4 overall. They will complete their regular season with a game at Tenino. The Warriors will at a minimum be part of a 3-team tie Kansas tie breaker, see full explanation at the top of this page.
Our Thorbeckes MVP went to Logan Cole.
Video Highlights
Tumwater's Logan Cole runs it in from 10 yards out
The T-Bird air-attack connects
Tumwater's Kooper Clark takes the long route
Rochester's Mason Armstrong gets the Warriors on the board
EVCO 2A Standings
Evergreen 2A
www.elisportsnetwork.com