11/9/2023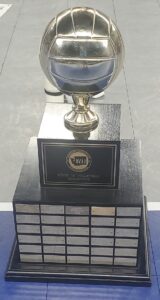 The 1B State Volleyball tournament wrapped up Thursday night under the format of only 2 tournaments being played over a 2-day period so the 1B and 2B's began with their days Wednesday and Thursday in the SunDome. The Oakesdale Nighthawks were the 2-time defending Champions and were the #1 seed. In fact there were no surprises in the final 4 or how they finished. The selection committee hit the proverbial "superfecta" with the 1 seed winning the state championship, 2 seed took 2nd, 3 seed was 3rd and 4 seed 4th. 5th place they missed on 12 seeded Mary Walker who had a tremendous tournament.
Below is our big coverage of the Championship match with interviews, video highlights and a few pictures plus short re-caps of all the matches.
State Championship Match
Oakesdale 3, Neah Bay 0 (25-17, 25-23, 25-17)
The Oakesdale Nighthawks completed their journey adding another State Title to their historic resume and now 3rd in a row. Head Coach McKinzie Turner knew this was going to be a challenge as all the good teams lined up to take their shots but once again they would all fall short.
Coach Turner knew the likes of Neah Bay, Mossyrock and Almira-Coulee-Hartline were all lining up to take their sh0t at knocking off the Nighthawks. 2 of those teams would get a direct chance at doing so. But let's start at the beginning of the tournament. DeSales survived the play in game as the 16 seed and their reward was to face Oakesdale. The Nighthawks swept the Irish to move into the quarter finals.

Up next was upset minded 9 seed Odessa who jumped out to an 8 point early lead but the Nighthawks would chip away and come away with a 25-20 win. They would take the 2nd set handily but then again the pesky Tigers pushed the 2-time champs but fell short again 25-20. This moved the Nighthawks to the semi-finals where #4 A-C-H was waiting at noon on Thursday.
The Warriors came ready to battle the beast and took the 1st set 25-20. Oakesdale rallied to tie the match at 1-1 with a 25-18 win over the Warriors. A-C-H then pulled off a stunning 26-24 3rd set win to push the Nighthawks to the limit and needed just 1 set of 2 to knock off the 2 time champs. In the 4th set the senior leadership took-over and Oakesdale did what they do best, dominate. The Nighthawks plowed over the Warriors 25-10 to set up the run to 15, 5th set. The Nighthawks did not allow that momentum to slip away and held off the upset minded Warriors with a 15-9 win for the 3-2 victory.
Meantime, #2 Neah Bay and #3 Mossyrock battled in a strange match that saw the Red Devils win 3-1 but none of the sets were close. In fact the one set they lost was 25-9. But Neah Bay prevailed and were ready to take on the Nighthawks.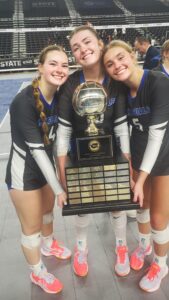 Oakesdale apparently used that close call for motivation and came out on fire against Neah Bay. Oakesdale rolled to a 25-17 win in the 1st set. In the 2nd set the Red Devils launched they best effort but still fell short dropping 25-23. This seemed to spur on the Nighthawks and put up a big lead on the Red Devils pulling away to 25-15, 3-0 state title victory. Oakesdale finished 24-0 on the season.
The bad news for everyone else is the Nighthawks only have 3 seniors the rest will be coming back next year to try for 4 in a row. The 3 seniors are Brieyn Henley, Samantha Holling and Payton Davis. The rest of the squad are Grace Perry, Jenna Rawls, Karen Crider, Bradyn Henley, Lucy Hockett, Megan Crider and Addy Lisenbee. McKinzie Turner the head coach assisted by Darcie Van Dyke and athletic director is Steve Jones.
Neah Bay's seniors are Amber Swan, Maria Grimmett, Pauline Gagnon, Ryana Moss, Ada Ward and Ezzrah Ray. Head Coach is Rebekah Monette and the AD is Greg Halberg. Neah Bay finished 22-1 for the season and their 1st time to the State Championship. 2nd place is their highest finish ever in the state volleyball tournament, an outstanding achievement for the Red Devils.
This was Oakesdale 3rd straight Championship and 7th overall when they have combined with other schools.
ESN talks with Nighthawks Senior Brieyn Henley
ESN talks with Oakesdale Head Coach McKinzie Turner
Video Highlights
A-C-H comes up with big set win
Oakesdales bounces back in the 4th set
Nighthawks advance to Title match
Oakesdale holds off Neah Bay in key 2nd set
Nighthawks are Champions!
Trophy Round
2:00pm 
7th/8th Place
Court 4: Liberty Christian 3, St John-Endicott-LaCrosse 1 (25-20, 25-15, 22-25, 25-14)
The 5 seed Patriots controlled the 3 sets they won from start to finish faltering only in the 3rd set where 10 seeded SJEL avoided the shut out. The Eagles did well as the 10 seed to get into the top 8 with the 8th place hardwood while Liberty Christian stumbled out of the gate only to reel off 3 straight wins for the 7th place trophy. 
5th/6th Place
Court 5: Mary Walker 3, Northport 0 (25-19 , 25-14 , 25-21)
12 seeded Mary Walker jumped out with a big upset of 5th seed Liberty but then lost in the quarters. The Chargers then knocked off 9 seed Odessa to get to the trophy round and beat 6th seed Northport in straight sets for a strong and impressive run at state. The Mustangs had a solid run as well with an opening win over Entiat but lost to Mossyrock in the quarters. Northport beat Waterville-Mansfield Thursday morning before dropping the 5th place game and settling for the 6th place trophy.
3:30pm
3rd/4th Place
Court 1: Mossyrock 3, A-C-H 1 (25-20, 17-25, 25-20, 25-21)
The #3 seed faced the 4 seed just as the selection committee slated and #3 Mossyrock handled the chore defeating A-C-H 3-1 in 4 tight matches. Mossyrock advanced to the semi-finals with shut 0ut wins over Soap Lake and #6 Northport. The Vikings then faced off with #2 seed Neah Bay on Thursday morning in the Semi-finals 3-1 and dropped into the 3rd place game.
Almira-Coulee-Hartline swept their matches on opening day 3-0 against Mt Vernon Christian and 3-1 over Mary Walker. A-C-H then took on 2-time defending Champ Oakesdale and pushed the Nighthawks but lost 3-2. Although the A-C-H crowd had tons of energy it appeared the semi-final loss took a toll on the Warriors who settled for 4th place.
8:00am (Loser Out)
Court 5: St John-Endicotte-Lacrosse 3, Entiat 1 (17-25, 25-17, 26-24, 25-15)
It was the 10 seed vs the 11 seed in this match-up and 11 seed Entiat jumped out to win the 1st set of this 8am match. But it would be the Eagles who settled in to run off 3 straight wins including a match changing come from behind 26-24 win in the 3rd set. The Eagles will face Liberty Christian/Orcas Island for 7th place at 2pm. Entiat had their season come to an end.
10:00am (Loser Out)
Court 3: Liberty Chr 3, Orcas Island 2 (25-13, 21-25, 17-25, 26-24, 15-12)
The 5 seeded Liberty Christian Patriots had to come from behind to win the 4th and 5th sets over 8 seed Orcas Island Vikings. The Patriots will now take on St John-Endicott-LaCrosse in the 7th place game at 2pm on court 4 and are guaranteed a trophy. The Vikings fall short of the hardware round.
Court 4: Northport 3, Waterville-Mansfield 0  (25-17, 25-13, 25-12)
The 6 seeded Northport Mustangs were on fire from the start and never cooled off as they swept the Waterville-Mansfield Shockers and move on to the 5th place match at 2pm today against Mary Walker. The 7 seed Shockers just fell short of taking home some hardware.
Court 5: Mary Walker 3, Odessa 1 (25-20, 28-30, 25-14, 15-17)
The Chargers finally shook off a strong challenge from the Odessa Tigers including the Tigers winning a marathon set of 30-28.. Mary Walker will move on to face Northport for 5th place. Odessa had their season come to an end just short of a trophy.
12:00pm (Semi-Finals)
Court 1: Neah Bay 3, Mossyrock 1 (25-13, 9-25, 25-20, 25-14)
#2 Neah Bay advanced in a strange match against 3 seed Mossyrock where no set was close but blow-outs across the board. The Red Devils beat the Vikings 25-13 then lost scoring just 9 in the 2nd set. Neah Bay gained control in the closest set of the match going up 2-1 and then shutting the door on Mossyrock in the 4th set to advance to the State Championship match at 7:30 tonight against Oakesdale. Mossyrock made it to the finals last year but will have to settle for a chance at 3rd place when they take on ACH at 3:30pm.
Court 2: Oakesdale 3, A-C-H 2 (20-25, 25-18, 24-26, 25-10, 15-9)
The #1 seed Nighthawks were in serious trouble after 3 sets trailing the Warriors 2-1 and one set loss away from dropping into the consolation bracket. Instead, Oakesdale gathered themselves and with a dazzling performance won the 4th set 25-10 and then held off A-C-H in the 15-point 5th set to head back to the big match. Oakesdale will take on #2 Neah Bay in a 1 vs 2 match-up. A-C-H will face Mossyrock for 3rd place.
1B Tournaments Nov 8 and 9
Wednesday, November 8
8:00am (All Loser-Out)
Court 1: Soap Lake 3, Darrington 1 (24-26, 25-11, 25-21, 25-17)
#19 Soap Lake stuns #14 Darrington and moves on to the round of 16 where they will face #3 Mossyrock on court 5 at 1:30p. Darrington's season is over.
Court 2: Fellowship Chr 3,  Columbia Adventist 2 (25-20, 22-25, 24-26, 25-15, 15-11)
Fellowship Christian comes from behind and beats Columbia Adventist 3-2 in a spectacular run to end the Kodiaks season. The Eagles advance and will play #2 Neah Bay on court 2 at 1:30pm.
Court 4: Mt Vernon Christian 3, Pope John Paul II 0 (25-12, 25-22, 25-15)
The Hurricanes advance to face Alimra-Coulee-Hartline at 1:30 in the 16-team opening round bracket. Pope John Paul II had their season come to an end.
Court 5: DeSales 3 Willapa Valley 2 (17-25, 25-15, 22-25, 27-25, 15-13)
#16 DeSales survived #17 Willapa Valley in 5 sets having to come from a 2-1 deficit. The Vikings season came to an end. The Irish now advances to the round of 16 and faces #1 Oakesdale at 3:30pm on court 2.
11:45am
Court 4: Northport 3, Entiat 0 (25-20, 25-14, 25-8)
The #6 Northport Mustangs made quick work of the #11 Entiat Tigers winning in straight sets to advance to the 1B quarterfinals. The Mustangs will face Soap Lake at 9pm tonight on court 1. The Tigers will fall into the consolation and face a loser out match-up against Mossyrock at 5:15pm on court 2.
Court 5: Mossyrock 3, Soap Lake 0 (25-7, 25-18, 25-21)
The #3 Vikings came out on fire and ran right past the Eagles. But Soap Lake found their timing and although didn't win a set certainly made Mossyrock earn their win. The Vikings now head to the quarterfinals where they face Northport at 9p tonight. Soap Lake will face Entiat at 5:15pm in a loser out match.
1:30pm
Court 1: Waterville-Mansfield 3, St John-Endcot-LaCrse 1 (25-20, 16-25, 25-23, 25-16)
The Waterville-Mansfield Shockers came in as the 7 seed and held their ground against St John-Endicotte-LaCrosse winning in a contentious 4 set match. The Shockers will play Neah-Bay in the quarterfinals tonight at 9pm. The Eagles will take on the Eagles of Fellowship Christian in a loser out at 5:15pm.
Court 2: Neah Bay 3, Fellowship Christian 1 (25-11, 25-18, 21-25, 25-14)
The 2 seeded Red Devils were on their way to a 3-0 sweep with 2 strong sets but the Fellowship Eagles stepped up and pushed the match to a 4th set. In the end Neah Bay was too much and pulled off the 3-1 win. Neah Bay heads to the quarterfinals now to face Waterville-Mansfield at 9pm. Fellowship Christian will play St John-Endicotte-Lacrosse at 5:15pm in a loser out match.
Court 4: Mary Walker 3, Liberty Christian 0 (25-22, 25-18, 25-13)
The Chargers did just that went to the front and never looked back sweeping the Liberty Christian Patriots. Mary Walker advances to the quarters tonight at 9p and takes on Almira-Coulee-Hartline. Liberty Christian now falls into the consolation bracket and will play Mt Vernon Christian in a win our you're out match at 5:15pm.
Court 5: Almira-Coulee-Hartline 3, Mt Vernon Christian 0 (25-18 , 25-15 , 25-19) 
The 4-seeded A-C-H Warriors controlled this match jumping out to early leads and establishing that comfortable distance and keeping it in all 3 sets. The Warriors are headed to the quarters at 9 o'clock tonight to face Mary Walker the 12 seed who stunned the 5 Liberty Christian in a sweep. Mt Vernon Christian and Liberty Christian will play in a loser out at 5:15pm.
3:30pm
Court 1: Odessa 3, Orcas Island 0 (25-16, 25-20, 25-20)
The 9-seed Odessa Tigers played like a 1 seed in dismissing 8th seeded Orcas Island in 3 straight sets. The Tigers pulled away after trailing in the 3rd set to secure a slot in the quarterfinals where they get top seed Oakesdale at 9pm. Orcas Island will play at 7:15pm against DeSales in a loser out match.
Court 2: Oakesdale 3, DeSales 0 (25-14,, 25-18, 25-13)
The defending Champs let it be known they will not give away the big trophy without a fight as the Nighthawks straight-setted the Irish of DeSales. Oakesdale did not give DeSales an opportunity to score a big upset and advances to the quarterfinals to face Odessa tonight at 9pm. The Irish will have to come up with a win over the Orcas Island to stay in the tournament and will play at 7:15pm.
5:15pm (Loser Out Games)
Court 2: Entiat 3, Soap Lake 2 (18-25, 25-21, 16-25, 25-13, 16-14)
A gutty effort by the Tigers pulled them to victory after trailing Soap Lake 2-1. The Eagles couldn't put away the Tigers and Entiat would pull off a 16-14 win in O-T in the 5th set to keep their season alive. Entiat will take on St John-Endicotte-LaCrosse at 8am in a loser out game and can still finish as high as 7th. Soap Lake had their season come to an end.  
Court 3: St John-Endicott-Lacrosse 3,  Fellowship Christian 0 (25-20, 25-19, 25-22)
The 10 seed Eagles kept their season alive with a brilliant straight sets win over Fellowship Christian also the Eagles. St John-End-Lacrosse will battle Entiat for a chance to play in the 7th/8th place game at 8am on court 5 Thursday morning. Fellowship Christian did not make it to day 2.
Court 4: Liberty Christian 3, Mt Vernon Christian 2, (25-21, 25-23, 22-25, 21-25, 15-12)
The Hurricanes pushed the Patriots hard after falling behind 2-0. Liberty Christian had just enough left in the tank to survive day 1 and will play Thursday morning at 10am against Orcas Island for a chance at the trophy round. Mt Vernon Christian battled through the play-in game but lost 2 in a row to end their season.
7:15pm (Loser Out)
Court 1: Orcas Island 3, DeSales 0 (25-20, 25-17, 25-15)
The Orcas Island Vikings were ranked 8th but got beat by 9 seed Odessa to fall into the consolation where they faced the Irish. DeSales was playing their 3rd match and clearly looked like they ran out of gas as the Vikings extended their win margin in each set. The Irish fell short of day 2. Orcas Island takes on Liberty Christian in a loser out at 10am on Thursday.
9:00pm (Quarterfinals)
Court 1: Mossyrock 3, Northport 0 (25-16, 25-12, 25-18)
The Vikings beat the Mustangs to show why they were the 3rd seed and have their focus on the big trophy. They will face #2 Neah Bay on Thursday at 12-noon in the semi-finals. Northport the 6 seed will take on Waterville-Mansfield in a loser out at 10am.
Court 2: Neah Bay 3, Waterville-Mansfield 0 (25-21, 25-11, 25-18)
The Red Devils are also eyeing their shot at taking the big trophy and didn't flinch against the Shockers cruising to the win. Neah Bay takes on Mossyrock in the Semi's at 12-noon. The Shockers battle Northport at 10am to try and get into the 5th/6th place match.
Court 4: A-C-H 3, Mary Walker 1 (14-25, 25-21, 25-17, 25-22)
The Warriors of A-C-H the 4 seed were facing the 12 seed Mary Walker and the Chargers put it to the Warriors in the 1st set. A-C-H then rallied back for 2 wins and then held on to win the 4th set and advance to the semi-final against #1 Oakesdale at noon. Mary Walker drops into the consolation bracket to play 9 seed Odessa at 10am in a loser out contest.
Court 5: Oakesdale 3, Odessa 0 (25-20, 25-13, 25-20)
This match followed the 2B #9 Rainier stunning upset over  #1 seed Adna. It was funny to see the exact same set-up with #1 Oakesdale taking on the 9 seed Odessa. The Tigers then went out to a huge 8 point early lead and everyone was thinking could this be another shocking upset? The Nighthawks said in a word NO. Oakesdale settled down and came from behind then pulled away for the win in set 1 and cruised to the shut out. Oakesdale will get 4 seed A-C-H on Thursday at noon in the Semi-final. Odessa plays at 10am against Mary Walker in a loser out winner gets hardware showdown.
www.elisportsnetwork.com