11/9/2023
(Yakima, Wa) The 2B State Championship took place over the past 2 days and the story of the tournament was the Manson Trojans. Manson came in as the 2 seed and won impressively but the win was also the 1st State Championship in the school's history in any sport. Below is our story and coverage of the Manson win plus the entire tournament. We have interviews, video highlights and a few pictures,
State Championship Match
Manson 3, Lind-Ritzville-Sprague 0 (25-15, 25-15, 25-22)
The 2 seed Manson became the prohibitive favorite Wednesday night when #1 Adna got upset in the quarters. Manson maybe thought they should have been #1 to begin with and then went out and played like it. The Trojans rolled in their opener over Kalama 3-0 and then beat 7 seed Okanogan 3-1. In semi-finals knocked off Colfax 3-1 and swept Lind-Ritzville-Sprague in the Championship match.
The Trojans won 12 sets and lost just 2. They trailed once in sets in the semi-finals losing the opener to Colfax then sweeping the next 3 overwhelming the Bullodogs 25-16, 25-15 and 25-11. In fact after that loss they would win 6 straight sets including the 3 in the Championship match and give up more than 16 points just once. The final 6 sets that clinched both the semi-final win and State Title the Trojans scored 150 points while giving up just just 94 points or an average of 25-15.6.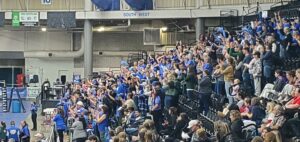 Lind-Ritzville-Sprague played a great tournament coming in as the 5 seed sweeping Coupville in their opener 3-0. The Broncos then took care of business in the quarterfinal with a 3-0 win over 13 seed Liberty who had upset 4 seed Goldendale in the opening round. L-R-S went on to face another underdog who shook then whole bracket when #9 Rainier defeated #1 seed Adna in the quarters. But in the finals they ran into a buzz saw in the Trojans who not only had themselves behind them but the entire 1,300 in their community and every current student and former student to have ever walked the halls of Manson High School as this was the best chance of winning the school's 1st ever State Championship, not in Volleyball but in all sports.

That's right the Manson Trojans won their 1st ever State Championship in any sport in the history of the school. ESN was with the celebrating crowd and wondered why so many were crying and more hyped up and excited than ever. Trojans of all ages are so excited and thrilled for this achievement and the celebrating we are told is just beginning.
ESN talked with Manson "Superfan" Jesus, who was born and raised, graduated from Manson High and a life long supporter. Jesus says a parade is being planned and an event for the whole community to come out and support and be part. Jesus says "you just don't know how long we all have waited for this moment." With that kind of passion and support it would have been tough for anyone to have gotten by the Trojans this season, it feels like it was destined.
The Trojans will also be bringing most of this team back next year with only 2 seniors  on this Championship squad. Natalee Reyna and Teagan Byquist. The rest of the team includes Genesis Torres, Isabella Wisdom, Phinley Teague, Bailey Evans, Kayden Koth, Stella Peterson, Karly Naranjo, Camille Hutton and Brynn Williams.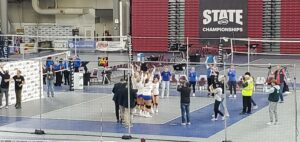 Head Coach Hayli Thompson was confident coming into the tournament but also felt the pressure to win the 1st ever Championship. Her assistants are Ellen Picton and Brittany Sivertson and the Athletic Director is Eric Sivertson.
Lind-Ritzville-Sprague will also be returning a ton with just two graduating seniors Carlie Loop and Megan Melcher. Head Coach Cari Galbreath will no doubt look to capitalize on this spectacular run and the 2nd place trophy.
ESN talks with Manson Senior Teagan Byquist
ESN talks with Manson Coach Hayli Thompson
ESN talks with Manson Superfan Jesus
Video Highlights
Manson wins 1st set in Championship Match
The Trojans go up 2-0
Manson wins their 1st ever State Title in any sport in school history
Trophy Round
12:00pm 
7th/8th Place
Court 4: Goldendale 3, Walla Walla Valley Academy 1 (25-22, 26-28, 25-19, 25-18)
The Timberwolves redeemed themselves with 3 straight wins after getting upset in the opening round. Goldendale was the 4 seed and lost to 13 seeded Liberty but then went on a winning streak. After losing 28-26 in the 2nd set to the Knights the T-Wolves buckled down to take the next 2 and finish with the 7th place trophy.
Walla Walla Academy was on a similar path but as the 4 seed no one thought they'd even be here on Thursday so what an accomplishment to win twice in the consolations for the 8th place trophy.
5th/6th Place
Court 5: Adna 3, Okanogan 0 (25-22, 26-24, 25-18)
The Pirates woke up in their consolation loser out match and dropped their opener only to bounce back and take 3 straight to get to the 5th place trophy match. Adna refused to give in and kept that momentum up and won the key 2nd set 26-24 which may have been the final straw for the Okanogan Bulldogs. Adna the #1 seed did not want to go home without hardware and they took the 5th place trophy while the Bulldogs also ended on a bright note as the 7 seed but leaving town with the 6th place trophy.
2:00pm
3rd/4th Place
Court 2: Colfax 3, Rainier 1 (30-28, 25-23, 21-25, 25-23)
Both teams of course were disappointed to be knocked out of the chance for the Championship but wow they did not seem to sit around and agonize over it as they played one of the most entertaining matches of the 2-days. The 9 seeded Mountaineers were run over by L-R-S but rebounded quickly to give the 3 seeded Bulldogs all they wanted. Meantime, Colfax bounced back with desire to win as these two went 30-28 in the 1st set. Colfax held off Rainier by 2 for a 2-0 lead only to see the Mounties strike back with a 4 point win in the 3rd set. With the score 24-23 in favor of the Bulldogs in the 4th set it would end with a bit of a thud on an illegal hit giving the match winning point to Colfax.
It was the best finish in Rainier school history with the 4th place  trophy. Colfax with a long history of Volleyball success added yet another piece to their trophy case.
8:00am (Loser Out)
Court 1: Walla Walla Valley Academy 3, Kalama 0 (25-13, 25-19, 25-14)
Neither team was expected to be playing on day 2 as the Knights were the 14 seed and Kalama the 15. WWVA came out strong in the difficult 8am match and never let up and will advance to play in the 7th place game at noon today and will take home a trophy. Kalama's season came to an end.
Court 2: Goldendale 3, Warden 1 (25-17, 23-25, 25-8, 25-19)
The 4 seed Timberwolves were stunned in the opening round but have bounced back brilliantly to get in the trophy round. They will play Walla Walla Valley Academy at noon for 7th place. The 16 seeded Warden Cougars were also not expected to get out of day 1 so quite a run to get to day 2 but their season is now over.
Court 3: Okanogan 3, Toutle Lake (26-24, 25-13, 25-18)
The Bulldogs had to go OT in the 1st set with the Ducks and after that it appears Toutle Lake hit the wall and Okanogan advances to the 5th place match at noon against Adna. Toutle Lake came in as the 6 seed but could not resist 7 seeded Okanogan and their year is complete.
Court 4: Adna 3, Liberty 1 (18-25, 25-19, 25-17, 25-15)
It was clear the #1 seeded Adna Pirates were still feeling the effects of that stunning loss to 9 seed Rainier and came out sluggish. The 13 seed Lancers saw an opportunity and took advantage taking the 1st set. After that the Pirates found their groove and got stronger as the match wore on to win 3 in a row and advance to the 5th place game against Okanogan at noon. Liberty had their season come to an end but as the 13 seed most did not believe they would get to day 2. 
10:00am (Semi-Finals)
Court 1: Manson 3, Colfax 1 (19-25, 25-16, 25-15, 25-11)
Many may think with the 2 vs the 3 seeds and #1 out that this semi-final was the real state championship match and #3 Colfax came in ready to hand the 21-0 Trojans their 1st loss and took set 1 25-19. However, Manson rebounded quickly and showed why no one has beaten them taking the next 3 sets in total control to score the 3-1 win and head to the Title match against L-R-S with tons of momentum. The 5 seed Broncos cruised with a straight sets win over Rainier and are ready to take their swing at the Championship at 5:30 tonight.
Colfax will have to re-group and will finish in the 3rd place match against Rainier at 2pm.
Court 2: L-R-S 3, Rainier o (25-19, 25-11, 25-10)
The 5th seeded Lind-Ritzville-Sprague Broncos took notice of the 9 seed Rainier Mountaineers upset win over the #1 seeded Adna Pirates on Wednesday night and came out firing to make sure there was no let down in their quest to win a state title. The Broncos never let the Mountaineers or fans get into the match and dominated from start to finish and will play for the big trophy this evening at 5:30 against Manson.
Rainier will try to re-group and will play for 3rd place at 2 o'clock and either 3rd or 4th place both will be the best finish in school history for the Mountaineers. 
2B Tournament Wednesday, November 8
9:45am (Opening Round)
Court 1: Toutle Lake 3, La Conner 1 (21-25, 25-23, 25-21, 25-18)
The Ducks fell behind but then came roaring back to win 3 straight in a hard fought match with the Braves. La Conner drops into the consolation bracket and will play Walla Walla Valley Academy in a loser out at 3:30pm. Toutle Lake heads for  the quarterfinals against Colfax at 5:15pm.
Court 2: Colfax 3, Walla Walla Valley Academy (25-13, 25-16,25-22)
The #3 seed Bulldogs rolled into the quarters with a straight sets win over WWVA and will now get #6 Toutle Lake for a chance to get into the Semi-Finals at 5:15pm,
Court 3: Okanogan 3, Napavine 1 (20-25, 25-14, 25-18, 25-9)
The #7 seeded Okanogan Bulldogs fell behind dropping the 1st set to upset minded #10 Napavine but then the Dogs got rolling and fired off 3 straight wins. Okanogan will advance to face the #2 Manson Mustangs who are 21-0 on the season in the quarterfinals at 7:15p tonight. The Tigers drop into the consolation to play league rival Kalama in a loser out contest at 3:30p.
Court 4: Manson 3, Kalama 0 (25-12, 25-10, 25-7)
#2 Manson were ready to make their run and show their 20-0 regular season record is no fluke. They won in straight sets over Kalama sending the Nooks into the consolation bracket. The Trojans play tonight in the quarterfinals against Okanogan while Kalama plays a loser out match against Napavine at 3;30pm.
Court 5: Lind-Ritzville-Sprague 3, Coupeville 0 (25-19, 25-20, 25-20)
The LRS Broncos put in a solid performance over the Coupeville Wolves in an opening round victory to get to the quarterfinals. They will next play Liberty/Goldendale at 7:15p for a shot at the Semi's. The Wolves will need a win in the consolation against Liberty/Goldendale to get to tomorrow.
11:45am (Opening Round)
Court 1: Liberty (Spangle) 3, Goldendale 0 (25-19, 25-20, 25-20)
The 13 seed Lancers surprised #4 Goldendale not only with a win but a straight sets win. Liberty controlled the end of each set never giving the Timberwolves a chance and shutting them out. Liberty moves into the quarterfinals and will face Lind-Ritzville-Sprague tonight at 7:15. Goldendale drops into the consolation and will take on Coupville in a loser out match at 3:30pm.
Court 2: Rainier 3, River View 0 (25-15, 25-16, 25-21)
#9 Rainier swept #8 River View to advance to the quarters where they will face off with a familiar foe #1 Adna. The two will clash at 7:15pm on court 5. River View will be in a must win or you're done match against Warden at 5:15pm.
Court 3: Adna 3, Warden 0 (25-15, 25-13, 25-15)
#1 Adna rolled to a straight sets win over the 16 seed Warden. The Pirates have their focus on that top trophy and were not about to get upset in the opener. They face Rainier next at 7:15pm. Warden will take on River View in a loser out consolation match at 5:15pm.
3:30pm (Loser Out)
Court 3: La Conner vs Walla Walla Valley Academy 3, La Conner 0 (25-14, 25-21, 25-22)
The Knights sent the Braves home with their 2nd loss of the tournament. Walla Walla Academy will be back Thursday morning at 8am for a match with Kalama in another loser out match. The winner will then go to the 7th/8th place match and go home with a trophy.
Court 4: Kalama 3, Napavine 1 (29-27,25-18, 17-25, 25-20)
The battle between Central 2B league opponents went to the 15 seeded Kalama Chinooks over 10 seed Napavine Tigers. The Tigers season comes to an end while the Nooks will advance in the consolation bracket and take on 14 seeded Walla Walla Valley Academy Thursday morning at 8am.
Court 5: Goldendale 3, Coupeville 1 (25-22, 25-13, 19-25, 25-20)
The 4 seed Timberwolves shook off their stunning defeat in the opening round and responded like a 4 seed is supposed to with a solid win over a very good Coupeville squad which also ended the Wolves season. Goldendale gets to play early tomorrow morning in another loser out contest against River View/Warden at 8am. Winner of the Thursday morning match will advance to the 7th/8th place game and go home with some hardware.
5:15pm (Loser Out)
Court 1: Riverview vs Warden 3, River View 1 (25-19, 25-23, 14-25, 25-20)
Warden stayed alive with a solid win over River View ending the Panthers season. The Cougars move onto Thursday to face Goldendale at 8am in a loser out contest. With a win Warden will play for 7th  place.
5:15pm (Quarterfinals)
Court 5: Colfax 3, Toutle Lake 0 (25-15, 25-21, 25-10)
The #3 Bulldogs rolled into the Semi-finals with a straight sets win over Toutle Lake and will take on #2 Manson for a shot at the Championship, 10am is match time. The Ducks can still finish as high as 5th but will need to beat Okanogan at 8am to take a trophy. 
7:15pm (Quarterfinals)
Court 2: Manson 3, Okanogan 1 (25-18, 25-18, 22-25, 25-15)
#2 Manson held off a determined Bulldog squad to get into the semi-finals and will now have to play another Bulldog team, Colfax to make their way into the finals. Manson and Colfax begin at 10am. Okanogan can still get the 5th place trophy but will have to beat Toutle Lake at 8am.
Court 4: Lind-Ritzville-Sprague 3, Liberty 0 (25-17, 25-23, 25-17)
L-R-S took a critical 2nd set to go up 2-0 on Liberty pushing the Broncos into a great position which was too much for the Lancers to overcome. The #5 Broncos may have caught a break or may have caught a team on an improbable run when they play Rainier at 10am. The 9 seed Mounties upset #1 seed Adna. #13 Liberty beat #4 Goldendale in the opener but could not knock off L-R-S and now face the #1 seed Adna in the consolation bracket in a loser out game.
Court 5: Rainier 3, Adna 2 (25-22, 13-25, 21-25, 25-21, 16-14)
The shock of the tournament as 9th seeded Rainier knocked off the #1 seeded Adna Pirates in a spectacular match including going to extra time in the 5th set to pull off this stunning victory. The Mountaineers will now get #5 L-R-S at 10am  in the Semi's for a chance to get to the Championship match but cannot finish worse than 4th place. Adna will have to kick off the disappointment and do it early with an 8am loser out match against Liberty.
www.elisportsnetwork.com