11/11/2023
(Yakima, WA) The 1A State Volleyball tournament began on Friday and concluded Saturday night and ended the same way with the Chelan Goats raising the trophy. Below is our coverage of the State Championship match plus a short re-cap of each match in the tournament.
State Championship Match
Chelan 3, Freeman 1 (25-15, 18-25, 25-20, 25-23)
The #1 seed Chelan Goats did not disappoint their fans Saturday night when they defended their State Championship trophy and claimed their 5th title in school history. They were certainly challenged by the 6-seeded Freeman Scotties though as it came down to a couple of final points in the 4th set and prevented the match from going the full 5 sets.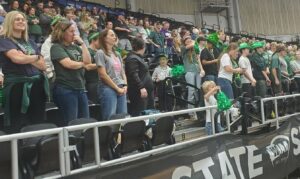 The Scotties may have surprised some but Chelan Head Coach Abby Lewellen wasn't fooled on how good Freeman was and is. She told us that Freeman gave them a run on Oct 21 losing to the Goats by the same score 3-1. It was 1 of only 4 sets Chelan lost all season. Freeman fell behind 1-0 losing the 1st set 25-15 but rallied back to post a 25-18 2nd set win.

Chelan didn't falter and with just 2 Seniors on the Goats squad the team is dominated by younger players. Coach Lewellen was impressed by their resolve and says this group just gets tougher and tougher every time they face adversity. In this case they pulled together a solid 25-20 win to go up 2-1.
Freeman had their backs against the wall and knew it was now or never and as the two teams traded blows they found themselves leading the Goats 23-22. On the next point Chelan's Lydia Petersen found a perfect ball to blast. Petersen tells ESN her only hope was it would get through the blockers as she wound-up and destroyed the ball blistering it between defenders for the tying shot and it was then Lewellen knew they had it. The ignited the bench and the huge Chelan crowd and they would tally the next 2 points to win back-to-back titles.
Freeman's 2nd place trophy was well earned but the Scotties surely won't be satisfied as they were trying to win their 3rd state title since winning their 2 back-to-back in 1980 and 81. The Scotties 2 seniors are Ava Semprimoznik and Kate Schneider and their head coach is Kaela Straw.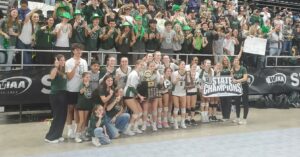 The 2 seniors for Chelan are Makayla Garfoot and Josie Garfoot. The rest the Championship team is Brynn Hughbanks, Gracie Gilsoul, Kenzie Avery, Lydia Petersen, Marley Williams, Brooklyn Foyle, Alison Horner, Grace Roberts, Esther Petersen, Jayci Simmons and Jayden Simmons. Head Coach Abby Lewellen, assisted by Melanie Froman and Mandy Robinson and the AD is Evan Reister.
Below we talked with Lydia Petersen and Coach Lewellen along with some video highlights.
ESN talks with Lydia Petersen
ESN talks with Head Coach Abby Lewellen
Video Highlights
Freeman ties the match at 1-1
Chelan responds and re-takes the lead
The Goats Lydia Petersen ignites her team for the win
9:00am (Semi-Finals)
Freeman 3, La Center 1 (18-25, 25-16, 25-21, 25-18)
Neither team were supposed to be in the semi-finals but 6 seed Freeman and 7 seed La Center were ready to show which underdog was going in to try and take away the defending Champions trophy. The Wildcats got off to a fast start with a 7 point win but the Scotties bounced right back to even the match. The key set in the math was the 3rd as both teams approached the magic 20-point level it was Freeman who then had a little surge to give them some breathing space and made it hold up with the 25-21 win. The Scotties then pulled away in the 4th set to advance to tonight's Championship at 6:15 against Chelan. La Center faces Meridian at 2:30 for 3rd place.
Chelan 3, Meridian 0 (25-15, 25-10, 25-10 )
The Chelan Goats are headed back to the State Championship finals with a dominant win over 4 seeded Meridian. Chelan took control from the beginning and never allowed the Trojans to get in any kind of rhythm and rolled to the semi-final win and will face Freeman/La Center for the State Championship tonight at 6:15 on court 3. Meridian will drop into the consolation bracket and face Freeman/La Center at 2:30pm and will take home either the 3rd or 4th place trophy.
9:00am (Loser Out)
Bear Creek 3, Zillah 1 (18-25, 25-13, 25-19, 25-20)
The Grizzlies started slow but got on a bit of a run late in the 1st set and then carried that momentum over to seep the next 3 and send themselves into the trophy round. Zillah started hot but could not maintain that level and had their season come to a end. Bear Creek will go home with the 7th or 8th place trophy when they face King's at 2:30 Saturday afternoon.
King's 3, King's Way Christian 0 (25-22, 25-19, 27-25)
Even though this was a 3-0 sweep, this was a tight match with the Knights battling the Knights. King's Way Christian would have the lead early in each match including a 17-10 lead in the 3rd set but each time King's came running late. Avery McCallister stepped to the service line and fired off 10 straight points to give King's the lead. K-W-C fought back but fell in OT. King's will play Bear Creek at 2:30 for 7th place K-W-C's season is over just short of the trophy round.
10:45am (Loser Out)
Nooksack Valley 3, Lakeside 0 (25-21, 25-18, 26-24)
The Pioneers swept the Eagles to get into the trophy round but they had to work for it especially in the deciding 3rd set. Lakeside came roaring back from about 8 points down to set point. The Pioneers rallied for 3 straight and Nooksack Valley is headed for the 5th place game at 2:30 against Cedar Park Christian. Lakeside just fell short of the trophy round to have their season come to an end.
Cedar Park Christian 3, Cascade Christian 1 (15-25, 25-21, 25-17, 25-20)
The Eagles took a set to take off but after dropping the opener they soared over the Cougars into the 5th place match against Nooksack Valley. The Cougars season is over but the Eagles will go home with either the 5th or 6th place trophy.
Trophy Round
2:30pm 
7th/8th Place
King's 3, Bear Creek 1 (25-18, 20-25, 25-21, 29-27)
King's held off a determined Grizzlies squad to grab the 7th place trophy. Going into the 4th set and down 2-1 Bear Creek never backed down and forced King's to come from behind to win it in O-T 29-27. The  8 seeded Knights lost their opener and reeled off 3 straight wins to snag 7th place. The 15 seeded Grizzlies were not supposed to make it this far and won their 1st trophy, 8th place, since a 3rd place finish back in 2012.
5th/6th Place
Cedar Park Chr 3, Nooksack Valley 2 (25-21, 25-16, 21-25, 20-25, 15-10)
The Eagles jumped out to a 2-0 lead and then had to hold on as the battle between the 3 seeded CPC and 5 seed Nooksack Valley heated up. The Pioneers came charging hard but in the 5th set, the race to 15, the Eagles ground out the hard fought win to claim the 5th place trophy while Nooksack Valley took the 6th place award back to Whatcom county.
3rd/4th Place
La Center 3, Meridian 1 (23-25, 25-14, 25-19, 25-9)
The 7 seed La Center Wildcats walked away with the 3rd place trophy after simply wearing down the Trojans of Meridian. After a tight 1st set the Wildcats answered to even he match at 1-1. Meridian came back in the 3rd set but a big late run by the Wildcats took the wind  out of the Meridian sails. La Center did not let up and in the 4th and final set simply overwhelmed a tired looking Trojan squad. Meridian came in as the 4 seed and certainly earned the 4th place trophy. 
1A Tournament Friday, November 10
9:00am (Opening Round)
Freeman 3, Toppenish 0 (25-13, 25-17, 25-20)
6 seed Freeman swept the 11 seed Toppenish, which was a trend in the opening round with no upsets and all straight sets win. The Scotties advance to the quarter finals tonight at 6:15pm and will face Cedar Park Christian. Toppenish faces Zillah in a loser out at 2:30 this afternoon.
Cedar Park Christian (Bothell) 3, Zillah 0 (25-9, 25-12, 25-20)
The Eagles rolled into the quarters as the 3 seed to face 6th seeded freeman tonight at 6:15. The 14 seed Zillah Leopards will have to battle their way through the consolation with a match at 2:30 against 11 seed Toppenish.
La Center 3, Annie Wright 0 (25-15, 25-17, 25-16)
The Wildcats were the 7 seed but played huge in their 3 game sweep of #10 Annie Wright. The Cats never allowed the Gators to really make a run in any of the 3 sets. La Center moves on to the quarter finals where they face 2 seed Cascade Christisan. Annie Wright drops into the consolation bracket and plays Bear Creek in a loser out at 2:30.
Cascade Christian 3, Bear Creek 0 (25-16, 25-11, 25-21)
The #2 seed Cougars were rolling right along through the first two sets but in the 3rd set the Cougs stumbled a big late and the Grizzlies closed the gap but CC had built up too much of a lead and they secured their entry to the quarter finals against La Center. 15 seed Bear Creek will now take on Annie Wright at 2:30 in a win or go home match.
Nooksack Valley 3, King's Way Christian 0 (25-23, 25-15, 25-14)
The 12th seeded Knights came out swinging on 5 seed Nooksack Valley in the 1st set but the Pioneers squeaked out a 2 point win. NV then settled in and controlled both the next 2 sets for a comfortable win. The Pioneers will next play tonight at 6:15 in the quarter finals against Meridian/Bellevue Christian. King's Way Christian will battle the loser of Bellevue Christian/Meridian at 2:30 in a loser out contest.
10:45am (Opening Round)
Meridian 3, Bellevue Christian 0 (25-23, 25-15, 25-14)
The Trojans took a set to wake up and avoided the 13 seed B-C Vikings to get a foothold in this match. Meridian would go on to complete the shut 0ut and advances to the quarter finals against a familiar opponent in Nooksack Valley the 5 seed. B-C will need to find a win to stay alive in the tournament against King's Way Christian.
Lakeside 3, King's 1 (25-18, 16-25, 28-26, 25-18)
Both 8 vs 9 match-ups were among the best of  the day and even though this went 4 sets instead of 5 it was close and 9 seed Lakeside held off the Knights to advance to the quarters with a massive win in the 3rd set 28-26. The Eagles will take on #1 Chelan at 4:15 for a chance at the semi's. King's will have to battle through the consolation beginning with 16 seed Montesano also at 4:15.
Chelan 3, Montesano 0 (25-9, 25-12, 25-15)
The Goats are out to prove they are the GOAT and began their run as the 1 seed in spectacular fashion knocking off 16 seeded Montesano. Chelan moves on to the quarter finals at 4:15 where they get 9 seeded Lakeside. The Bulldogs can quickly drop this match from their memory banks and focus on 8th seed King's to try and get to Saturday.
2:30pm (Loser Out)
Zillah 3, Toppenish 2 (13-25, 25-22, 21-25, 16-25, 15-4)
Zillah simply wore-out the Wildcats of Toppenish to prevail in 5 sets. The 11 seed Cats led 1-0 and 2-1 but the Leopards of Zillah are a resilient bunch and forced a 5th set then ran past a tired Toppenish squad with a 15-4 win to advance to Saturday and will face Bear Creek in a loser out at 9am. Toppenish's season has come to an end.
Bear Creek 3, Annie Wright 1 (25-15, 25-20, 25-27, 25-19)
Bear Creek bounced back after being swept by 3 seed Cascade Christian with a strong effort against the Annie Wright Gators. Bear Creek only gave up a loss in a contentious 3rd set before clinching their path to day 2 in the 4th set. The Grizzlies will take on Zillah at 9am in a win or go home match. Annie Wright's season is now over.
King's Way Chr 3, Bellevue Chr 0 (25-18, 25-16, 25-20) 
The Knights out-dueled the Vikings and sent Bellevue Christian home for the year. King's Way still has a shot at 7th or 8th place but must win tomorrow against King's/Montesano or their season will be over. 
4:15pm (Loser Out)
King's 3, Montesano (25-13, 25-21, 27-25)
King's kept their trophy hopes alive with a straight sets win over the Bulldogs ending Montesano's season. The Knights will take on the Knights of King's Way Christian at 9am in a win and you're in the trophy round and lose and your season is over.
4:15pm (Quarterfinals)
Freeman 3, Cedar Park Chr 1 (25-19, 19-25, 25-18, 25-22)
The Scotties battled with Cedar Park and the 6 seed came up big in the final 2 sets over the 3 seeded Eagles to advance to the Semi-Finals. The Eagles will drop into the consolation bracket and have to beat Cascade Chr at 10:45am for a place in the trophy round. Freeman also plays at 9a against La Center for a shot at the State Title.
La Center 3, Cascade Chr 2 (25-23, 19-25, 25-16, 16-25, 16-14)
The #7 La Center Wildcats handed 2 seeded Cascade Christian a tough loss as the 2 battled to a 5-set with overtime win. La Center held off CC in  the 1st with a tight 2 point win, the Cougars answered with a 25-19 win. The 2 teams would then exchange 25-16 wins and defeats to force a 5th set and race 15 but in this case it was a race 16 and La Center shocked the Cougars and will advance to the Semi-finals tomorrow against Meridian. Cascade Christian will face Nooksack Valley in a loser out, winner to the trophy round match at 9am
Meridian 3, Nooksack Valley 2 (25-18, 18-25, 22-25, 25-14, 15-9)
The 4 seed Trojans went the distance with league rival Nooksack Valley in a 5-set classic in the quarter finals. Meridian struck first taking the 1st set, the Pioneers then answered winning both the 2nd and  3rd sets pushing  Meridian to a must win situation and the Trojans did just that forcing a 5th set and then putting away a spent Pioneer squad. Meridian now gets to take their swing at #1 Chelan at 9am in the semi's. Nooksack Valley an still finish as high as 5th but has to beat 3 seed Cedar Park Christian at 9am in the consolation bracket.
Chelan 3, Lakeside 0 (25-17, 25-17, 25-7)
The defending Champion Goats let it be known loud and clear they will not let go of the big trophy without a massive fight. Chelan has sent a serious tone by not allowing more than 17 points in any 1 set and holding opponents to single digits twice. The Goats will take on Nooksack Valley/Meridian at 9am in the semi-finals. Lakeside can still finish as high as 5th but will need to beat Meridian/Nooksack Valley for that chance or their season will end.
www.elisportsnetwork.com