2A Tournament Saturday, November 11
State Championship Match
Columbia River 3, Ridgefield 0 (25-14, 25-8, 25-7)
The Rapids of Columbia River collected their 3rd straight State Championship Saturday night in the SunDome and did so in such a dominant fashion we're not sure we've seen this before. Through 4 matches the Rapids were 12-0. The Rapids outscored their opponents 300-157 or nearly doubling their 4 opponents. Their average score was 25-13.08. They gave up 20 or more points once and it was 20 points to Pullman in the quarters the next most they gave up was 18 to Fife in the opening round. They held opponents to single digits 4 times or 33% of the time, twice in the Championship match against Ridgefield and once in the semi-final vs Burlington-Edison and once against Fife.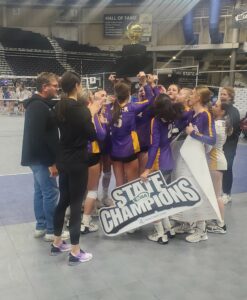 ESN talked with Head Coach Breanne Smedley after the victory and she was just as, if not more proud of the defensive side of the ball. Smedley says they were very aware of potential upsets and those occur when you allow the other team to score. Smedley says volleyball is no different than any other sport if you can stop your opponent from scoring then the offense will benefit from positions your defense puts you in. It allows the offensive side to take more chances, to be aggressive and that leads to a powerful offensive attack. The numbers don't lie, the Rapids defense looks to be volleyball's version of the "Legion of Boom". We even suggested that CR's new mascot, the Rapids, did not do this team justice and should change to the Columbia River Waterfalls, that would be more in line with how devastating this team was in this tournament.
Their opponent was well known to them as their league rival the Ridgefield Spudders and this was the 4th time these 2 teams met this season in regular season, district and state. The Rapids finished 12-1 giving up only 1 of 2 lost sets all season in the district title match. The Spudders have an impressive run going at the same time and have done something the Rapids haven't done at least yet. Ridgefield has been runner up to Columbia River in all 3 state title matches but prior to that won it in 2018 and 2019 and have now won a trophy in 8 straight years with the worst finish in 2016 in 6th place. During this run Ridgefield has the one 6th place finish, 2 3rds, 2 Championships and now 3 straight 2nd place finishes. This eye popping run when added to their rest of their history is even more impressive with 6 State Championships, 7 2nds for a total of 13 trips to the Championship match. 
Ridgefield nor any other team simply did not have an answer to this year's Columbia River squad. The Rapids were led by their 5 seniors, Ellie Ogee, Marcy McCoy, Evelyn Wenger, Logan DeJong and Lauren Dreves. Losing 5 seniors may have other teams hopeful this opens the door to the Rapids coming back to the pack a bit. But teams like CR and Ridgefield don't re-build they re-load and the Rapids will have these girls coming back, Sydney Dreves, Katelynn Kessler, Aria McCarstle, Avery Seley, Karlee Ogee, Hailey Shidner and Sophia Gourley.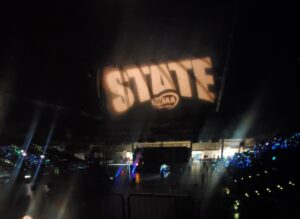 The Spudders will graduate 7 from head coach Sabrina Dobbs' roster and they are Callie Jensen, Lillian House, Hailey McEllrath, Hannah McAdams, Elizabeth Peery, Lizzy Andrew and Allison Orantes. The #6 seeded Spudders' run at this tournament should not be overlooked because of the Championship match. Ridgefield beat 11 seeded Ephrata 3-1 in the opener, the Tigers would go on to capture 7th place. The Spudders then toppled #3 Ellensburg 3-2 in the quarterfinals and then on Saturday they took care of #2 Lynden 3-1 in the semi-finals. 
Overall District 4 home to the Greater St Helens league and the Evergreen 2A conference continue to be a strong hold for Volleyball winning 7 of the last 9 state Championships with 2 from Tumwater, 2 from Ridgefield and the last 3 from Columbia River. In this tournament they took the top 2 spots and the 8th place trophy went to Black Hills. Tumwater made it to day 2 but were beat in the consolation match coming up just short of all 4 District 4 teams taking home a trophy. Coach Smedley says the strength of the GSHL and the District have been a great preparation tool for the state tournaments and just shows how strong the volleyball community is ion Southwest Washington. She says you get through the regular season and District Tournament gauntlet you are ready for State.
Below are interviews, video highlights of the Championship match followed by a short re-cap of each match played in the entire tournament.
ESN talks with Columbia River Coach Breanne Smedley
ESN talks with Rapids' Sydney Dreves
Video Highlights
Columbia River gets off to a quick start taking set 1
The Rapids are heating up with a big set 2 victory
Columbia River completes the 3-peat!
Trophy Round
4:15pm 
7th/8th Place
Ephrata 3, Black Hills 0 (25-12, 25-14, 25-19)
The 11 seed Ephrata finished with a strong 3 game winning streak to claim the 7th place trophy. The win over Black Hills wasn't even an upset as the Wolves like the Tigers were longshots as the 12 seed. Both squads had tremendous runs here in the SunDome and well deserved that both teams are adding a trophy to their school's trophy case.
5th/6th Place
Ellensburg 3, Pullman 0 (25-14, 25-20, 25-19)
The dogfight went to the Bulldogs with 3-seed Ellensburg defeating the 8 seeded Pullman Greyhounds. The Bulldogs lost in the quarters to Ridgefied and then bounced 7 seed  Tumwater out of the tournament in the consolation bracket. Pullman lost to Columbia River in the quarters and made it to the trophy round defeating White River.
3rd/4th Place
Lynden 3, Burlington-Edison 0 (25-20, 25-22, 25-18) 
The Lynden Lions as the 2 seed were disappointed in dropping  their semi-final to Ridgefield but did not sit around and sulk about it but instead came on strong against a very talented and young Burlington-Edison squad  to secure 3rd place. Lynden adds this to a long history of Volleyball trophies but the to prize again elused the Lions. Burlington-Edison also with a storied resume with 6 titles didn't add a 7th this year but the Tigers also had no seniors so the entire 4th place team will be back.
10:45am (Semi-Finals)
Court 1: Ridgefield 3, Lynden 1 (23-25, 25-20, 25-16, 25-20)
The #2 seed Lynden Lions came out hard and took set 1 but quickly felt what it means to face a team from the GSHL. The Spudders have been second fiddle all season to a powerful Columbia River team and for good reason as the Rapids are still undefeated and the #1 seed and have torn through this tournament with little resistance. So the Spudders know how to deal with adversity and rallied back handling the Lions and really never letting them get close to another set win to take the match 3-0. Ridgefield advances to face their rival a 4th time at 8pm tonight. Lynden drops into the consolation bracket and will take home either the 3rd or 4th place trophy and will play Burlington-Edison also their league rival.
Court 2: Burlington-Edison vs Columbia River (25-14, 25-8, 25-13)
The #1 seeded Columbia River Rapids maybe should change their mascot to the Falls. There performance  through 3 matches is eye popping as they of course have scores 225 points winning 9 sets at 25 a piece but have only given up 128 so they have nearly outscored their opponents in 3 matches by 100 points. This is an average of a 25-14 score. They have given up 20 points just once. C-R took little time to settle the semi-final with their most dominant performance yet giving up just 35 points to Burlington-Edison. The Tigers pedigree is pretty rich and deep as well but on this day they were not at the Rapids level and will take on league rival Lynden for 3rd place. Columbia River will meet their league rival Ridgefield for the 4th time tonight and try to go 4-0 in the State Championship game.
12:45pm (Loser Out)
Ephrata 3,  Shadle Park 2 (25-17, 25-16, 22-25, 21-25, 15-12)
The 11 seeded Ephrata Tigers are going home with hardware after taking a 2-0 lead over Shadle Park then watching the Highlanders counter with 2 wins of their own the Tigers got over the hump with a 15-12 win over the 10 seed to get in the trophy round. Ephrata will play Black Hills for 7th place at 4:15. Shadle Park's season is over.
Black Hills 3, Enumclaw 1 (25-18, 25-14, 19-25, 25-13)
The Wolves were 2nd in the Evco 2a league behind Tumwater. They finished 4th in the district behind Columbia River, Ridgefield and Tumwater and got in as the 12 seed. The Wolves have battled back from an opening loss with 2 straight wins and eliminating 9 seeded Enumclaw and will claim a trophy. Black Hills takes on Ephrata for 7th place.
Ellensburg 3, Tumwater 1 (19-25, 25-17, 25-15, 25-17)
Ellensburg the 3 seed was knocked off by Ridgefield in the quarter and the Spudders have since advanced to the state title match. The Bulldogs bounced back with a win over 7th seed Tumwater to get in the 5th place trophy match which they will face Ellensburg Saturday afternoon. Tumwater's season came to an end.
Pullman 3, White River 2 (25-16, 25-18, 20-25, 18-25, 15-12)
The Greyhounds jumped out to a 2-0 lead and had all the momentum but the Hornets fought back and forced a 5th set. Pullman found enough left in the tank to grind out a 5th set win and get to the trophy round. The Greyhounds will battle Ellensburg in a dog fight between the Bulldogs and the Greyhounds. White River battled hard and could have easily thrown in the towel but played hard to the end.
2A Tournament Friday, November 10
10:45am (Opening Round)
Ridgefield 3, Ephrata 1 (25-21, 16-25, 25-18, 25-18)
The 6 seed Spudders let their guard down in the 2nd set but came storming back to secure a spot in the quarterfinals with the win in 4 sets over upset minded Ephrata. The 11th seeded Tigers fall into the consolation bracket and will be in a must win situation when they face Washington at 6:15. Ridgefield will serve it up at 8p against 3 seed Ellensburg for a chance at the semi-finals.
Ellensburg 3, Washington  0 (25-11, 25-16, 25-14)
The Bulldogs cruised to the win over 14 seeded Washington winning by a comfortable margin in all 3 sets. The Patriots will play Ephrata at 6:15 in a loser out match. The 3 seed Ellensburg will take on Ridgefield in the Regionals at 6:15.
12:45pm (Opening Round)
Tumwater 3, Shadle Park 0 (25-17, 25-?, 25-17)
The 7th seeded Tumwater T-Birds handled their business against 10 seed Shadle Park to move into the quarterfinals where they will get to face 2nd seed Lynden. In a side note this will be the 2nd straight match the T-Birds will play a team with the same team colors. The Highlanders will have to win to move to Saturday in their consolation match with Sammamish.
Lynden 3, Sammamish 0 (25-18, 25-18, 25-4)
The Lions didn't waste much time in delivering their message that they are laser focused on the Championship. Lynden as the 2 seed get 7th seed Tumwater in a battle of the green and gold. Sammamish will have to quickly dump this match from their memory as the 15 seed will need to beat 10th seeded Shadle Park to stay alive in the tournament.
White River 3, Black Hills 1 (25-21, 16-25, 25-15, 25-20)
White River found themselves in a battle with 12th seeded Black Hills tied 1-1 after 2 sets. The Hornets then flexed their 5 seed muscles and pulled away for the 3-1 win. River advances to the quarters where they will face 4 seed Burlington-Edison. Black Hills will try to rebound in the consolation bracket at 6:15 against North Kitsap.
Burlington-Edison 3, North Kitsap 0 (25-19, 25-16, 25-18)
Burlington-Edison has a long and storied history in Volleyball and is back as the 4 seed to make another run. The Tigers got started with a solid 3-0 sweep of 13 seeded North Kitsap. B-E faces 5 seed White River at 8pm tonight. The Vikings will try to get to Saturday in a loser out match at 6:15 vs Black Hills.
2:30pm (Opening Round)
Pullman 3, Enumclaw 2 (22-25, 25-16, 19-25, 25-20, 15-2)
When it's 8 vs 9 this is the type of match you expect. The 9 seed Hornets had the lead twice over 8th seeded Pullman 1-0 and 2-1. Each time the Greyhounds answered and then in the 5th and deciding set to 15 Pullman raced out to a huge lead and never looked back to advance to the quarters where #1 Columbia River awaits at 8pm. The Hornets have to re-group quickly when they face 16 seed Fife at 6:15 in a loser out consolation match.
Columbia River 3, Fife 0 (25-12, 25-18, 25-9)
The Rapids were not about to become part of a headline that included "stunned" in the title and methodically handled the Trojans of Fife. With their opener under their belt C-R is focused on upset minded Pullman in the quarters tonight. Fife would love too show they are ready for the big tournament and get their chance against league rival Enumclaw at 6:15.
6:15pm (Loser Out)
Ephrata 3, Washington 0 (25-18, 25-8, 25-17)
The 11 seed Tigers ran over the 14th seeded Patriots to keep their season alive with a shot at the 7th place trophy. Ephrata will face Shadle Park in a loser out at 12:45 on Saturday, Washington's season is over.
Shadle Park 3, Sammamish 0 (25-11, 25-16, 25-13)
The Highlanders ousted the 15 seed Sammamish in 3 straight and now take on Ephrata in a battle of 10 vs 11 seeds with the winner getting in the trophy round. Sammamish's season came to an end.
Black Hills 3, North Kitsap 0 (25-18, 25-16, 25-17)
After long delays with long discussions with officials when the fog lifted Black Hills ran off 3 straight wins to move on to Saturday at 12:45 where they will battle the 9 seeded Enumclaw Hornets. North Kitsap was knocked out with the loss.
Enumclaw 3, Fife 0 (25-15, 25-21, 25-13)
The Hornets completed the 3-0 sweep of this block of matches ending Fife's season. Enumclaw can still finish as high as 7th but to do so will need to bea Black Hills in a loser out consolation match.
8:00pm (Quarterfinals)
Ridgefield 3, Ellensburg (14-25, 25-23, 25-21, 16-25, 15-11)
The 6 seed Spudders pulled off a big win over the 3 seed Bulldogs to  send Ellensburg into the consolation bracket where they will face Tumwater in a loser out contest. Ridgefield will get a chance to get in the Championship match in their semi-final with #2 Lynden.
Lynden 3, Tumwater 0 (25-18, 25-22, 25-15)
The number 2 Lynden Lions stayed focused keeping the T-Birds at an arms length distance in the 1st set. Then the Lions had to hold off the T-Birds in their best effort of the match prevailing by just 3 points. Lynden finished it off for the 3-0 sweep and a trip to the semi-finals tomorrow morning at 10:45am against Ridgefield/Ellensburg. Tumwater can still get 5th place but will have to defeat Ridgefield/Ellensburg in the consolation round.
Burlington-Edison 3, White River 1 (25-22, 20-25, 25-22, 25-13)
The 4 seeded Tigers showed their pedigree shaking free from the Hornets of White River with and impressive 4th set 25-13. Burlington-Edison will get their chance at the top seed Columbia River in the 12:45pm semi-final on Saturday. White River will battle Pullman to try and get in the 5th place game.
Columbia River 3, Pullman 0 (25-13, 25-20, 25-11)
The Rapids simply mean business as the number 1 seed they have cut through half of this tournament giving up 20 points in a set just once. C-R came out firing and never let up while the #8 Greyhounds did fight back in the 2nd set but wasn't enough to shake the top seed. Columbia River will face Burlington-Edison in the semi's. Pullman will take on White River in a loser out at 12:45pm.
www.elisportsnetwork.com