9/16/16
Dates. Dates are how we keep track of what happens or happened and historic dates like 7/4/1776 most people are familiar with but everyone has a day or period of time that represents something very personal. For Coach Sid Otton and the Tumwater Football program it was 1977 and more specifically, 11/1/77.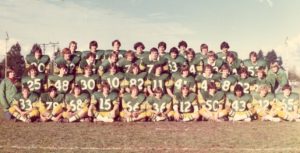 Let's back up and begin where we left off. Coach Sid Otton and Pat Alexander and many teachers and coaches in the Tumwater school district all breathed a sigh of relief when the school levy that failed and reduced spending in the district directly impacting the coaching staff in 1976 had been run a 2nd time and passed. Funding was back. Coach Alexander knew he was on the chopping block had the levy failed again but now that was in the rear-view mirror and it was time to focus on getting this program turned around.
Despite doubts in the community and concerns that Coach Otton's style was not a fit at Tumwater, again from outsiders, it was not those folks who Coach Otton was concerned with it was the players. He knew if his players didn't buy in he had no chance and would be looking for a new coaching job elsewhere. The good news for Otton was to a man the players of 1977 were all on-board.
Coach Otton had been wanting to instill more camaraderie and teamwork and began a T-Bird tradition with the 1st Unity Camp. Unity Camp at that time was a 2-night stay at the High School during the first 3 practices you could do with pads. Thursday and Friday featured 2-a-days and wrapped up on Saturday with the famous West Point drill.

Unity Camp was not met with the enthusiasm from the on-lookers as much as you would think either, more of this positive re-enforcement stuff, I believe the term "inflate-a-head crap" was tossed around by some. But Otton's style not only fit the ones who counted, the players, they thrived in it.
Otton knew this was a make or break season but yet did not want to overwhelm anyone with unreasonable expectations and so as a staff the coaches agreed a 5-4 record would be a tremendous step forward and a good goal to reach. There was even a discussion of maybe 4-5 was more realistic. Remember this team was coming off a 1-8 season and the Seniors were a combined 3-15 over the past 2 seasons. **Note, this was during a time that Freshmen were not allowed to play on Varsity and JV.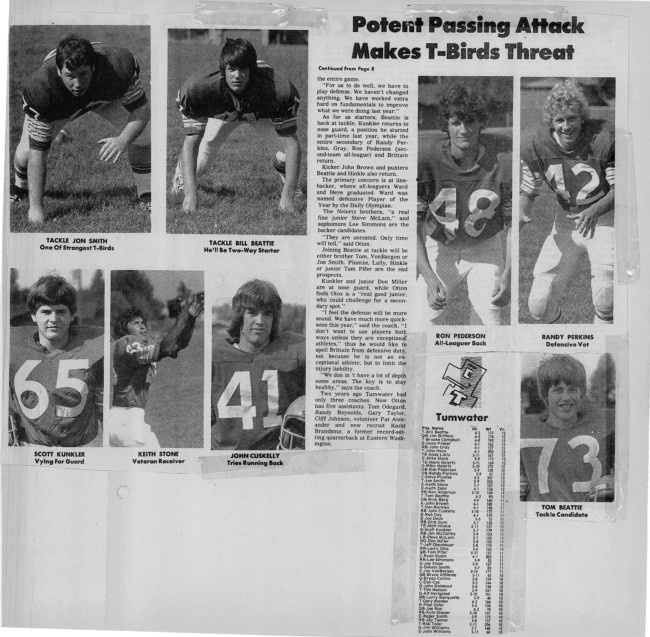 Fortunately for Otton and the coaching staff  of Alexander, Randy Reynolds, Karst Brandsma, Gary Odegaard and Gary Taylor, the players had bought in 100% to the system and their sights were set much higher than just a winning season. The players unlikely knew of much of the outside pressure on Otton heading into their opening kick-off with Timberline. Looking forward and what Tumwater Winning Football has become no one could have predicted, at that time, that this story would be written in 2016.
The T-Birds began this critical season liked they had hoped with a convincing opening night win over Timberline 21-12. QB Jim Brittain got off to a good start with his receivers in this game Mike Mack and Dana Fraser, Fraser hauling in a pair of catches. It was the beginning Otton was not only hoping for but expected.  Then this evolving team would get tested big time when they took on powerful Capital.
This was the 1st test for this team who had never beaten Capital since the Cougs came into the Black Hills League and a team who advanced to the play-offs the year prior. Capital was also optimistic coming into 1977 and were loaded with QB Dave Valles and the powerful running duo of Greg Kessel and Mike Goff.
As the 2nd game unfolded it was clear it was Capital's night. Everything went the Cougars way in this one so much so Coach Otton burned the game film. When all was said and done Capital blasted Tumwater 56-7. This easily could have been a disastrous loss to Tumwater. This is a team who had combined to win only 4 games over the past 2 seasons and 2 games into 1977. Players could have easily taken the easy way out, not believe they were close to being good enough and simply given up.
I'm not sure when NGUNNGU ever came into existence for the T-Birds but it's roots began at this moment in time. This team rallied and came together and would begin a 1 at a time mindset and go on a run that would lay all the ground-work for the success T-Birds and fans have come to expect to this day.
Up next was North Thurston and the T-Birds got back on track with a great running attack led by John Gray and John Cuskelly who would combine for nearly 140 yards. QB Jim Brittain would sneak in twice for 1-yd TD's and throw a 17-yard TD to Mike Mack. Gray would throw a 2-point conversion pass in that game to Cuskelly showing that Coach Otton has always had a flair to do the unexpected at times.
The 4th game and 1st league contest was a 28-14 win over RA Long knocking off the Jacks in their homecoming game behind a big offensive 2nd half. The line led by All-State Tackle Bill Beattie, John Smith, Steve Pluntze, Mike Niertz and Scott Kunkler opened plenty of holes for Gray to rack up 109 yards and for Britain to go 5-11 for 145 yards with a 37-yard TD strike to Mack. Tumwater was now rolling and 3-1 heading into a game with Yelm.
Tumwater would win the next 2 games against Yelm and WF West by a combined 55-0, 27-0 and 28-0 respectively to improve to 5-1. The homecoming win over the Bearcats was huge because it guaranteed the first winning season under Otton. Now the focus was on trying to get to post season and the next 3 games were against the best of the best of the Black Hills League, Division 2.
Before we get to this magical stretch of games, lets remind you of how you qualified and how many went to the play-offs. In 1977 the Black Hills League was 14 teams divided into 2 7-team divisions. The top 2 teams would cross-over to play each other and only 2 teams advanced to the State Play-offs. The State Play-offs were only 8 teams, not 16 like it is today so getting to State was the same as advancing to the quarter-finals and was a top 8 finish.
Back to our timeline and this next run of 3 games and then the magical 4th game in a row. Again, this team had every opportunity to check out, be satisfied with a winning season, feel good about turning the program around from a horrendous 1 win season. But once again, this group refused to back down and got ready to take on the tough Hoquiam Grizzlies.
**Side note: Since we are going back in time, let's also remind especially our younger readers of what it was like in those days. 1st, there was only 4 classifications, 3A, 2A, 1A and B. Second, the area was so different, so much of the State economy was based on blue-collar workers. Aberdeen was a 3A school, the equivalent of today's 4A. Aberdeen was booming with the logging industry. Hoquiam and Elma were both 2A teams, Hoquiam also because of logging and Elma because of a large Nuclear Power Plant that was never completed but brought hundreds if not thousands to the area to build that project until it got shut down.
With that being said, taking on Hoquiam was far different than now and the Grizzlies were a hard-hitting, punch you in the mouth team. Brittain and Mack would hook up twice in this game on of all things, flat passes. In the opening drive Brittain hit Mack in the flat and he turned it into a 49-yard touchdown and then just before the half they would dial-up the same play and scored from 53-yards out. Brittain would only throw 6 passes in this game and completed 3, all to Mack for 110 yards and 2 TD's and Tumwater would withstand the Grizzlies chalking up a 27-14 win to for victory number 6.
As they headed into the 2nd to last game of the season at Camas, there was a real excitement in T-town about actually making the play-offs. The night at Camas would truly be their biggest test to date and on a rainy evening on a sloppy, oddly crowned field where the middle was so high you could barely see the team across the field, is where this team stamped their destiny.
"Jim Brittain matured as a quarterback tonight" was the lead line from the Olympian's sports editor Bill Lindstrom at the time. Brittain also remember's that night and here in his own words is how that night played out:
By Jim Brittain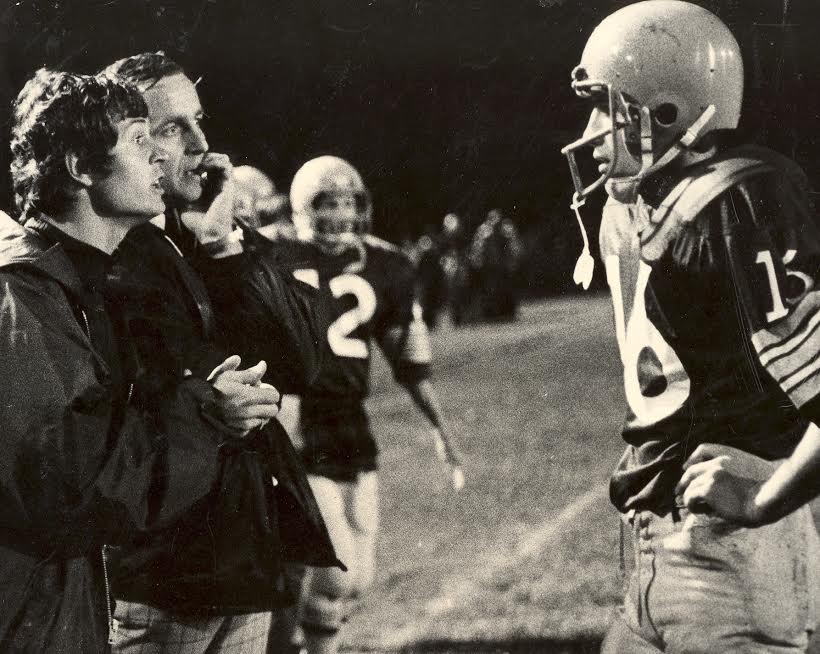 Looking back 39 years ago, there were so many values that Coach Otton instilled in his players that are still a part of my life today.  Always believe in yourself, work hard, do your best, never give up or quit, failure is not an option and if you do these things success will be the end result.
In reflecting on this season, it is difficult to believe that we started out with a win and then got crushed by Capital 56 to 7.  However, as Coach Otton stated after the game "I'm confident we will be back".   He never doubted us, made us believe that we can overcome the Capital game and win the rest of the year. We did just that by going on an eight game win streak before losing to West Bremerton in the playoffs.
There were so many times in that year we could've just been a typical Tumwater team but Coach Otton was building a program that would only make his players believe in success and being part of a winning program.  
An example of a game that season on never giving up and believing in each other was the Camas game where we found ourselves down by 8 points with 1:53 remaining and 64 yards from the end zone.  It was a group of players who believed in each other and drove the football all the way to the end zone to score and convert the two point play.  It was led by Mike Mack catching seven passes in pouring rain and muddy field, Dana Fraser catching the two point conversion to give the chance to win in double overtime and an entire defense that stopped Camas in both overtimes.
The success of the Tumwater football program lives within one person, Coach Otton.  He has created a program that spans 43 years, instills the values in his players that carries with them throughout their lives – Work hard, do your very best, never give up and success will be your reward in the end.  
This led to the finale against the true crosstown rival of the Tumwater T-Birds (at least to us geezers) the Olympia Bears. This is the game that may be the forgotten game since it ended 3-0. The T-Birds had wrapped up the #1 play-off spot with their win over Hoquiam. The Grizzlies would be #2.
Despite that Tumwater wanted to finish strong and stay undefeated in league play, another win would also set a school record for both wins and wins in a row. And frankly, it was Olympia.
I know I take a lot of side-notes or veer of course here but let me update you on the image of Coach Otton and his "soft approach" from outsiders now. In fact if you just stop and listen I bet you can still  hear the crickets. But to be fair those critical of Coach Otton during the first 3 seasons also became his biggest supporters and were not too proud or stubborn not to jump on the bandwagon and support the team and coaches.
Mom's made massive amounts of food for the team on away games, road trips to all away games with several rooter buses and the T-Bird Band played more than the theme from the Love Boat. (Unnecessary shot at the T-Bird band but seemingly all they played in those days was the theme from the Love Boat until 1977.)
Now back to the Bears. As much as the offense shined in that downpour in Camas it was the defense and special teams that won this game. The Bears came in 4-4 and were a young team under long time and Hall of Fame Coach Bob Dunn and were fired up to knock off the T-Birds and post a winning season.
Tumwater's defense led by Bill Beattie, Andy Lally and Don Miller all recorded sacks of Oly QB Mike Milhollin. Mack who had been inserted into the defensive backfield came up with 2 key interceptions and over all the defense held Olympia to just 3 1st-downs. The Bears were on the Tumwater side of the 50 1 time and that was due to a Tumwater fumble.
The T-Bird offense was moving the ball but could not finish off a drive and even though it felt like they were in control you looked to the scoreboard and it was 0-0. On the defining drive with 4:20 to go, it appeared Tumwater was on their way to their 2nd straight OT when they put things together just in time. Offensive Coordinator Karst Brandsma did not panic and did not give up on what got their twin veer option offense more than 200 yards of rushing and went right back to work.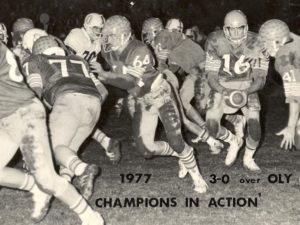 The offense put together a great drive down to the 11 with just seconds left to play when Otton called on John Brown to come in and kick the T-Birds to victory. Brown was 20-22 in PAT's that season so far both misses were due to high snaps and had not attempted a field goal, although he had made 2 the year before. Brown stepped up on the soggy field and belted it between the posts for the game winner and the T-Birds were on their way to their first ever play-off game.
The play-off game was a cross-over with BHL division 1 and they would play the 2nd place team and guess who that was? Yep, the team that destroyed them in the 2nd week 56-7, the Capital Cougars had lost to Centralia who won the BHL division 1. The Tigers would get Hoquiam in their cross-overs.
So this is how this worked, the final game of the season was played on a Thursday because the cross-over's were the following Tuesday and then the State quarterfinals the following Saturday. This would mean for the winner of Tuesday's game they would play 3 games in 9 days.
The Game!
It was the 1st Tuesday in November, election day and District Football Play-off night. Tumwater despite getting beat 56-7 by Capital earlier in the year were the home team because they were the BHL Division 2 Champions and the Cougars finished 2nd in their division.
It was a cool evening with a touch of low level fog forming around T-Bird stadium which held about 1,000 people.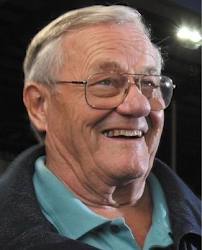 The red graveled track was packed with fans and on-lookers 10-deep all the way around the quarter mile track. Both endzones had fans right up to the back end-line.  The old Press Box on top of the Stadium was packed with coaches from both teams, the PA announcer, clock and score keepers, Bill Lindstrom from the Olympian and local radio station KGY broadcasters Dick Nichols and Larry McMillan.
In those days of no social media, no cell phones with camera's or twitter, as a player one of the first things you looked for heading into the season was whether or not or how many games KGY was going to broadcast your team. That would be as close to "Monday Night Football" as you would get and listenership was huge as options to get news and information was very limited to the big 3, newspaper, radio and television. Dick Nichols was our Frank Gifford and Larry was our own version of Howard Cosell.
There was a different feeling in the air, no one expected a 56-7 blow-out, a feeling of confidence was flowing through the Tumwater sideline and for everything this team had accomplished they all knew what was at stake.
Defensive coach Pat Alexander knew his squad had to step up in this game to have a chance and controlling the powerful running attack would be the 1st priority.
Tumwater did do just that with a dominating effort from Bill Beattie who finished with 18 tackles, Matt Hinkle and John Gray each with 13 and Tom Beattie with 11. This also highlights Capital's attack which was ground and pound but on this night they took more of the pounding at least for 3 quarters.
Offensively the T-Birds got things going in the 2nd quarter with a text book drive down to the 3 as time expired in the 1st quarter. Gray would plow in for the touchdown on the 1st play of the 2nd quarter, John Brown added the PAT and Tumwater led 7-0. That would hold up to halftime and at the break the T-Birds led 7-0.
Tumwater would score on their 1st drive of the 2nd half on a 29-yard Brown field goal that was set up on a Gray 42-yard run. That pushed the T-Bird lead to 10-0. Later in the 3rd quarter the Cougars were driving to try and get back into the game and that's what led to "The Play #1".
The Play #1
The Cougars worked their way down to inside the 15 yard line. On "The Play #1" Valles was trying to hand or pitch the ball to Mike Goff when T-Bird safety Ron Pederson and Hinkle rocked him with a tremendous hit knocking the ball out on the 15-yard line. That's when Gray scooped up the loose ball and took off down the Tumwater sideline and went 85-yards to the endzone to tack on another 6 points to make it 16-0. Capital would block the PAT which ended up being quite a significant play, keeping the Cougars within 2 scores.
During that run another T-Bird made a memorable sprint down the sideline going stride for stride with Gray was Coach Alexander. He was standing at the far end of the coaching box where the play unfolded right in front of him. As Gray swept up the ball Alexander was screaming to run and at the same time ripped the headset cord off his belt, (there was no such thing as "wireless" in those days, long cords all over the sideline to coaches head-sets.) and took off. Gray was running toward the scoreboard endzone and a green flash in a coaches jacket also made his way up the sideline.
The touchdown is the most defining moment in the history of Tumwater football. There was no other score in Coach Otton's 43 years at Tumwater that would be as important as this score was as it was the difference in a 16-14 win over the team that had beaten them by 49 points earlier that same season and would ultimately give Tumwater the win clinching their 1st ever play-off victory and State Play-off birth.
We got in touch with Gray who has lived most of his adult life in Canada. We asked him about that game specifically and he told us this:
By John Gray
The importance of that second game against Capital High School can't be over emphasized. I wanted to win and I knew that we could defeat Capital, but it would require us to play the best defensive game of the year. In that game there were many great defensive plays, but of course the one that stands out for me is my fumble recovery and subsequent run back for a touchdown.
It was late in the third quarter and Capital was driving.  They were inside our 10 yard line and it was up to the defense to stop them.  I expected either an option play or sweep to the wide side of the field as Capital had three great athletes (Drew Valles, Mike Goff and Greg Kessell) each capable of scoring a touchdown.
The play unfolded much like I expected with Drew Valles running to the wide side of the field and I began to move toward the offensive line to stop anyone who might try to sweep around our right side.  As Valles was about to pitch the football, Ron Pederson hit him which caused the ball to go behind the running back Goff, and I saw the football bounce on the turf.
I immediately moved toward the football and seeing no one around me I picked it up even though I was taught to "fall" on the ball whenever there was a fumble. I just started running in the direction of the end zone.  I was fearful that one of the Capital players might catch me so I hauled ass down the field.
I missed seeing Coach Alexander's famous run down the sidelines as I was just so focused on getting into the end zone. After scoring the touchdown, I was both elated and exhausted at the same time.  As it turned out that touchdown was key to our victory over Capital, but it wasn't something I did by myself as it was the play of the defense that caused the fumble which I was able to run back for a touchdown.
The Play #2
The touchdown gave the T-Birds the lead but the game was not over. Capital wasn't ready to roll over and made a serious run in the 4th quarter. As much as Tumwater dominated the 1st 3-quarters it was all Capital in the 4th and hang-on time for the guys in Green.
Capital finally punched through with just 3:04 left to play when Valles bulled his way across the goal line. Greg Kessel ran it in for 2 and just like that it was 16-8 and Capital was 1 score and a 2-point conversion away from tying it up. Tumwater's Jim McCarthy would recover the all-important onside kick but the T-birds could not move the ball. They were then hit with a bigger problem when Brittain injured his knee on a 3rd and 1 and looked like he might be done for the year if they could hold on for this win.
So Tumwater punted and got it down to the Cougar 29. Valles and Cougs went to work and hit a huge 4th and 6 play pass play from Valles to Bruce Fletcher for 28-yards down to the Tumwater 30. On the next play Andy Lally broke through the line and hammered Valles as he let go a pass and the T-Birds Larry Otos came up with what looked like an interception which would have ended the game but the officials called it incomplete.
Valles had to leave the game for 2 plays after the hit he took from Lally but came back in on 4th and 10 with 18-seconds to go and scrambled 12 yards to the Tumwater 18. Then on the last play of the game Valles lofted a beautiful pass to Don Westfall into the endzone for the TD as time expired pulling the Cougars within 2 with a 2-point conversion to come with no time on the clock.
The largest Tumwater crowd in the history of the school at that point were stunned while the Capital faithful were ecstatic but there would be 1 more play to go and with it both team's season and little did we know at the time but just maybe the next 39 years of T-Bird Football history was on the line.
Capital came to the line and Coach Alexander figured they would stick with what they knew and would try to run it in. He called for an all out blitz to try and get to a beat-up Valles if he did try to throw or more importantly stuff the run between the tackles.
With the snap of the ball the players we talked with all said the same thing, the silence was deafening as the huge crowd erupted in noise. Their focus so sharp it was as if all time slowed down as a host of T-Birds poured through the Capital offensive line led by Tom Beattie who got to Valles before he could hand it off to Kessel on what appeared to be the same 2-point play that they had just converted minutes earlier. With that the crowd that was literally shoulder to shoulder and right on the sidelines exploded in celebration as Tumwater Winning Football made it's grand official entrance.
This win gave the T-Birds a 9-1 record, a league Championship, their 1st ever post season game and post season win and their 1st ever entry into the State Play-offs and a top 8 finish. They would have to turn around and get ready to play West Bremerton (which isn't even a school anymore) in the state quarterfinals just 4 days later.
They would also likely have to do it without Jim Brittain or John Cuskelly, 2 key starters especially Brittain the QB. The Wing-T was not always the T-Bird offense that conversion is it's own story and that will be next week. Tumwater ran the twin veer, an option based offense where the QB was definitely key to success. The QB would keep the ball and read the defensive end and decide to hand it off or pitch it or keep it. Timing was crucial in that offense and just throwing in the back-up would be a difficult position to put that player in.
1st ever State Play-off Game
Coach Otton did get the doctor to clear both Brittain and Cuskelly but they were definitely banged up and Otton decided to keep them out of the game to start with against West Bremerton. Junior Tom Pifer got the start at QB on yet another rainy night. The game was held at Ingersoll Stadium and it was well known the Ingersoll grass had a tough time holding up with the slightest of rain and so on this night it was a goopy mess.
Despite the injuries many people had bought in on the Cinderella T-Birds, even The Olympian's Bill Lindstrom in his predictions outlined the very case why Tumwater would likely have a tough time yet still called for a T-Bird victory.
West Bremerton would rack up 191 yards rushing and a 13-0 lead at halftime and add another score in the 4th quartet to seal the win. Tumwater would finish with just 56 yards in offense even with the return of Brittain and Cuskelly, it was simply not to be or as the old cliche goes, the clock struck midnight.
Tumwater had chances in this game but could not take advantage of any of the turn-overs they created and frankly, it appeared the 3rd game in 9 days and coming off such an emotional game just 4 nights prior took its toll.
The 1977 team would not win the big trophy, nor would they get to play in a dome but they raised the bar on expectations for what has evolved into today's juggernaut. It was a group of players who totally bought in and listened to the quiet big man and were motivated by him to reach for the impossible.
Many were surprised they got as far as they did, many non-believers lined up prior to this magical season believing a change needed to be made but it all ended like it began. After the loss to end their season the locker room door was locked. No outsiders allowed. Only those who believed and achieved. Coach Otton let his Seniors have the last word after talking to each player personally himself. Just another reason players fall in love with this man and why the loyalty remains to this day.
1977 was indeed the most important season in Tumwater Winning Football's history. This is where it all began, simple as that!
We have had several players respond and write in their thoughts memories of 1977. We have them listed below:
By Tom Beattie
I had the privilege of playing for coach Otton in the early stages of his dynasty.  The lessons learned from that experience reach far beyond the football field.  Learning how to treat people fairly and respectfully, dealing with adversity and learning the value of setting goals to achieve your dreams are just a few principles I have been able to apply directly to my life.
When I reflect back to those years, I think of the great people I was fortunate to have met. They were not just coaches and teammates but people I have tried to emulate, that includes coach Otton's wife, Marjean whose role is often overlooked. I have been blessed to have been a part of something so special, this is truly the end of an era.
By Dana Fraser
Great thing about that Capital game, the season came down, literally to the last play. Capital was going for two, and the tie. But, we had a lot of teammates who made pivotal stops. Tom Beattie, made the stop at the goal line on the extra point to end the game. Ron Pederson made the hit of the game, forcing a fumble, that John Gray, scooped up and returned the ball for the score. Side note on that same play, Coach Alexander ran the distance on the sidelines, shadowing Gray's run. Coach must have run the 4o yard dash in 4 flat.
Winning that game extended our season, yes. It gave us our 8th win in a row , yes. It put us in the state playoffs, yes. But…what it did, was avenge a loss to capital in week two. We lost that game 56-7. Over the years, we became friends with a few of the Capital players, they tell us they killed us week 2…but I reminded them that they watched us in the playoffs.
We had a number of tough games during that season. Hoquaim, before a packed house, and some large bodies. We won that one by 2 scores. A Camas team that took us to the wire. We trailed the entire game. Tied it up on the last drive of the game, and then won it in overtime. It was a rainy and muddy night. The field there was like looking over a cliff. Not even Columbus would have called it flat.
It was very remarkable year for us, the Coaches taught us to have great Unity, and to believe in each other. Coach Otton told us that we would be successful. He told us that we were going to get a tradition started at THS. We were a team that won 1 game the year before. ONE. But, we knew he was right.
From a personnel point, I wish Coach was on the sidelines forever. I still enjoy coming through that gate with the team and watching Coach work the sidelines. I remember how he worked us, praised us, scolded us in his way. He never wanted us to be anything but a winner, on and off the field.
We have been reading about all of the praise for Coach over the last few weeks… all true,  X 10. If Webster's Dictionary comes up with a new word of "praise" Put Coach Otton's face on it.
Coach Otton can not be matched as  a Coach, a person or a friend.
By John Gray
Having played for the '75 and '76 football teams at Tumwater High School I was not sure what to expect for the '77 team.  I was certain that we were better than those teams, but didn't have any real expectations going into the summer of '77.  As the football season neared and the two-a-day practices began and the first Unity Camp was held, I sensed a change in both the team and the coaches.
There was optimism among myself and the other players that this team was going to be a winner, and the coaches seemed equally optimistic. Many of the seniors had been playing together since the 7th grade.  We knew each other, we respected each other and we believed in each other.  There were no prima donnas among us.  We played as team and we won as a team.
We had great offensive and defensive leadership from Jim Brittain and Bill Beattie. However, the biggest change I saw was in the coaching staff.  Call it a change of philosophy or attitude or whatever, but the coaching staff and especially Coach Otton believed in us and believed that we could win.
As the season began and we won our opening game against Timberline High School, I knew for sure that the '77 team was going to be different.  Even after our embarrassing loss of our second game that season to Capital High School, I knew we would bounce back.  The following week the team put that loss behind them and went on to 8 straight victories before losing to West Bremerton in the state quarter-finals.  It was the win against Capital in the crossover playoff game that validated the changes Coach Otton and the other coaches had made and laid the foundation for what would become the "winning football" tradition at Tumwater High School.
I knew that we had to win that second game against Capital not just for the coaches or the team, but to demonstrate to everyone else who was watching that our winning season wasn't a fluke.  I know that I and everyone else on the team played to win and played their best game ever.  Winning that game more than any other win that year was the most satisfying for me.  I didn't know it at the time, but the '77 team and that win over Capital helped secure Coach Otton's tenure as coach and gave him and the other coaching staff the opportunity to build on what was started with the '77 team.
The tradition of "winning football" at Tumwater High School has grown and developed over the years, but behind it all has been Coach Otton and his coaching staff who believe in the young men who come through the program that they are winners both on and off the field.  This is a great legacy and it is one that I am thankful I was a part of so many years ago.
Photo Gallery
www.elisportsnetwork.com