8/31/17
Timberline 35, Black Hills 7
(Lacey, WA) The Timberline Blazers New-Old Head Coach Nick Mullen picked up right where he left off 3 years ago with a win. Mullen stepped down as Timberline's head coach when he decided to take over the Athletic Director duties. After 2 years of getting his AD duties down and routine he decided to hire himself back when the head job re-opened last spring when Mike Spears stepped down due to health concerns.
Spears led the Blazers to the first South Sound Conference's Championship last season and Mullen didn't miss a step having the Blazers ready to defend. 3A Timberline took on 2A Black Hills in an opening night non-league contest and the Blazers quickly took advantage of some early mistakes by the Wolves.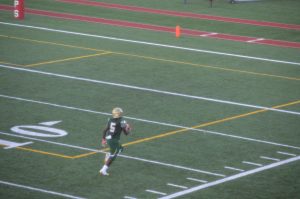 After trading possessions Black Hills looked like they were getting something together with a run of 9 and 7 yards and picking up their 1st 1st-down when disaster struck. Wolves QB Ethan Loveless dropped back and was under pressure when he let go an ill-advised pass and the Blazers Ty Edmond stepped up and picked it off returning about 35 yards for the touchdown. Tolby Selvester popped thru the PAT for a 7-0 lead with 7:34 to play in the 1st quarter.
The Wolves then put together a decent drive and appeared serious about tying the game up when a huge sack disrupted the plan and they had to punt it away near mid-field. Timberline's Michael Barnes then showed why he is one of the most dangerous running backs in the state and busted off a 51-yard touchdown run around the offense's left side to make it 14-0 with 4:11 to go in the 1st.
The Wolves continued to shoot themselves in the foot giving up big sacks and this time turned the ball over on the Blazer 20. Timberline then went on a 10-play drive with most of it on the ground behind the running of Barnes and Rico Speigner until the last play when QB Garrett Warrington hit Jamarcus Graham on a 27-yard strike to go up 21-0.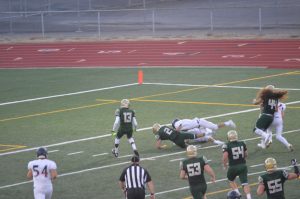 Timberline capped the 1st half scoring after Edmond stripped Black Hills' Taylor Simmons and Barnes recovered near mid-field. Barnes then nearly took it in from the 29 with a 25-yard run to the 4 and then finished it off 2 plays later with a 2-yard run. Barnes would finish the night with 174 rushing yards and 2 touchdowns.
Timberline would shut down the Wolves through the 1st 3 quarters and were led by an aggressive defense that sometimes got them in trouble with the yellow flags. The linebacking crew led the charge with Mason Simeta, Ty Edmond and MJ Montgomery constantly in the Wolves backfield.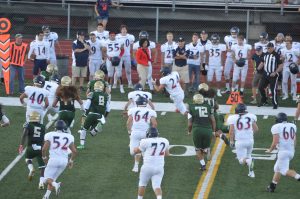 Black Hills would get on the board in the 4th quarter when Zach Loveless finished off an impressive drive with a 4 yard run. Wolves Head Coach Kirk Stevens had already begun subbing players and Preston Lee with Jordan Claridge had big runs setting up the scoring effort of Loveless. Xavier Bacak booted the PAT to make it 28-7.
Timberline's Lonnie Smith wasted little time in getting those 7 points back as he took the first hand-off from their own 39 for a 61-yard TD romp finishing off the scoring 35-7. Mullen was pleased with the effort on both sides of the ball and knows the offense had been kind of the star the past couple of seasons and thinks they will shine again with the trio of running backs that can all do damage. But it was the defense he was most pleased with. Mullen knew they would be aggressive but was thrilled with the big plays they came up with against Black Hills.
Stevens knew his offense would be put to the test especially with just 2 returning starters. Defensively the Wolves played better than the score indicated but Stevens says they have to cut out the big plays. Timberline will host Bonney Lake next week and Black Hills is home against Capital, both games are non-league.
Timberline finished with 306 total yards while Black Hills had just 111. Our Pacific Sports Spa Players of the Game went to Timberline's Michael Barnes and Black Hills' Kade Weitzel. Our ProActive Physical Therapy Play of the Game went to the Blazer's Ty Edmond for the interception return for a touchdown to begin the scoring.
Stats
Rushing:
Timberline: Barnes 174 (2TD), Warrington 23, Speigner 34, Anderson 71 (TD)
Black Hills: Z Loveless 64 (TD), Lee 39, Claridge 19
Passing:
Timberline: Warrington 4-8 57 1 TD 1 INT
TD pass to Graham for 27 yards.
Black Hills: E Loveless 4-7 12 1 INT
The Blazers Mason Simeta on Timberline's opening night win.
Timberline Head Coach Nick Mullin was pleased with his team on his return to the sidelines.
Photo Gallery
This slideshow requires JavaScript.