9/16/17
Kentwood 49, Kennedy 27
(Kent, WA) Kentwood Head Coach Michael Bush wanted to get back to basics especially the run game. Last week in their loss to Edmonds-Woodway they threw the ball 57 times and got away from the ground and pound. It's easy to see why with the multiple threats the Conks have that can go long but Bush says for long term success they must control the line of scrimmage and boy did the Conk Hogs buy into that in their 1st league game against Kennedy.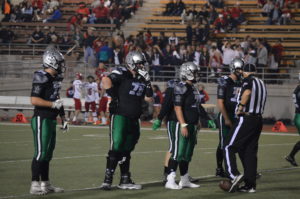 It took discipline for Bush and the Conks to stick with their plan as the Lancers, led by their talented Freshman QB Sam Huard, the son of former UW and Pro QB Damon Huard. It was the KC defense though that set up the 1st TD when Daeshawn picked off about the only mistake of the night from KW QB Justin Seiber and returned it 42 yards to the 8 yard line. The Lancers came out with their jumbo package and saw big #52 Jahvius Levi smash in from the 1 and Kennedy took a 7-0 lead.
Instead of getting sucked into a passing showdown Bush stuck to his plan and  came back with a huge running attack featuring Tayvonne Miller and Dyson Johnson. This 2-headed monster finished the game with a total of 246 yards and 4 TD's, both eclipsed the 100 yard mark with Miller going for 137 and 2 scores while Johnson had 109 and 2 TD's. The duo set the tone with this run dominated drive capped off with a tough 8-yard TD run from Miller. The PAT failed and KC led 7-6.
The Conks did not totally abandon their high flying passing game and took the lead over KC when Seiber hit Ja'Mezz Johnson on a beautiful 27-yard strike. This time the PAT was good and KW led 13-7 with 2:36 to go in the 1st.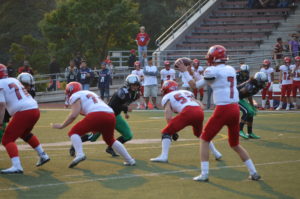 Early in the 2nd quarter Kennedy would answer with an 86-yard scoring drive set up with a big run by Kendall Oakes to get the Lancers out of a hole and then Huard hooked up with Jabez Tinae on a 43-yard strike and Kennedy Catholic was back in front 14-13. After a KW 3 and out it was again Huard finding his favorite target on this night Jabez Tinae for a 20-yard TD pass, the PAT failed but KC led 20-13.
KW then came right back and receiver Stephen Watson who had been quiet for the 1st 18 minutes heated up with 47 yards in catches on this drive that was capped with Dyson Johnson's 1-yard run and it was tied 20-20. Then after a curious fake punt at midfield that failed for the Lancers, the Conks took over on the Kennedy 44 and marched it down to the 1. KW put in their jumbo package and play-actioned with a short toss to an open Watson for the score and going in at the half Kentwood scored 14-unanswered points for a 27-20 lead.
In the 1st possession of the 3rd KW began on their own 25 but Seiber and Watson made them pay with our ProActive Physical Therapy play of the game, a 67-yard pass and catch down to the 8 yard line setting up a 3rd unanswered touchdown for the Conks when Miller ran it in from the 3 and they led 35-20 and the Lancers would never seriously challenge again in this game.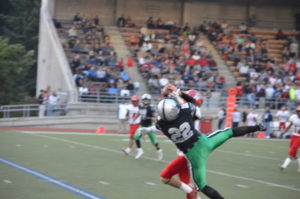 The Conks kicked off with their usual little pop-up to about the 35 but this time no one from the Lancers stepped up to fair catch or recover the ball and the Conks recovered on the Lancer 41. KW ran the ball down to the 4 when Seiber hit Watson for his 2nd TD of the game and it was 42-20.
Each team would score 1 more with Huard hitting Trenton Morrison on an underneath screen that he took 50-yards to the house and Johnson scored his 2nd 6 with 2:33 left to play in the 3rd from 2 yards out after Dominique Pope picked Huard set up the Conks on the KC 39.
Kentwood finished the night with 522 total yards, 280 on the ground and 242 through the air and improved to 2-1 overall but got that all important 1st NPSL league win. Kennedy put up 393 of their own yards as both teams combined for 915 offensive yards. 286 through the air for Huard but with 3 interceptions to go with his 3 TD's. The Lancers are now 2-1 overall but 0-1 in league play.
Our Pacific Sports Spa Players of the Game went to the Kentwood offensive line of Timmy Breeden, Conner McArthur, Derek Kersey, Luke Klein and Wyatt Hanson and to Kennedy's Jabez Tinae.
Stats
Rushing:
Kentwood: Miller 137 (2 TD), D Johnson 109 (2 TD), J Johnson 34
Kennedy Catholic: Oakes 91
Passing:
Kentwood: Seiber 16-24 242 3 TD, 1 Int
Kennedy: Huard 19-42 286 3 TD, 3 Int
Receiving:
Kentwood: Watson 8/136 2 TD, J Johnson 1/27 TD, Moore 3/40
Kennedy: Ja Tinae 8/153 2 TD, Morrison 4/73 TD, Je Tinae 3/13
Kentwood Coach talks with ESN about the big Conks win.
Photo Gallery