9/21/17
Centralia 2, Aberdeen 1
(Centralia, WA) The Aberdeen Bobcats had played 4 matches and scored just 1 goal but yet tied 2 of those matches. The Centralia Tigers came into the 1st Evco 2A league match of the year scoring 17 goals in 6 non-league games for almost a 3 goal per match average.
Centralia playing on their home turf were hoping to get off to a fast start and build a quick lead believing the young Bobcat squad would have a difficult time in catching up. But when Aberdeen took advantage of a mistake by the Tiger defense and went up 1-0 in the just the 6th minute of the match suddenly it was the Tigers who had to make up ground.
The Tiger defense had the ball in the 6th minute when instead of clearing it to the outside deep on their side of the field the back line tried to clear it to Tigers keeper Courtney Leifer-Carlson. Leifer-Carlson then appeared to try and settle it before booting it got hung up and 2 Bobcats were all over her and when the ball spun off Emma Green booted it home giving Aberdeen the 1-0 lead. That would be the score heading into halftime.
As the 2nd half began the Tigers certainly had picked up the tempo on the Bobcat defense but the Aberdeen backline of Taylor Coker, Nayeli Morris, Amiah Leach and Skyler Taylor were holding firm and approaching the 60 minute mark held the 1-0 lead.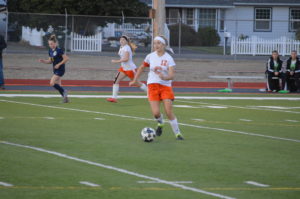 But just as they thought they could keep the shut-out going the Tigers Alayna Miller took things into her own hands side-stepping a defender getting into a 1-on-1 with Aberdeen keeper Reagan Glanz and shot it past into the net for the equalizer in the 58th minute.
The go-ahead and winning shot would come 10 minutes later in the 68th when Miller had a hand in it again as she passed the ball off to Anastasia Ulrigg who then fired it into the far side for the score. This would also earn our ProActive Physical Therapy Play of the Game as the Tigers made the 2-1 score stand to improve to 5-1-1 on the year and 1-0 in league play. Aberdeen drops to 0-3-2 and 0-1. Our Pacific Sports Spa Players of the Game went to Centralia's Alayna Miller and Aberdeen's Reagan Glanz.
Photo Gallery