11/1/17
Centralia 3, Tacoma 0 (25-12, 25-11, 25-7)
(Centralia, WA) The Centralia Blazers are knocking on the door to something that has not happened in more than 20 years and that's advancing to the play-offs. Centralia got off to a great start this season in the non-conference play but then began 0-4 when NWAC conference play began and they dug themselves quite a hole that many who had hopes of finally getting back to the play-offs was not to be.
Since starting 0-4 the Blazers are 7-1 including a huge win last week against 1st place Pierce College in a 3-2 heart stopper and with that win pulled into a tie for the 4th and final divisional play-off spot with Grays Harbor. The Blazers and Chokers split the regular season each with a 3-2 win but the Blazers final 3 matches were against the 3 teams already eliminated from play-off contention.
The Tacoma Titans were in town and came with an 0-11 mark and 1-29 overall so certainly a match the Blazers should win. On top of it the Titans only had 6 available players and made 1st year coach Samantha Hutchinson's job easy for the night with no subs on the bench.
As this match began the Titans were popping a few shots and surprised the Blazers who looked a bit dis-organized and Tacoma took a 4-2 lead. After the 4th Titan point was scored with 3 Blazer players looking at each other Coach Gordon took an early time-out. Gordon clearly got her message across about staying focused and playing to their level.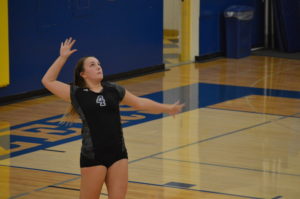 After the time-out Peyton Timmons got things started reeling off 6 straight points giving Centralia their 1st lead of the night and a lead they would never give up. Autumn Durand also scored 6 from the service and had several big kill shots with many served up by Timmons. Kary Sathre got in on the action at the net as well and Skylah Kunihisa finished it off with the last 2 points and the 25-12 win was the closest the Titans would come.
Centralia rolled to a 25-11 2nd set win and closed it out with a dominating 25-7 win for the 3-0 sweep. In the second set Kendall Camoza fired off 9 straight points including 4 aces. Alexus Howard-Johnson rose up at the net with some impressive kill shots and blocks. Nicolle Duryea, Hayden Blaser and Tavinana Keahey had solid outings for Centralia while Daisy Bower and Courtney Romig also saw action and came through to help push the Blazers to an important victory.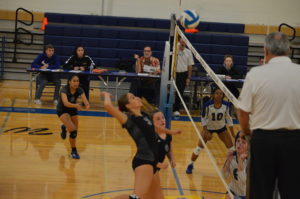 The Blazers will host Green River on Saturday and wrap up their season next Wednesday at South Puget Sound in Olympia. Our Awards West Blazer Players of the Game went to Kendall Camoza and Alexus Howard-Johnson.
Photo Gallery