11/26/17
(Centralia, WA) This was the final game to be decided on this Semi-Final Saturday full of critical football games and it featured 2 familiar opponents from the Central B league and although in different division they did face off in week 2 in a non-league game that saw Kalama win it 14-8 snapping the Tigers 15 game winning streak.
At the time Napavine Coach Josh Fay thought it was one of those "good" losses and allowed them to really evaluate their squad after losing several prominent play-makers from their 2016 State Championship team.
It also gave them an early look at what Kalama would be relying on in their high flying offense led by Jr Quarterback Alex Dyer. Fay told us rain was in the forecast and wouldn't mind seeing a good healthy rain on game night hoping to slow down the Nooks passing attack. Fay did get his wish and it seemed to slow down Kalama but it was only temporary.
Kalama Coach Sean McDonald who was a ballboy for the Nooks the last time they were in the State Championship game back in 1999 knew he had a monster on his hands in the Tigers as not only were defending State Champions they had been to the State Championship game 3 straight years and were looking for #4 in a row. McDonald says Fay, his staff and team definitely know the way to Tacoma and that was going to be a huge challenge.
Napavine had been a high flying team as well over the past several years with a big passing attack but in 2017 they were more of a ground and pound team led by their quarterback Dawson Stanley and leaned on their defense more to keep them in and actually win games.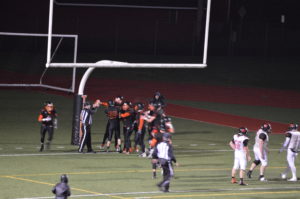 As the rain did fall early in this game and both teams got a feeling for the turf at Centralia Tiger stadium they did exchange possessions with Napavine moving the opening kick-off deep into Kalama territory before getting pushed back and turning it over on downs. After a 3 and out the Tigers got it back on their own 40.
Stanley would find Jordan Purvis with a long pass  down to the Chinooks 17 and then on the next play Stanley ran it in from 17 yards out to give the Tigers a 6-0 lead as the PAT missed with 2:12 to play in the 1st.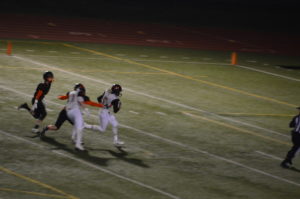 It didn't take Dyer and the Nooks long to respond when Dyer found Tucker Wetmore on a slant pass for a 39-yard connection and touchdown. Logan Jones added the PAT and it was 7-6 Kalama's lead. It was also during this time that the rain eased up to a mist and eventually stopped altogether for the rest of the game.
One of the biggest mistakes of the game then came on the ensuing drive for Napavine as they drove down inside the 10 of Kalama trying to answer the Nooks scoring drive when a snap back to Stanley in the pistol formation went well to the right of Stanley and ended up in a 21-yard loss. Napavine ended up turning the ball over on downs and Kalama took over on their own 15.
The Nooks then went on a long drive of their own mixing it up with short passes and some scrambles by Dyer and faced a 3rd and goal from the 10. Dyer dropped back and in a 1 on 1 to his left it was Wetmore being covered by Garrett Shannon. Shannon had perfect coverage but Wetmore went up over the top and simply out-jumped him in the corner of the endzone and grabbed the ball at its highest to come down with the score and Kalama led 14-6.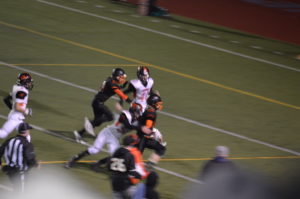 It appeared that would be the halftime score after Napavine turned the ball over and Kalama had it deep on their side of the 50 but the Nooks wanted to push it and see if they could get another score before the break but Garrett Shannon would have his revenge and completely change the trend of the game. Dyer tried to hit his receiver up the near sideline when Shannon jumped the pattern, picked off the pass and returned it to the 3 yard line. Dawson Stanley wasted little time and ran it in on the next play. Napavine chose to curiously kick the PAT instead of go for 2, maybe like..hmmm…the exact same play but we digress and the PAT was good this time off the foot of Noah Lantz and they went to halftime with just 1 point between the two heavyweights with Kalama up 14-13.
In the 2nd half despite dry skies it would be the defenses taking center stage as Kalama shut out the Tigers and after some halftime adjustments did a better job of not allowing Stanley to break free up the middle and held Napavine to just 100 2nd half yards and just 50 passing yards.
Napavine also made adjustments and stopped Kalama time and again especially in the passing game. Dyer and the Nooks rolled up 184 yards of passing in the 1st half and were stifled to just 46 in the 2nd half…well…46 yards for the 2nd half except 1 play which turned out to be our ProActive Physical Therapy Play of the Game.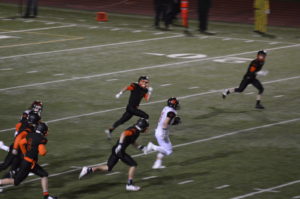 Early in the 4th quarter the only scoring play of the 2nd half would be on a 3rd and long from Kalama's own 6-yard line when Dyer dropped back and was looking for Jacob Herz on a simple slant pattern trying to get a little more room to punt it away. Instead Herz reached out with 1 hand as the ball was out in front of him and he looked up and saw nothing but green. Receiver Marques Lies came from nowhere and provided Herz with a key block to spring him all the way to the house as Herz flashed his sprinter's speed and pulled away for the 94-yard TD catch and run. The PAT missed but Kalama held a 7 point lead, 20-13.
The Nooks defense took over putting pressure on Stanley while keeping him pend in. Napavine ended up with one last chance with 1:20 to play in the game and no time-outs beginning from their own 22 but it was too much to try and dig out of and the 3 year run of State Championship appearances was over for Napavine and the new kids on the block earned their way to the Tacoma Dome where they will face the team Napavine beat last year, Liberty (Spangle) at 4pm on Saturday.
The Chinooks have run their record to 13-0 while Napavine finished 11-2. Our Pacific Sports Spa Players of the Game went to both Quarterbacks, Alex Dyer of Kalama and Napavines Dawson Stanley. Both are also Jr's and no doubt there is already planning in Napavine on how to get their place back in Tacoma in 2018.
Stats:
Kalama Total Offense: 360 (290 passing, 76 rushing)
Passing: Dyer 17-24 284 3TD 1 int
Receiving: Herz 7-145 td, Wetmore 6-66 2td, Ross 2-13, Wood 1-16
Rushing: Dyer 11-50, Hutchinson 3-14, Haynes 4-8
Napavine Total Offense: 271 (221 rushing, 50 passing)
Rushing: Stanley 33-162 2 td, Lantz 9-39, Riddle 2-20
Passing: Stanley 6-21 50 2 ints
Receiving: Lantz 3-11, Kinswa 1-24, Purvis 1-12, A Gaona 1-3
Photo Gallery